Tackling the vexing herpes simplex virus
Tackling the vexing herpes simplex virus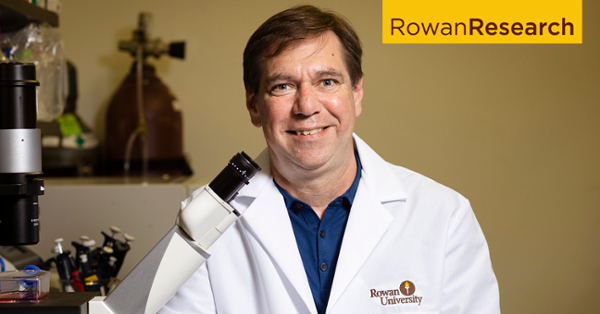 Dr. Claude Krummenacher, associate professor in the Department of Biological & Biomedical Sciences, is working on a vaccine and other therapies to prevent the infection of the herpes simplex virus.
In early 2020, Dr. Claude Krummenacher found his field of study suddenly thrust into the world's spotlight thanks to the novel coronavirus, SARS-CoV-2. Throughout the pandemic, he and his fellow virologists have been at the forefront of public education, helping to teach about virus transmission and vaccines.
While Krummenacher is interested in all viruses, his primary research is focused on another type of virus entirely: herpes simplex virus, the pathogen that causes cold sores and genital herpes. Krummenacher, an associate professor in the College of Science & Mathematics, is interested in understanding how the virus invades cells in order to design drugs or inhibitors to prevent infection.
CLAUDE KRUMMENACHER, PH.D.
Virologist
Areas of expertise:
 Herpes simplex virus, immunology, antiviral
More information
First, Krummenacher needed to study a family of proteins called nectins and understand how the virus uses these cellular receptors to get into cells.
"These proteins are not just there waiting for the virus to use them," Krummenacher said. "Trying to figure out what these natural functions are and how viruses hijack these functions was one of my goals."
Current herpes drugs do not prevent infection but, instead, treat symptoms caused by replicating viruses. Krummenacher and his team of researchers are studying how viruses bind to the cell surface in order to develop a herpes vaccine, as well as gels, creams and microbicides to prevent infection.
"We are looking at small molecules that bind to the virus that would prevent the virus from binding to the cells, which would prevent infection," Krummenacher said.
Krummenacher has identified good molecular candidates that would block the virus and is in the process of improving them in a collaboration with Rowan chemists.
"We know these compounds can prevent the infection of cells in the lab," he said. "But we're far away from having a functional drug that will prevent infection in humans." 
Getting there depends on fundamental knowledge of the biology of the virus and its host—the very work undertaken by Krummenacher and his team.
Rowan University researchers are passionate about what they do. Find more at Meet Our Researchers.