It takes a team to study new materials
It takes a team to study new materials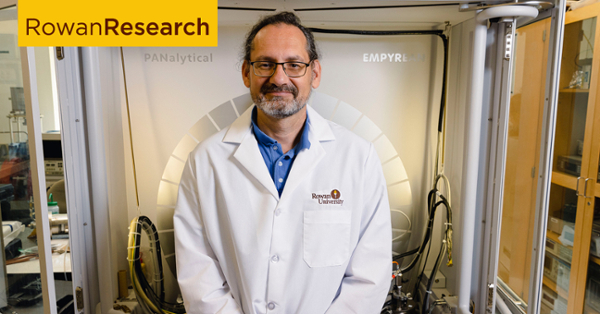 Dr. Samuel Lofland stands in front of an x-ray diffractomer in Rowan University's Magnetic Properties Lab. The machine is used to examine the crystal structure of material.
If Dr. Samuel Lofland could describe his research in one word, it would be interdisciplinary. As associate director of Rowan University's Advanced Materials & Manufacturing Institute (AMMI), Lofland takes a holistic approach to solving technological problems with new materials and assembles teams of chemists, engineers, physicists and other experts. 
Lofland's expertise is broad and he has the ability to communicate information to team members of varying specialties and considers himself "one of the main gears" in the larger research team.
Samuel Lofland, Ph.D.
Condensed matter physicist Areas of expertise:
 Magnetic materials, multifunctional materials, composites, catalysts
More information
One of Lofland's recent projects aims to transform carbon dioxide into green raw materials that would mitigate the effects of climate change. The research team involves theorists and experimentalists from chemistry, physics and engineering to tackle the issue from all angles.
For the U.S. Navy, Lofland studied low-power magnetic sensors to detect mines and ways to transform energy from ship vibrations into electrical energy. Lofland also co-authored a study, published in the top peer-reviewed research journal Advanced Materials, examining the unique properties of a specific class of materials that can be used in sonar devices and other types of detectors and sensors.
The central theme threading together the variety in Lofland's work is teamwork.
"To be successful in material science, it requires a wide net of people who bring together a distinct set of perspectives," Lofland said. "I have several projects that are unrelated but require you to put together diverse teams, each with their own points of view and skill sets to help you reach answers to these technological problems." 
"It's inefficient for someone to become an expert in such a wide array of fields," he added. "It's much better to have a person who's accomplished in one area but knows enough generally to be able to effectively communicate with the experts in other fields so that an entire team can work together to resolve the outstanding issues."
Rowan University researchers are passionate about what they do. Find more at Meet Our Researchers.