Hot jobs for cool Profs: From MLB to Meta to Myrtle Beach…and beyond, '22 grads get to work
Hot jobs for cool Profs: From MLB to Meta to Myrtle Beach…and beyond, '22 grads get to work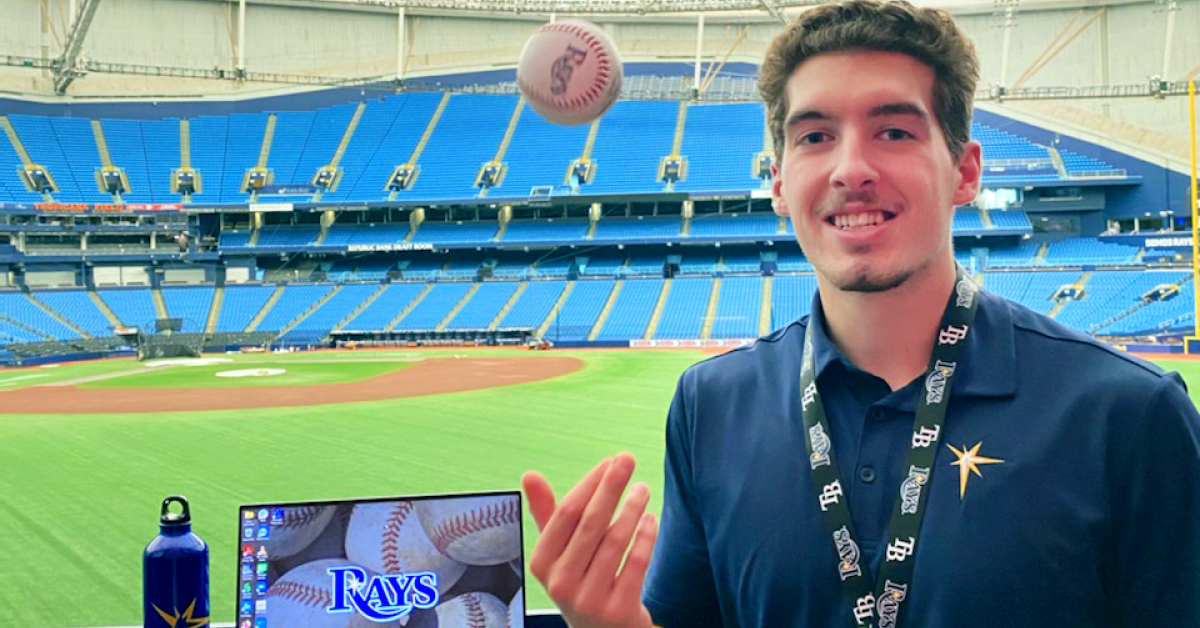 Economics alumnus Rocco Matarazzo '22 is working in data analytics for Major League Baseball's Tampa Bay Rays. Recent graduates have used hard work, strong networking, internship experience, campus involvement, and academic success to land some exciting and interesting post-Rowan jobs.
#HireRowan is more than a hashtag. It's a way of life for some high-profile employers who have recruited and hired members of Rowan University's Class of 2022.
"A lot of employers like the grit our students have. They often already work and also are involved in extracurricular activities. Many have internships and work on campus. All of those pluses, coupled with academics, make Rowan a good overall source for talent for employers in the tristate region and nationally," says Andrew Duffy, associate director of employer relations in Rowan's Office of Career Advancement.
According to Duffy, the Job Outlook Spring Update survey from the National Association of Colleges and Employers (NACE) shows that college hiring is surging. Employers have reported that they plan to hire almost a third more new graduates than last year, according to Duffy. In fact, 56 percent of the employers in the NACE survey stated that they will increase their college hire numbers, he adds.
While in no way a comprehensive list of all members of the Class of 2022 who have landed their first post-Rowan jobs, the recent graduates below have used strong internships, campus involvement, excellent networking and solid academics to secure some terrific positions nationwide. Here are their stories:
Reporting from Myrtle Beach: Joel Vazquez-Juarbe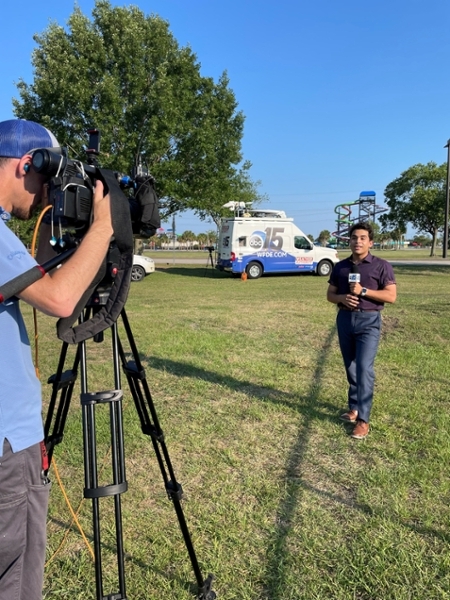 Always busy as a Rowan University undergraduate, journalism major Joel Vazquez-Juarbe (at right) completed three internships – one at NBC's Today Show – and was co-editor-in-chief of The Whit student newspaper.
Within weeks of Commencement in May, Vazquez-Juarbe took a multi-media news position with ABC affiliate WPDE-15 in Myrtle Beach, South Carolina, where he covers everything from municipal government, business and development to tourism, feature stories and breaking news.
"I write, shoot and edit all of my own work," he says. "I have a work car and go where the story is."
His first live broadcast involved person-on-the-street reaction to the May 24 mass shootings in Uvalde, Texas, in which a gunman killed nineteen students and two teachers.
"I went to a grocery store and asked random people how they felt about the shooting and about gun violence in general," he says.
His work involves live, taped and online reporting. Vazquez-Juarbe credits the faculty and experiences he developed through the Ric Edelman College of Communication & Creative Arts with helping him launch his career.
"Sometimes I need to take a step back and realize I'm no longer in school," he says. "One of my goals is to become a network anchor, but I could also see myself becoming a teacher later in my career, helping the next generation of journalists. I'd feel a lot of fulfillment in that as well."
Baseball analytics in Tampa Bay: Rocco Matarazzo
Rocco Matarazzo saw "Moneyball"—the 2011 film that chronicles former Oakland Athletics general manager Billy Bean's use of analytics to field a competitive Major League Baseball team—and decided that was his career path.
"I thought, 'Wow. I want to be that guy,'" he says.
Matarazzo has taken a significant first step.
On May 23, just two weeks after earning his bachelor's degree summa cum laude in economics, with minors in data analytics and statistics from Rowan's College of Humanities & Social Sciences, Matarazzo began work as a data analyst for MLB's Tampa Bay Rays. In that role, he's currently analyzing base running metrics, looking for ways to improve the team's process or more efficiently find answers they're seeking.
In following his passion, Matarazzo applied to 35 positions with 19 MLB teams. After three rounds of screenings and interviews, he was offered the Rays job in February.
He credits research for his senior thesis in helping him land the position. For economics lecturer Jesse Melvin's class, Matarazzo developed a statistic to evaluate the performance of MLB managers from 2010-'19, determining how much impact a manager has on the outcome of a game.
According to his research, Rays manager Kevin Cash, two-time American League Manager of the Year, was the third best manager, something that Matarazzo volunteered readily in his interview.
His goal is to become a general manager at the professional level.
"I want to build a team. I'm going to work as hard as I can to achieve that," he says.
International banking: Lindsey Hofschneider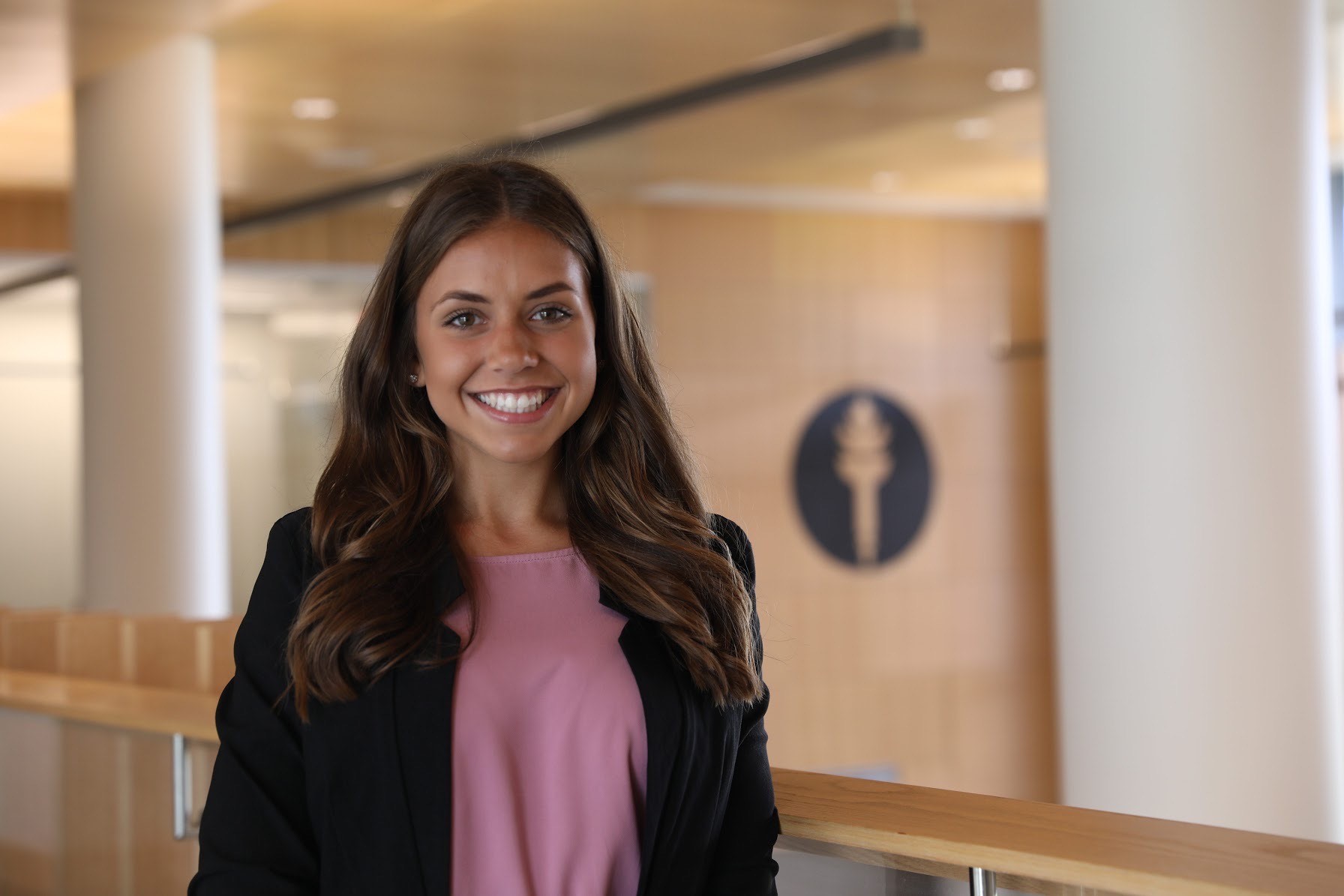 Finance major Lindsey Hofschneider (at right) graduated from the Rohrer College of Business after just three years in 2021 and, last month, walked with her MBA in management and finance – and a perfect 4.0 GPA.
Landing a first job with UBS, the Swiss multinational investment bank, Hofschneider has begun an immersive 24-month training program that, she believes, will set her on a path for the career of her dreams.
While in the training program, Hofschneider will be an investment banking analyst in one of four groups: equity capital markets, private funds, private financing markets or global industries.
"I'll find out during the first month of training which group I'll be going to," says Hofschneider, who will start her Manhattan-based position next month.
Hofschneider says investment banking can be an especially lucrative career but one that's equally demanding.
"It's not uncommon to work 80 hours per week, but the pay makes up for it," she says. "The main thing is attitude, showing up on time every day, and communicating clearly."
The Clark, N.J., resident currently works from home, where she's cramming for two industry exams that reinforce and expound on what she learned in grad school.
"My biggest goal is to see how investment banking works for me and hopefully it will be a lifetime career," she says.
Engineering software for Meta: Irshad Yasin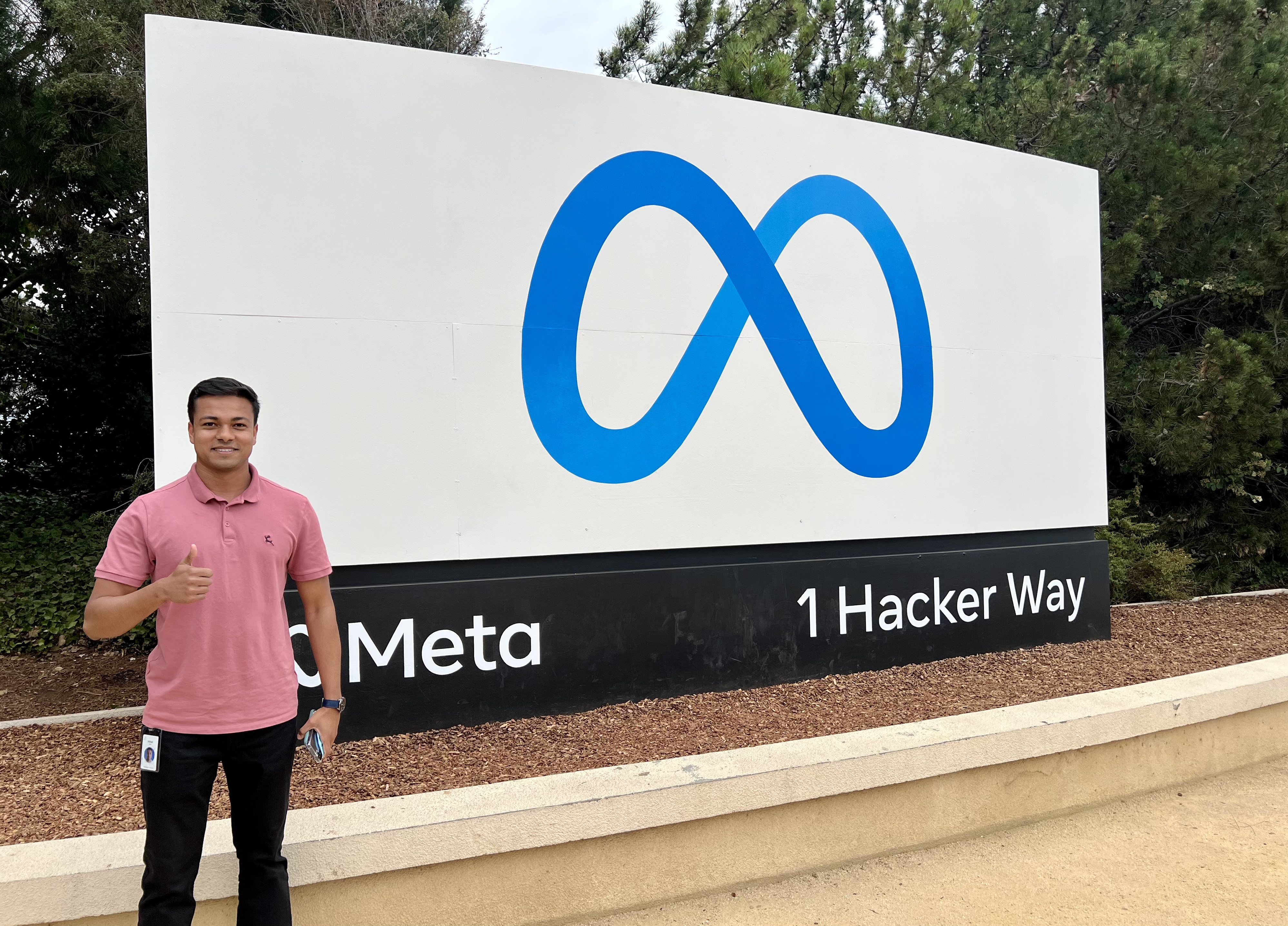 Irshad Yasin (at right) is living out his dream. After graduating in May with a degree in computer science, the 23-year-old moved to California, where he is working as a software engineer for Meta, Facebook's mothership.
A native of Bangladesh, the resident assistant and Rowan success coach started his job search as a junior by networking with recruiters from large tech companies, first to find an internship. The pandemic offered a silver lining: He virtually attended a lot of career fairs that were previously only held in person.
Eventually, he landed an internship at L'oreal in New York City, which helped him boost his resume and polish his skills. He also practiced his interviewing and coding skills to help him get through the application process.
Recruiters invited him to apply and he went through multiple rounds of interviews with major tech companies: Microsoft, Twitter, Google, Amazon, Pinterest and, of course, Meta. Though he suffered many rejections, he didn't give up. 
"I used to feel devastated," recalls Yasin, who earned his degree from the College of Science & Mathematics. "Then, I woke up the next morning and started doing the same thing." 
His advice to Rowan students? 
"Just go for it," Yasin says. "I've talked to a lot of people who feel like they're not ready for these jobs … There are a lot of smart people in my major. Just go for it. Start applying, start networking, start learning. Do stuff on your own. Go for the big ones. There will be a lot of people who can get cool jobs like this."
Bringing the techno magic to Walt Disney World: Amanda Uretsky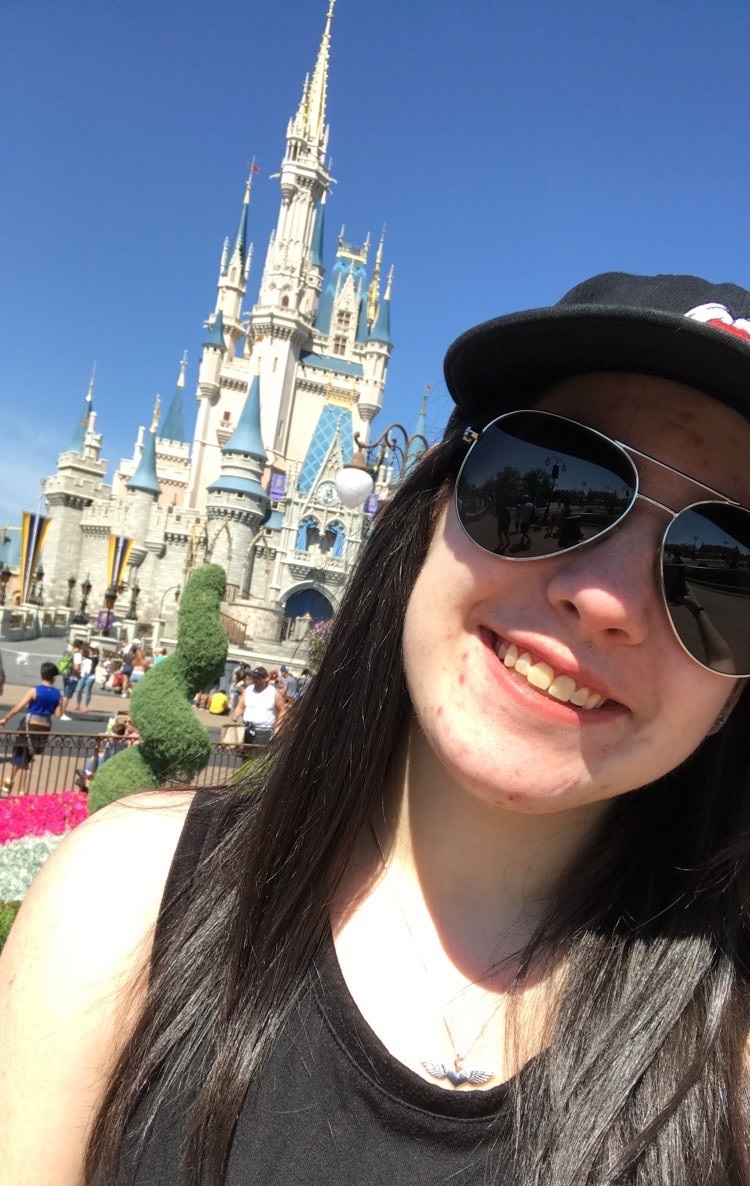 Two months ago, Amanda Uretsky (at right) was scrolling through jobs on Linked In when the position for an entertainment technician at Walt Disney World caught her eye. Three weeks later, she was hired.
"I applied on a whim. They require five to eight years of experience, even for an entry level position," says Uretsky, who earned her bachelor's degree in music industry from Rowan's College of Performing Arts in May.
Truth be told, if you add up Uretsky's experience as a technician in both high school and in CPA, she has all the makings of an industry veteran. Plus, of course, there's her Disney acumen.
"Disney has a really deep place in my heart," says Uretsky, who visited the Magic Kingdom for the first time as an infant and went almost every year while growing up. "I've always wanted to work for Disney."
Uretsky begins her position on July 23 and will be responsible for production in the Magic Kingdom, running lights, sound, and pyrotechnics for parades, stage shows and Cinderella's castle.
Her Rowan education has prepared her, she says. Through her Federal Work Study position, she was a lab and studio monitor in CPA and, from her freshman year on, also was the main sound person for live performances. Additionally, she worked with the Rowan Music Group, the student-run record label.
"I kept up my grades, I learned everything I could, and I maintained relationships with my professors," says Uretsky. "I love that I'm able to execute my passion and expand my knowledge every day. I kind of thrive under pressure and chaos.
"My ultimate dream job would be to be a supervisor at Disney. I love the Disney atmosphere. The people are always nice. They do what they can to make the magic happen."