Engineering for good: She's already on the job to make the world better
Engineering for good: She's already on the job to make the world better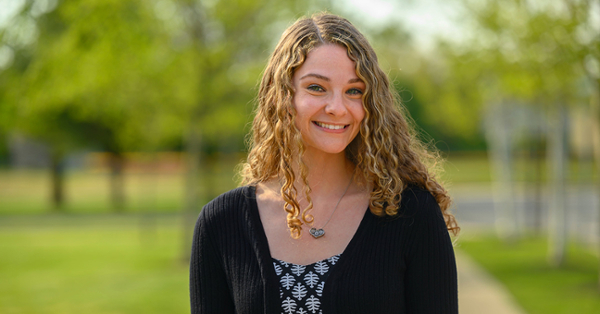 Lauren Repmann graduated from Rowan University with a biomedical engineering degree in December and now works for Merck in North Carolina. Below, Repmann stands near a Merck sign in North Carolina. Photo credit: Merck & Co., Inc.
Since she was 14, Lauren Repmann has worked at an accelerated pace. By the time she graduated high school, she already had her associate's degree.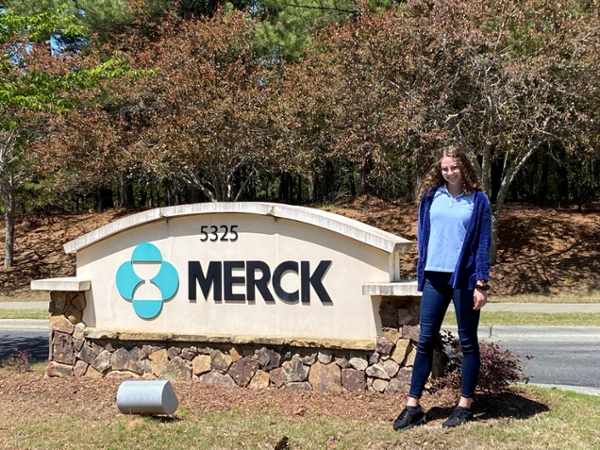 Now, at 21, she has a full-time position at Merck in Durham, North Carolina. She is the first student from Rowan University to land a spot in the pharmaceutical company's three-year Manufacturing Leadership Development Program (MLDP)—and since she graduated with a biomedical engineering degree in December, a full semester early, she's also the first in her cohort to start in the program. 
Merck's MLDP is designed to provide an environment where college graduates can grow and gain experience in manufacturing and supplying medicines and vaccines that save and improve lives around the world. The program offers coaching from senior leaders at Merck, exposure to real-life business challenges, as well as training from industry-leading scientists and engineers.
"I've always been someone who likes to challenge myself," said Repmann, who grew up in Laurence Harbor, Middlesex County, with a view of the New York City skyline sparkling beyond her bedroom window. "I don't like going down the easy path." 
She comes from an engineering family: Both parents have engineering backgrounds and her younger brother, Jason, is a sophomore in the mechanical engineering program at Rowan. 
While trying to decide which university to attend, Repmann made an immediate impression on faculty researcher Dr. Mary Staehle during a visit to Henry M. Rowan College of Engineering. 
"Lauren came in with a list of questions and a very defined profile of what she was looking for in a university and a biomedical engineering program," Staehle recalled. "And it wound up fitting Rowan almost perfectly. We were able to offer everything she was looking for in a college, in addition to aspects she didn't know she was looking for."
"She joined my lab in her first semester," said Staehle. "That's fairly unusual for an undergraduate student."
Throughout her years at Rowan, Repmann pursued research studies in Staehle's lab on the toxicity of various chemicals on the nervous system and was among the co-authors with Staehle on a paper examining the developmental neurotoxicity caused by chemicals. When experiments failed, she took what she learned and applied it to the next project. 
"We learned a lot from failure," Staehle said. "She was able to put that information forward to some of our new undertakings in the lab." 
Students have the opportunity to work on major research projects at Rowan funded by National Institutes of Health, the National Science Foundation, industry and others, said Dr. Mark Byrne, founding department head and professor of biomedical engineering.
"Great students like Lauren excel in this environment and can make a substantial impact as they grow into leading engineers," Byrne said. 
During the height of the pandemic lockdown, she joined her father on the manufacturing frontlines, producing components for medical devices. Last year, she landed a summer research fellowship at the University of Florida.  
Also part of the Honors College, Repmann mentored first-year engineering students, worked as an admissions ambassador for Rowan and served as president of the Rowan University IEEE Women in Engineering Club. She also built the Rowan University 3D Printing Club from scratch, Staehle noted. It was recognized as the University's top student organization last year. 
"Not only did she design this organization to teach and train Rowan students with 3D printing, but she made sure that they were philanthropic in those activities, directly impacting the surrounding communities," Staehle said. 
Her academics and approach to learning impressed Dr. Erik Brewer, who teaches in Rowan's Biomedical Engineering Department.  
"She has a genuine sense of wanting to improve," Brewer said. "If I had an employee like this, this is someone I could trust to give an assignment." 
At Merck, Repmann is working on the technical operations team, supporting the manufacturing process of an important vaccine. She'll be in that role until August 2023, when she'll move on to the second of three rotations at another Merck site, perhaps overseas. 
"I want to make this world better for all the generations that are going to come after me," Repmann said. "I know that's a cliche answer, but that's what I want to devote my life to. I'm really excited about everything that comes along that journey."