Engineering ways to make new parts, equipment in the field
Engineering ways to make new parts, equipment in the field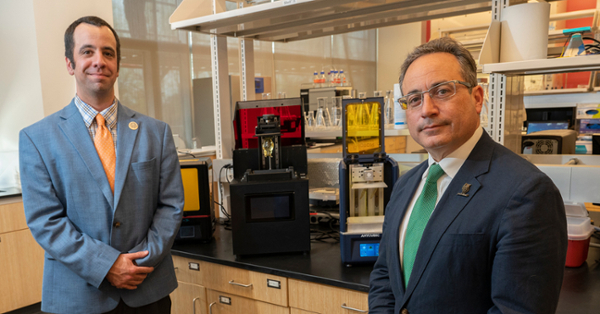 From left, Dr. Joseph Stanzione and Dr. Giuseppe Palmese are leading research at Rowan University to develop new 3D-printing processes for the military.
Since 2017, researchers from Rowan University's Henry M. Rowan College of Engineering and Drexel University have collaborated with Pittsburgh-based PPG and the U.S. Department of Defense's Army Research Laboratory to develop additive manufacturing technologies for military applications. The Department of Defense has awarded the collaborators an additional $999,981 in funding to continue research on 3D printing. 
The research is led by principal investigator Joseph Stanzione, Ph.D., associate professor of chemical engineering in the Henry M. Rowan College of Engineering and the director of the Advanced Materials & Manufacturing Institute (AMMI), and principal investigator Giuseppe Palmese, Ph.D., the dean of the Henry M. Rowan College of Engineering and the associate director of AMMI.
Stanzione, Palmese and collaborators will build on previous research focusing on 3D printing in military settings, specifically to develop new processes for 3D printing with polymers. The Army can use 3D printing to manufacture pieces of equipment in vehicles that are damaged in the field without needing to travel back to the base or wait for a new part to be shipped, for example. The research team is working to pinpoint the best ways to print these items and with materials that are sustainable and able to withstand extreme conditions.
"The work that we've been doing is related to finding and developing materials that provide better performance characteristics so that the Army can use them in 3D-printing processes to make the parts that will be used in the field," Palmese said.
Polymers are lightweight materials typically used to manufacture everyday items like fiberglass, paints, and even toys. In this application, they will be used to create military-grade materials. Using polymers to 3D-print these items makes them lighter and more durable. The researchers are also looking into methods of 3D-printing optical lenses. 
"You can 3D-print advanced optical lenses not only for soldier wear but for other advanced systems," Stanzione said. 
Other areas of research include developing self-healing materials. In the event a crack forms in a surface, resin within the item will react to seal the crack or puncture. 
The multi-disciplinary research team includes post-doctoral students, graduate students and undergraduate students in specialties like chemical engineering and materials, and science engineering.
"The students are learning how to conduct cutting-edge research," Stanzione said. "Both the Army and PPG are very happy with the student involvement because it's helped to train the next generation of scientists and engineers that they could potentially hire someday."