Undaunted by ADHD, triple major/pre-med minor aims high
Undaunted by ADHD, triple major/pre-med minor aims high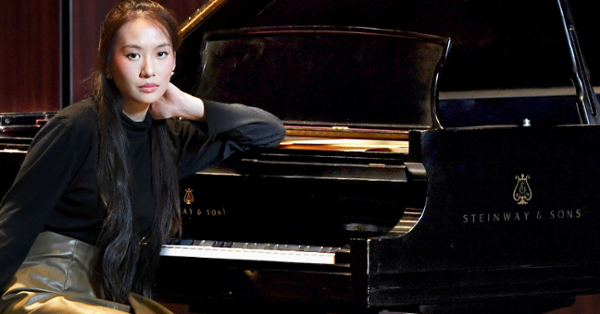 Attention Deficit Hyperactivity Disorder does not begin to define Terry Nguyen.
Graduating with not one, not two, but three Rowan University bachelor's degrees (and a pre-med minor!) Nguyen has her sights on medical school where she'll no doubt bring the compassion she has for others to the passion required to be a good doctor.
Not only is Nguyen graduating with a Bachelor of Arts in Music (classical piano), a Bachelor of Fine Arts - Biomedical Art & Visualization and a Bachelor of Fine Arts in Studio Art/Graphic Design (as well as the pre-med minor), she's doing so at the top of her class with a near perfect grade point average in four years flat.
Suffice to say, it hasn't been easy.
In addition to the rigors of completing any degree (let alone three, and, oh yeah, the pre-med minor!), she did so while contending with a neurodevelopmental condition that often appears in childhood and can last throughout one's life.
According to the CDC, people with ADHD, a normal but atypical manner of neurodevelopment, often exhibit behaviors that in another time and place might have branded them outcasts, misfits or worse. They can daydream a lot, forget or lose things, squirm, fidget or talk too much, take unnecessary risks and/or have difficulty getting along with others.
None of which they do on purpose, for attention or for special treatment.
"The biggest problem I have is poor executive management skills," Nguyen said. "Take for example something basic like clutter. For me, everything is in view. My desk at home is a mess. I know where everything is, but it's a mess."
One wouldn't know it by how brilliantly she performed at Rowan, but Nguyen said motivation is also a major struggle. She sets reminders on her Google calendar constantly, relying on patterns and redundancies to help her stay on track.
Even then, she said, she struggles to complete tasks — and tests — on time. The condition affects not only her schoolwork but everyday interactions with friends and family, often because she's running behind.
"I'm always like, I'm not imposing on you, am I?" she asks her friends. "Even if I really want to do homework or complete anything it can be hard because my sense of time is warped to a degree. Even with showering or getting ready for class, everything at the last minute."
The support to succeed
A CDC survey in 2016 found that some 9.4% of American youth were at some point diagnosed with ADHD including 388,000 children aged 2–5 years; 2.4 million children 6–11 years; and 3.3 million students aged 12–17.
Nguyen, who earned straight As until high school, said her onset of symptoms — restlessness, difficulty focusing, diminished comprehension — may have worsened in part because her school district was reluctant or unable to provide the support she needed. For her, such accommodations as a quiet space for testing and some flexibility on deadlines would have helped tremendously, she said.
At Rowan, she said, she was able to flourish in part because of an institution-wide embrace of inclusion and acceptance. She found support through the Office of Accessibility Services, which helped arrange for accommodations as needed.
Nguyen spoke at the launch, in October, of Rowan's new Center for Neurodiversity, which was created in the  spirit of recognizing, supporting and celebrating the "diversity of human brains, minds and bodies and to recognize differences as a natural human variation."
She serves as co-president of Rowan's Student Neurodiversity Club, president of the Biomedical Art & Visualization Club, and treasurer for the American Physician Scientist Association, which advocates for student-involved research. Further, Nguyen co-founded and worked with other students to establish the ArtSci Symposium, a group that brings together students in art, science and technology as a collaboration between the American Physician Scientists Association and the Biomedical Art & Visualization Club.
In a sense, she said, having ADHD actually helped her focus as she explored her love of music, art and design, passions Nguyen has no doubt will help in her dream of becoming a physician.
For now her plans include earning a graduate degree ahead of medical school and she envisions a career in which she can apply various aspects of her personality, including her highly artistic side.
"I was initially interested in psychiatry, but maybe plastic surgery," she said of her ultimate goal. "I feel like both are socially involved, that I could have a big impact in either."
Read more about Commencement 2022 and see the full schedule of ceremonies.