At long last, this nurse has degrees to match her skills
At long last, this nurse has degrees to match her skills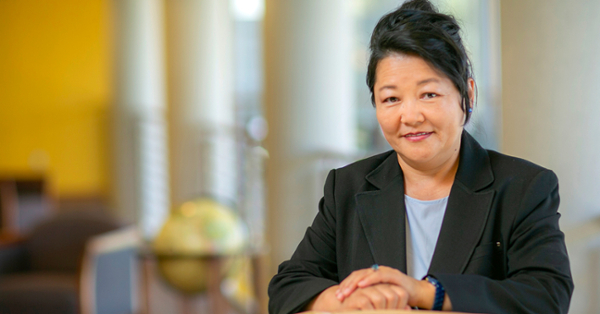 Solongo Boknov of Mount Laurel returned to school to serve patients in the United States.
Solongo Boknov is about to graduate with her Bachelor of Science in Nursing (BSN) degree at Rowan University's Virtua Health School of Nursing & Health Professions, but the Mount Laurel resident's self-assuredness, sunny personality, and steady hands hint at years of experience—and an unwavering drive to serve patients.
In the late 1990s, after completing medical school and working three years as an obstetrics resident in her native country of Mongolia, Boknov left everything she knew to move to California. To return to medicine, she had to learn a new language, navigate a new culture and build a new life.
Over time, Boknov began taking college courses to return to health care, first as a paramedical examiner who prepared patients for medical exams, and later as a hospital technician and phlebotomist. 
Five years ago, while working at a teaching hospital in California, she encountered a resident fresh out of medical school whose hands were shaking while trying to start a patient's IV. 
"The patient was nervous and (the resident) was nervous," Boknov recalled, so she held the patient's hands while successfully talking the new doctor through each step. Her knowledge and skills caught the attention of the resident's professor and her manager, but, without a nursing degree or nursing license, she wasn't allowed to perform such procedures herself. 
She resolved to go back to school again, this time for nursing. She and her husband moved to New Jersey, where she enrolled in the 3+1 nursing program at Rowan College at Burlington County. She graduated with her associate's degree last May, opting to continue her schooling full time to obtain her bachelor's degree before working in the field. 
It's an intense, rigorous program, noted Dr. Angela Ruckdeschel, one of Boknov's professors. Nurses in the bachelor's degree program receive instruction on health care privacy laws, electronic health records and telemedicine, as well as how to search the current scientific literature for evidence-based practices.
In her course last semester, Ruckdeschel said, "I witnessed (Boknov's) passion for learning and her compassionate temperament. She's extremely dedicated to the profession of nursing and I'm excited for her future and know that she will truly make a difference in her patients' lives."
Dr. Carmen McDonald, who taught Boknov how to publish research papers at the university level, noticed her patient-centered care mindset, a view that frames the practice of medicine around the needs and wants of an individual patient. 
"She goes over and beyond in her work," McDonald said. "What I find most fascinating about her is that she is able to apply the clinical practice of nursing, even though she's not physically doing it."
That will change soon. After graduation, Boknov hopes to work for a hospital on a medical-surgical floor or in an intensive care unit. She's looking forward to challenging cases.    
"I have all these skills," Boknov said. "I'm ready to go to work."