For good: Salma Elwy will carry her Rowan experiences forward into performing, writing and teaching
For good: Salma Elwy will carry her Rowan experiences forward into performing, writing and teaching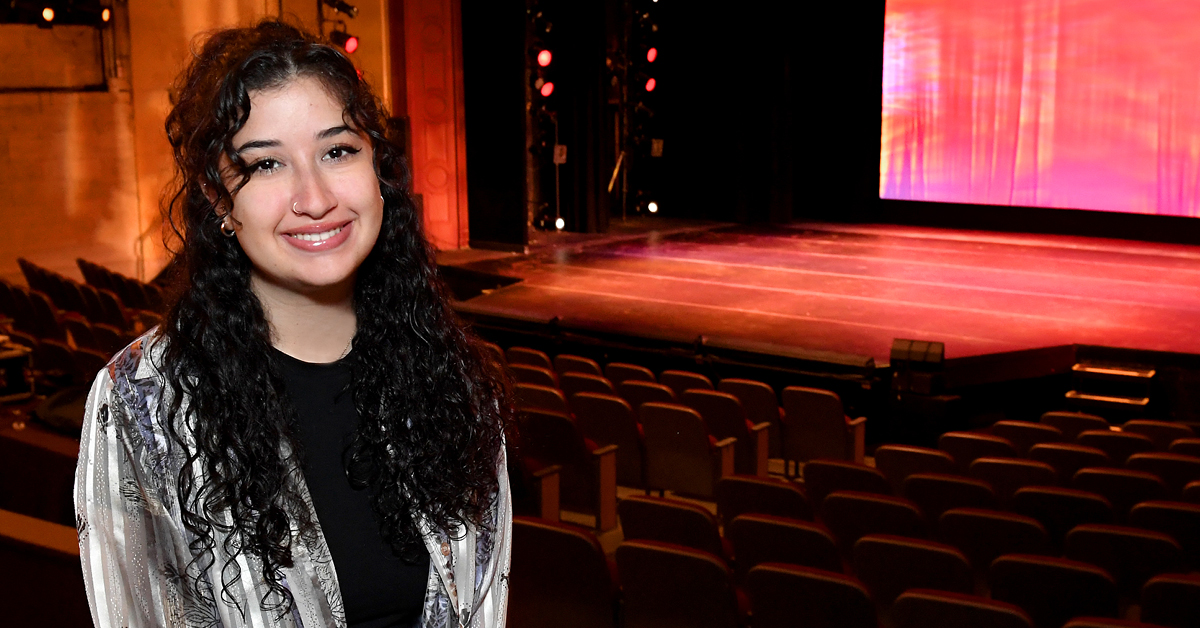 Ask Salma Elwy which Broadway song best describes her Rowan University experience and she doesn't hesitate.
It's "For Good" from "Wicked."
"It comes at the very end of the musical, which, in a way, mirrors the end of my college career," says Elwy, who is earning her bachelor's degree in theatre arts, summa cum laude, from Rowan's College of Performing Arts on Monday, May 9.
"It also describes being grateful for the friendship between the two characters and for everything they've experienced together—whether positive or negative. Those experiences changed who they were as people forever. After going through college in a pandemic and coming out of the other side, I can certainly say that I've been changed for good."
Throughout her academic career, Elwy has squeezed every bit of good out of her Rowan experience…and contributed plenty of good of her own, too.
Her bachelor's degree includes concentrations in acting and pre-teaching, a minor in Arabic Studies, and a certificate in undergraduate studies in teaching English as a second language.
'It's theatre magic'
A resident assistant since her sophomore year, she has performed in six Rowan productions—including "The Wolves" on the Main Stage last year—has appeared in two student short films and directed a student production of "Collective Rage: A Tale in 5 Betties."
Moreover, in April, her play, "These Walls," an original work written for her "Fundamentals of Playwriting" class, was selected for a staged reading at Hammonton's Eagle Theatre. There, professional actors spent a week rehearsing the script, which focuses on three generations of Arabic women, before presenting the play for one evening before a 60-member audience.
"The Walls" was staged just days after Elwy wrapped up directing "Collective Rage: A Tale in 5 Betties," her senior capstone project with classmate and co-director Lauren Dyke.
In a single, intense week, Elwy bounced between roles as director and playwright, experiencing the thrills—and, sometimes, she says, the terror—of presenting live theatre. Both productions focused on strong, quirky, funny women—themes that clearly resonate with Elwy.
"Being a director, you're not just in charge of the actors. You're in charge of lighting, carpentry, costumes. You have to imagine the whole world," says Elwy. "Being a director is hard. It's hard, hard work. I learned to trust the process and to take it day by day.
"There were times where I thought, 'I have no clue what I'm doing, but I hope it works out.' And suddenly the show goes up and it's theatre magic."
Collaborative, trusting, kind
The Eagle Theatre staged reading, a paid job, demonstrated to her the teamwork it takes to create characters and a story that truly connect with an audience.
"Oh my gosh, it was terrifying," Elwy laughs. "The purpose of the reading is to get feedback. It was great to get an outside perspective. I got to hear the actors' perspectives and hear what they see in the story.
"It was scary to undergo judgment and critique. But in the end you see how the work resonates with the actors. It gives a real payoff. It's so different than performing someone else's work. Being a playwright is just so different than anything I've ever done before."
Elwy handled playwright duties like a pro, says Angela Longo, producing artistic director at the Eagle Theatre and a 2018 Rowan theatre alumna. The Eagle's New Play Development Series is designed to nurture local young playwrights. "These Walls" was a perfect fit, says Longo.
"We were really excited to see her submission come in," Longo says. "Middle Eastern stories are rarely told on stage. It's a heartwarming story featuring three generations of women. The drama is good and she does a lot of cool time jumping in the play."
It's somewhat unusual for a student still in college to get a professional reading, but Elwy was prepared, Longo says.
"It's definitely bold to be able to put yourself out there like this," says Longo. "Salma came in with a really great open mind. She was humble and willing to learn from the experience. Being able to hear the actors understand where she was coming from in the play was particularly validating for her. Salma is probably one of the best types of theatre people in that she's collaborative, trusting and kind."
A tight-knit theatre community
Those are qualities that are emphasized in Rowan's theatre program, says Elwy, a first-generation college student who lived most of the first six years of her life in Egypt. An only child, she landed her first stage role in fourth grade when she played Esther Jane Alberry in "A Christmas Story."
"The theatre department is a very tight knit community. We all work together so closely. I'm super involved and close to everyone.
"I really liked Rowan's theatre program. It's a BA, which makes it more flexible than a BFA. I had other interests—education, Arabic Studies. The program kind of lets you do everything. I've had the opportunity to do things at Rowan that I love to do. It's a very close community at a University with big opportunities," adds Elwy, who is president of Alpha Psi Omega, the theatre honor society.
Elwy's campus leadership evolved organically, she says.
"I just wanted to have more involvement," says Elwy, who also served on the student advisory board representing the pre-teaching certification in the Department of Theatre and Dance. "Especially after the pandemic, I realized that this was my last chance to do all the things I wanted to try. I say yes to everything. I have no regrets. I somehow always have room for more."
Doing it all
Elwy will continue her studies at Rowan next year as she pursues a master's degree in K-12 teaching with certification in teaching both theatre and English through the University's 4+1 MST in Theatre Education.
She can envision a career that includes teaching, writing, and performing. She also sees a future for "These Walls," which she's continuing to refine.
"I'm still working on it. There's still more to add, more to change," she says. "There are opportunities for the development and production of it.
"I kind of like to do it all in theater. Next year, I'll get my master's in teaching. Then maybe I'll move to New York. I'll teach 9-5 and then go to auditions at 6:30. That's my ideal."
If anyone can keep up that pace it's Elwy, says Professor of Theatre Elisabeth Hostetter.
"Salma is an incredibly hard working and kind. She's well-rounded and intellectually curious, adored by her peers and respected by faculty and staff," Hostetter says of Elwy, who also was a dancer in "1973: Philadelphia Museum of Dance," a production at the Barnes Museum.
"I admire her as a dedicated, smart, compassionate, creative and talented young woman. I also believe she will be an amazing and inspiring teacher who will help young people share the love of the arts that drives her."
Whether performing, writing, or teaching, Elwy is, as they say, here for it.
"We've always been taught that if you want to be an actor, you have to be able to create your own work. You're taking on multiple jobs," she says of her Rowan theatre studies. "Our professors have always said, 'We're training you to be a multi-faceted artist and to do it all.'
"I took that to heart."