Exceptionally driven: A Ph.D. and D.O. in hand, Rahil Kheirkhah eyes a future in surgery, research
Exceptionally driven: A Ph.D. and D.O. in hand, Rahil Kheirkhah eyes a future in surgery, research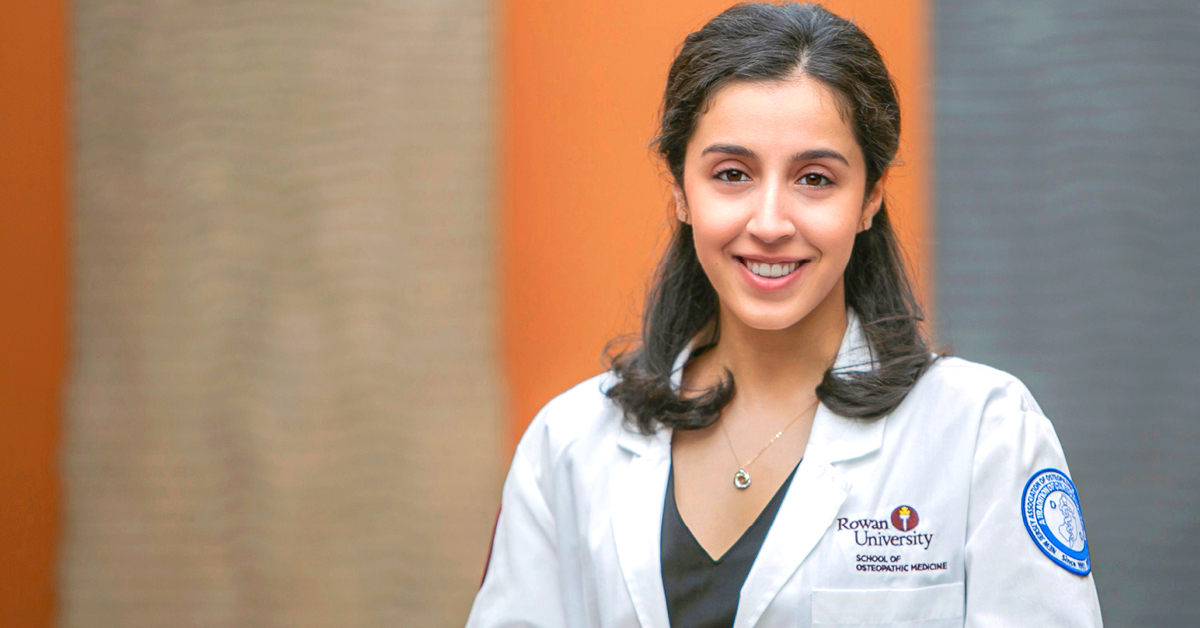 Rahil Kheirkhah is on a mission.
Earning her medical degree from Rowan University's School of Osteopathic Medicine (RowanSOM) on May 9, she will head to a five-year general surgery residency program with the ChristianaCare health system in Newark, Delaware.
She is bringing extraordinary credentials to her patients: a doctor of osteopathic medicine degree as well as a doctoral degree in cell and molecular biology from Rowan's Graduate School of Biomedical Sciences, which she earned in 2020. Kheirkhah is only the second female DO/PhD in the school's history.
The Linwood resident has always wanted to be a doctor.
"I don't think I ever considered doing anything else. I knew I wanted to help people, and being a doctor was the only thing I ever thought about," she said. "My family taught me a very central tenet of my life, which is you want to live your life serving others and you want to live your life giving back and always listening to the people around you."
Her parents embodied this message as they fought to reestablish themselves in a new country. Her father was a family physician and her mother a science teacher in Iran. But after they arrived in the United States when Kheirkhah was 11, they worked diligently to build new careers—her father as a nurse and her mother as a real estate agent. 
New opportunities
After she began medical school, Kheirkhah discovered additional ways to help patients as well as her classmates.
She founded Humans of RowanSOM, a platform that showcased each person at the school with photos and short quotations.
Moved by a talk given by Dr. Robert Nagele, professor of medicine at RowanSOM, she was selected for a summer medical research fellowship after her first year.
"When I worked with them in the lab, I loved what they were doing," she said. "It was very cutting edge and innovative, like nothing I'd ever heard about before."
This led her to earn her doctorate within three years, receiving the Dean's Award for Excellence in Research in 2018. She worked on research to develop a blood test to diagnose early-stage Alzheimer's disease, which would detect the disease before patients begin to show symptoms, enabling earlier treatment.
"It was probably the best decision I've made in my seven years at Rowan," she said. "Working with them gave me a chance to not only grow professionally, but also grow personally."
In Nagele's program, she learned to perform and analyze research and refine her abilities to take a critical approach to problem-solving. She also assumed leadership roles on projects.
"It taught me to feel comfortable about questioning the material that I'm taught, looking for answers and where the answers are coming from, and approaching situations in a very scientific way.
"It made me more confident that when I am practicing medicine, I'll be learning skills and reading information that is scientifically sound and making decisions that are objectively beneficial for my patients," she said.
Nagele's guidance was invaluable, according to Kheirkhah.
"He taught me not to shrink away from a challenge and, more importantly, to become comfortable making big decisions and standing behind them," she said. "He was an incredible mentor to have, and I feel very grateful to have been able to work with him."
Handling the pressure
After earning her doctorate, Kheirkhah returned to her medical studies. She plans to continue performing research in a clinical setting, and she was drawn by the teamwork and intensity of surgery.
"There's an immediacy and urgency that demands that you be completely present in that moment," Kheirkhah said.
"When you're in the operating room, it can be unpredictable and intense, and that resonated with the intense unpredictability I had been feeling growing up as an immigrant for the last 17 years," she continued.
"I feel like the person who I am now was formed under a very pressurized environment, which is very similar to how you are when you're in an operating room."
Based on her experience as an immigrant, she also believes she will be able to empathize and connect with patients who feel vulnerable.
"Those individual one-on-one connections are really where you can make your mark, showing who you are and what your signature is as a doctor," she said.
Marcin Jankowski, DO, MBA, FACOS, associate clinical professor at RowanSOM and trauma surgeon at ChristianaCare, has observed Kheirkhah's strong drive to help others.
"Rahil is unique in that not only has she found her passion for the field of surgery, she has also found her purpose by using that passion to serve others. To a mentor, there is nothing more rewarding than to witness your mentee go through such a profound transformation and ultimate realization. I am confident that she will make an excellent and caring surgeon."
Savoring every moment
Kheirkhah is grateful for the people she met at Rowan who supported and listened to her.
"Your mentors are such a significant part of where you end up in life," she said. "They nudge you in the right direction, and with the right people standing behind you, you can go so far."
She eagerly awaits the next step in her career.
"I'm going to the hospital of my dreams and I'm doing the residency of my dreams," Kheirkhah said.
"I'm looking forward to being the best I can be and to take this opportunity in as fully as possible as time flies by…savoring every single moment. I just want to try to be as present as possible."