Study: New Jersey's drivers most often distracted by handheld cell phones on fast roadways
Study: New Jersey's drivers most often distracted by handheld cell phones on fast roadways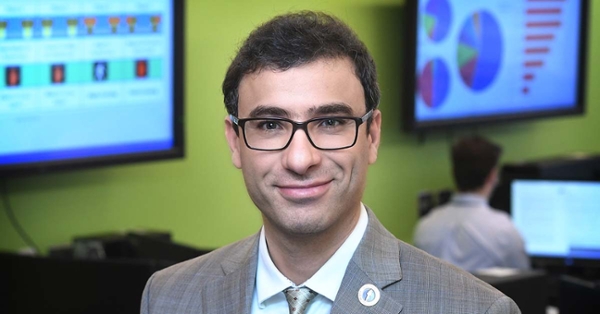 Dr. Mohammad Jalayer is an associate professor of civil and environmental engineering.
In the United States, distracted driving is one of the five leading causes of motor vehicle fatalities. In New Jersey, distracted driving is the No. 1 cause of fatal crashes, accounting for nearly a quarter of deadly motor vehicle crashes in the state. 
To combat the issue, a Rowan University research team compiled a detailed view of distracted driving in New Jersey, identifying specific incidents of distracted driving on 10 corridors and factors that contribute to distracted driving—using novel data collection and analytic approaches. The study was funded by the National Highway Traffic Safety Administration (NHTSA) under the direction of the New Jersey Division of Highway Traffic Safety.
Pointing to the study's findings, New Jersey's Office of the Attorney General announced today a monthlong awareness and enforcement campaign to combat driver inattention.
Traditionally in transportation safety, causes of traffic crashes are analyzed after the incidents already occur, said Mohammad Jalayer, Ph.D., the study's principal investigator and an associate professor of civil and environmental engineering at the Center for Research & Education in Advanced Transportation Engineering Systems (CREATES) in the Henry M. Rowan College of Engineering. This research, which found that between 20 to 25 percent of drivers observed were distracted, used a proactive safety approach that focused on eliminating incidents before they resulted in a crash. 
"We conducted real-time road observations in the field and analyzed it," Jalayer said. 
Notably, the leading type of driver distraction was a handheld cell phone, with drivers most often taking calls on weekdays. More distracted driving incidents were observed in summer than spring.
Throughout several months in the spring and summer, Jalayer and his research team of students drove along more than 14,500 miles on 10 important high-crash roadways in New Jersey: US 1, US 9, US 130, I-80, US 22, Garden State Parkway, I-295, I-95, NJ 18 and NJ 55. To assess whether nearby drivers were distracted, pairs of researchers traveled the roadways, one driving while the other manually documented each surrounding driver, cataloging the type of distraction in an app. 
Meanwhile, cameras mounted to both sides of the vehicle collected footage of surrounding traffic. These images were fed through an artificial intelligence algorithm, which specified which drivers were distracted and how: by a cell phone, fidgeting, personal grooming, eating or drinking, talking to a passenger, reaching for the radio or another object in the car, receiving a call, or being drowsy.
"Using the artificial intelligence algorithm we developed as part of this project, we could automatically extract all these distractions with very high accuracy," Jalayer said. 
Because study participants did not know they were being observed, compared to other distracted-driving studies which install dashboard cameras into participants' vehicles, the researchers were able to collect a more accurate sample of distracted drivers. 
"Sometimes when people know they are getting tracked or monitored, they are cautious and they don't get distracted," said Ahmed Sajid Hasan, a Rowan civil engineering doctoral student who co-authored the study. "In this data collection approach, you are getting exactly what is happening on the road."
Researchers also found that an increase in speed limit significantly increased distractions, while an increase in the number of lanes on a road significantly decreased the distraction events. Additionally, an increase in median width significantly decreased distractions, while an increase in shoulder width significantly increased distractions. 
The next phase of research, now in progress, will increase data collection to include more New Jersey roads during different seasons. 
Using their findings, Jalayer and his team developed recommendations for state and local agencies and law enforcement, including educational campaigns on distracted driving, especially during the summer, and increased speeding enforcement. 
"My goal is to provide the agencies that sponsored this project with meaningful solutions to help them better allocate their funding," Jalayer said. "Hopefully, we can see some reductions in crashes over the next couple of years."
With increased awareness in the areas with higher distracted-driving events in New Jersey, the research team hopes crashes can be avoided, ultimately saving lives. 
"Overall, the recommendations and results of the project will help reduce distracted-driving crashes and identify distracted-driving events in New Jersey and help save lives on the road," said Deep Patel, also a Rowan doctoral student and co-author on the study. "That is the goal of the research."