Connecting through language: Gifted linguist Gonzalo McGuckin poised to teach—and explore—globally
Connecting through language: Gifted linguist Gonzalo McGuckin poised to teach—and explore—globally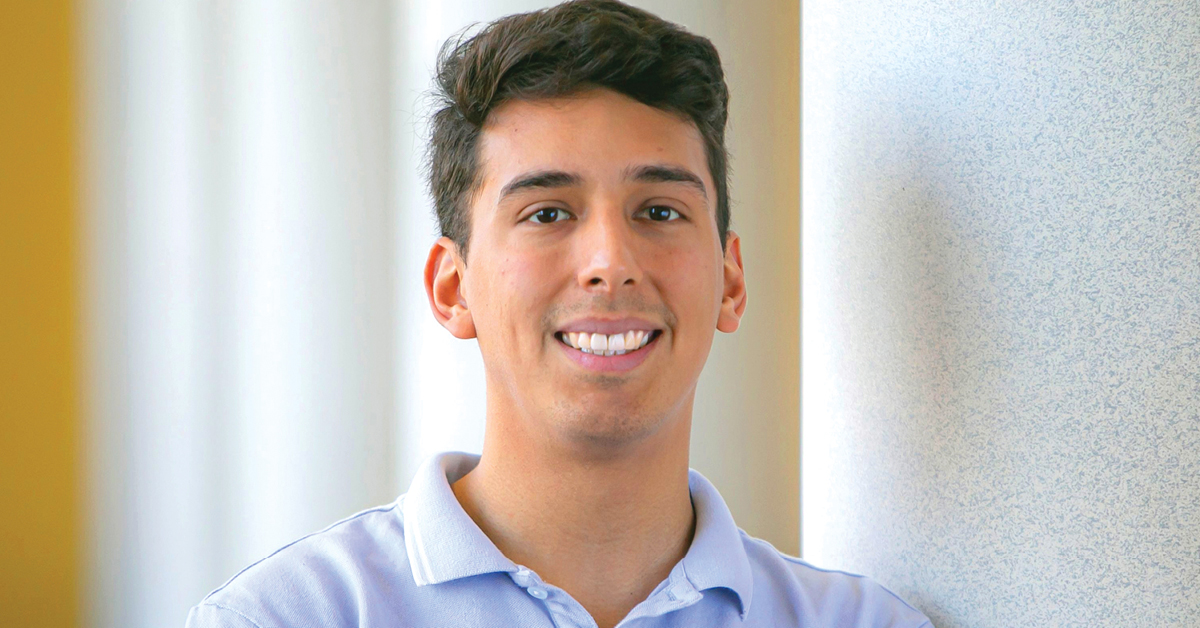 For Gonzalo McGuckin, it's always been about language. Actually, five of them. So far.
"In order to understand other cultures, you need to understand the language," says McGuckin, who will earn two bachelor's degrees--in Modern Languages and Linguistics and International Studies—with highest honors from Rowan University's College of Humanities & Social Sciences on Tuesday, May 10.
"There are things in other cultures you just can't grasp without learning the language. It's not the same as going there and living there, but it does teach you many things."
His Rowan studies now nearly complete, McGuckin is now ready to travel the world and find his place in it, exploring other cultures through language and teaching.
Named the CHSS Senior of Distinction for Modern Languages & Linguistics, McGuckin has been accepted into the Japan Exchange and Teaching (JET) program, a highly competitive teaching exchange program managed by the Japanese government. He will teach English to K-12 students in Japan for a year with an option to renew his contract for up to five years.
The opportunities to travel, live and teach abroad are a direct result of his rigorous Rowan studies, says McGuckin, who also was named an alternate for a prestigious Fulbright scholarship to teach English in South Korea.
English, Spanish, French, Italian, Japanese
In CHSS, McGuckin pursued concentrations in Spanish, French, Italian, and European and Russian Studies. He also pursued a minor in Japanese. Altogether, the Cinnaminson resident, a first-generation college student, can speak five languages: English, Spanish, French, Italian, and Japanese.
"I really do love all of my professors," says McGuckin. "All of the language professors are very dedicated to helping you learn."
Raised in a bilingual, Spanish-speaking household—McGuckin even spent his sixth-grade year in Cusco, Peru, a train ride away from Machu Picchu—he entered Rowan as a Spanish major, unsure of his career path. But his goals then were straightforward and attainable: Excel academically and get involved.
"My plan in college was to go as hard as possible and see what happened," says McGuckin, who entered Rowan through the ASCEND (Achieving Success through Collaboration, Engagement and Determination) program. The ASCEND summer program prepared him, he says, for the rhythms of classes and campus life.
"You sacrifice a summer, but you get so much out of it. I still see everyone in that program. Once classes started, I felt prepared," says McGuckin, who received the University's Larry P. Thomas Model of Excelelnece Medallion.
His freshman year, he joined men's club volleyball, an experience that allowed him to make friends from a variety of majors. Just recently, the team returned from a trip to the National Collegiate Volleyball Federation's national competition in Phoenix, where Rowan had its best showing in recent years.
"Any major can play volleyball," says McGuckin, a right side hitter on the team who also lives with his teammates, most of whom are engineering, science and mathematics majors. "It has been one of the best college experiences I've had. It's so much fun."
McGuckin's involvement at Rowan also included working in the Student Calling Program for two years for University Advancement, a job in which he sought donations from alumni to the Rowan Foundation, and as a research assistant for Professor of Political Science Lawrence Markowitz. There, he helped build a website focusing on global security.
ESL tutor
But McGuckin's most challenging position, he says, was serving as an English as a second language tutor for Literacy New Jersey of Gloucester County. In that role, he worked with adult students, organizing and developing lessons designed to help them read, write and speak English. His students came from Turkey, Mexico, and Portugal, among other countries.
After a rough first class—"I was a little shaky at first," McGuckin admits—he began to find his groove, meeting his students where they were.
"It was the first teaching experience I ever had," he says. "I had to adapt to each student. I learned that I need to be flexible with everyone. I had to make very basic, very easy to understand lessons. I realized then that teaching is something I can do. I want to pursue teaching languages."
McGuckin will excel in his JET experience, according to Chie Matsumara Dusk, a lecturer in Japanese who has taught him for four semesters. He calls her "sensei."
"Goni will do very well in Japan. He will fit in in Japanese culture. He's very well rounded. He's caring, respectful, reserved and humble. Those are things the Japanese people will admire," says Dusk.
Because of his intense study of language, McGuckin stands out in class, Dusk adds.
"Most of my students study just Japanese. But he's an overachiever," Dusk says. "He deserves all of the recognition. His classmates always say, 'Goni deserves everything.'"
'I want to explore the world and make the most of my time here'
McGuckin is ready for that…and more. Unable to study abroad while a student, he's anxious to see what the future brings as he travels internationally, making connections with people along the way.
"I did want to study abroad, but I didn't have the money or time," McGuckin says. "You can do more with humanities degrees than most people think. My roommates are all STEM majors. They'll all get good jobs in and around New Jersey.
"But I want to explore the world and make the most of my time here. My goal is to see as much of the world as I can."
There are more languages to learn as well, McGuckin says, though Japanese may well continue to be his favorite.
"For most people who learn languages, seven is a good amount," the aspiring polyglot says. "Next, I think it's going to be Chinese or Korean. But probably Chinese.
"I'm very happy I chose to study Japanese," adds McGuckin. "It has three different alphabets and the writing is totally different. Learning language is fun. It's like trying to build a puzzle. Eventually it clicks."