CSI Rowan: Unearthing and identifying 'human remains' is the final test for forensic anthropology students
CSI Rowan: Unearthing and identifying 'human remains' is the final test for forensic anthropology students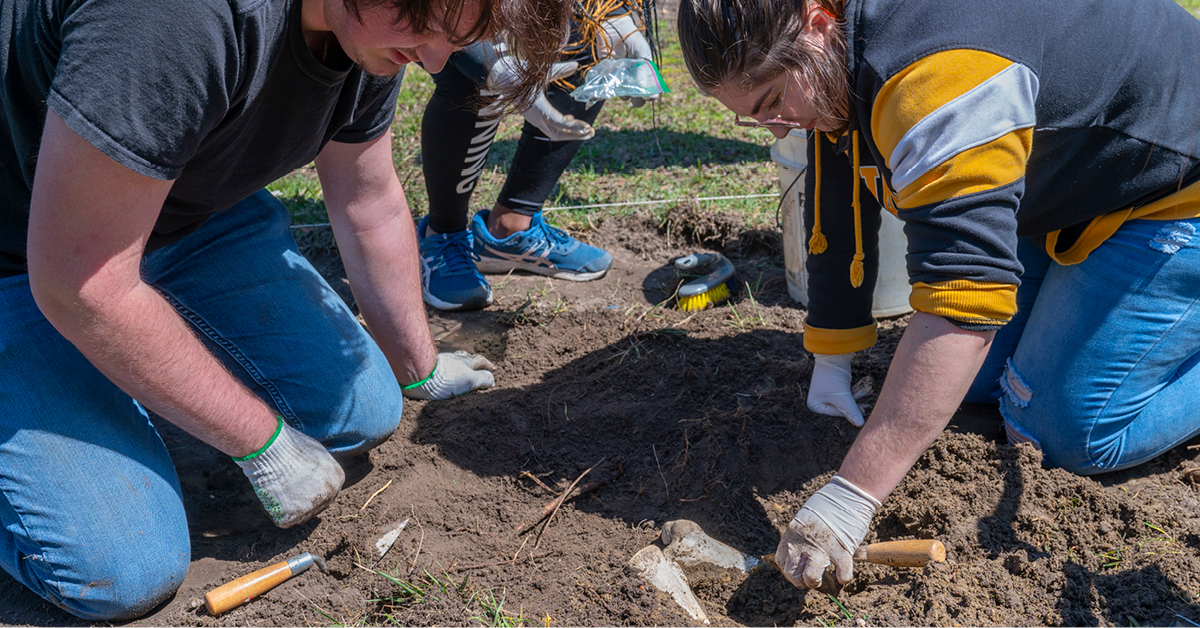 Undergraduate students work together to unearth a replica skeletal remains during CSI Rowan, a forensic anthropology course. The four-credit lab course challenges students to use their scientific and problem-solving skills to identify victims of a mock murder.
Nicole Abbott has waited nearly a decade to dig up a body on Rowan University's campus.
So it was fitting that Abbott, a freshman anthropology major, was the first to hit pay dirt.
"We've got bone!" she shouted as she uncovered a singular bone fragment buried under muddy soil on the Glassboro campus.  
Her classmate, Dawson Baily-Kipphut, site administrator on the dig project and an aspiring public defender, peered into the hole and assessed her discovery.
"It sort of looks like a scapula," said Baily-Kipphut, a junior law and justice studies, philosophy and psychology major.
There was much more work to do, however, to know for sure.
The team of about 20 students, all classmates, kept digging, surveying and collecting copious bags of evidence as they worked in unison to gather evidence to solve a mock murder—actually two mock murders—in a grassy area right off Bowe Boulevard cordoned off by police tape.
They dug for 10 hours on a recent sunny Friday afternoon under the watchful eyes of Jane Hill and Maria Rosado, their anthropology professors in the College of Humanities & Social Sciences. Together, Hill and Rosado team teach the forensic anthropology course—commonly known as CSI Rowan.
Solving a mock murder
The four-credit, high-level lab course requires students to use the lab skills they've developed throughout the semester to work together to investigate a crime scene as they attempt to solve a mock murder.
This spring, students have worked with actual human skeletal remains to learn the science behind determining the race, sex, ethnicity and age of remains. In the CSI Rowan class project, the remains are actually replica skeletons that have undergone some type of trauma and have been buried on campus. The mock crime was devised by Hill and Rosado. Hill even worked with another colleague to bury the bodies.
Students are spending the rest of the semester in the anthropology lab in Robinson Hall to determine the sex, race, ethnicity and cause of death of the remains. Their work, which is their final exam, will help them attempt to solve the crime. Students must not only use the science they've learned this semester, but, also, crime scene investigation techniques while adhering to the ethical and moral standards required in handling skeletal remains.
The class will produce an actual forensic evidence book on the case. Students even will do facial reconstructions of the skulls they found.
'This work has to hold up in court'
"They'll take three weeks to fully analyze the bodies," Hill said. "I try to impress upon them how serious this business is."
"Jane teaches about ethics, how the chain of evidence must be protected," said Rosado. "This work has to hold up in court."
Hill wrote a newspaper article detailing what police knew about the crime: A dog named Fang, who looks suspiciously like Hill's own pooch, found a skeletonized human patella when he was out for a run. His owner was unsure where the bone was located because Fang is known to wander away and not listen to his owner, according to the newspaper account.
Students stepped in to survey an area suspected by police to be the burial site as they worked the case. 
'You may have a double whammy'
"Let the body tell you where to go," Hill told the students. "Expose everything at the same time. In the aesthetics of archaeology, you need to get your whole area exposed."
"Very important: Follow the anatomy," Rosado instructed the students as they began uncovering more bone at the site in two different areas. "Are they the same person? Are they different people? You might have a double whammy. Anything goes here."
That was, indeed, the case, students quickly learned. One set of full skeletal remains was found with a bottle. A bullet was found with the second set of full remains.
"The bottle isn't anywhere near the hands," said Baily-Kipphut as he processed what the team had found to that point. "If it was in hand, there was a drunken stumble. It looks like there's some form of trauma to the head."
Exacting, back breaking work
Created in 2004, the CSI Rowan course is taught every other year. Rosado, the course co-founder, and Hill, who joined CSI Rowan in 2021, are a veteran team, challenging students—with solid science, gentle prodding, and humor--to make their own discoveries.
Chair of anthropology, Rosado for years has analyzed human remains at the Museo Arqueologico de La Serena in Chile. The facility has more than 1,500 skeletal remains of Native South Americans who walked the Earth 500 to 3,000 years ago. She has taken students to Chile for summer research trips.
Hill is a scholar of Egyptology, whose research has focused on, among other topics, predynastic and  early dynastic Egypt and Egyptian kingship. She has written on Egyptian mummification practices and was on the team that, in 2014, analyzed the tomb of Seneb-Kay, a pharaoh in ancient Egypt. Hill and Rosado both studied the pharaoh's remains.
Together, Rosado and Hill are co-curators of the Museum of Archaeology at Rowan University.
As students dug at the Rowan site, they realized that the CSI work was exacting…and, at times, back breaking.
"There's a big difference between learning on paper and actually digging in the mud," Baily-Kipput said.
Abbott, however, was in her glory, moving from responsibilities that included digging and graphing the crime scene. She is an anthropology major with a concentration in forensic anthropology.
"I've been waiting," she said, "to be in this program since I was 11."