First surgical robot to align broken femurs receives support from National Science Foundation
First surgical robot to align broken femurs receives support from National Science Foundation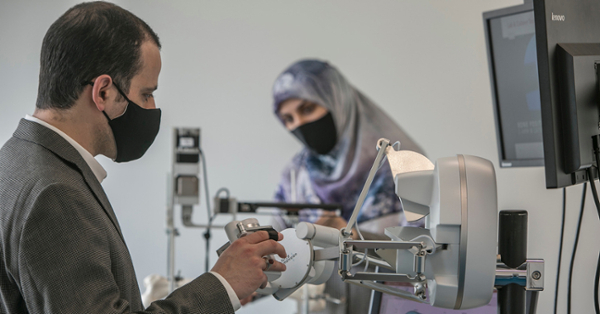 Dr. Mohammad Abedin-Nasab is an assistant professor of biomedical engineering.
Femur fractures are difficult procedures for surgeons to undertake. The longest bone in the body is situated deep underneath the skin and surrounded by muscle in the upper leg, necessitating a great deal of force to manipulate the bone. These logistical hurdles make it hard for surgeons to see the extent of the fracture and to properly realign the bone, leading to more time in surgery, longer recovery times and an increased risk of patient complications. 
For the better part of a decade, Dr. Mohammad Abedin-Nasab, assistant professor of biomedical engineering in the Henry M. Rowan College of Engineering, has been developing a robotic system to aid doctors in these procedures—and improve patient outcomes. 
The National Science Foundation has awarded Abedin-Nasab a $250,000 Partnerships in Innovation grant to help him further develop the system, called Robossis. With the funding, Abedin-Nasab will develop a prototype of Robossis by late 2023 that satisfies the Food and Drug Administration's safety and efficacy requirements. Should Robossis receive FDA clearance, then Abedin-Nasab can begin testing the system on patients. Until now, Robossis has been tested on cadavers.
Robossis has three components: the robot, imaging software, and a haptic device. A circular metal device, designed to fit a standard surgical bed, encircles the leg. Rods are inserted into the leg and are attached to the bone fragments. The imaging software takes X-rays from two different angles, giving surgeons an unobstructed view of the fracture.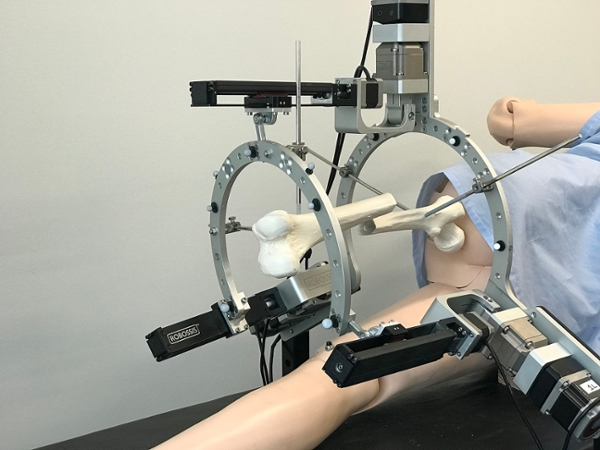 Abedin-Nasab and his team have developed algorithms meant to provide doctors with the optimal path to align the fragments. The surgeon can choose any of Robossis' suggested paths or choose their own. Then the robot will realign the bone fragments using force and rotation to automatically manipulate the leg without human help. attached to the bone fragments. The imaging software takes X-rays from two different angles, giving surgeons an unobstructed view of the fracture. 
"We want to assist surgeons," Abedin-Nasab said. "We provide stronger hands using the robot and stronger eyes using our imaging software."
Using NSF grant funding, Abedin-Nasab will further test the force of the machine and the accuracy of the alignment, first in the lab and then on cadavers. In previous testing, the robot has excelled in realignment. 
Abedin-Nasab's team includes clinicians, three Ph.D. students, four undergraduate students, and medical students. 
"This is truly an interdisciplinary project," Abedin-Nasab said. "We have expertise from various engineering and medical disciplines that is vital to our success." 
Next step toward commercialization 
Dr. Sean McMillan, chief of orthopedics at Virtua Willingboro Hospital and Virtua Our Lady of Lourdes Hospital, and Dr. Iulian Iordachita, research professor of mechanical engineering at Johns Hopkins University, are lead clinical and scientific collaborators. Jessica Fields, an entrepreneur and associate director of the New York City Regional Innovation Node at the City University of New York, will work with the researchers and Rowan Innovations to commercialize the technology. 
"Earning an NSF Innovation grant requires a team effort and that's why we're here," said Dr. Yatin Karpe, director of Rowan Innovations/Office of Technology Commercialization. The office provides researchers with assistance in filing for patents and licensing, as well as applying for federal funding opportunities, such as the NSF I-Corps program. 
"Our office helped Dr. Abedin-Nasab and his research partners secure regional and national I-Corps awards, as well as with getting more visibility for their innovation at various industry events," Karpe said. "We're looking forward to seeing Robossis through the next step toward FDA approval and getting their product into the market at the earliest opportunity."
Abedin-Nasab has conducted in-depth interviews with trauma surgeons and patients while developing Robossis. The main feedback is the importance of a device that improves alignment. Malalignment and malrotation of the bone fragments occur in a third of patients. Femur realignment surgery would also be much less invasive using Robossis. The robot only makes small incisions which limits blood loss, pain and scarring. Also, because the robot requires fewer X-rays, radiation exposure is reduced for patients, surgeons and medical staff.
"Our engineers are leading the way in creating and developing the technology of the future in medicine," said Dr. Mark Byrne, founding head of Rowan's Department of Biomedical Engineering. "Making this a reality for patients and implementing the translation of novel technologies to patients is integral to the mission of our biomedical engineering department and our University, our medical schools and partners, and Rowan Innovations." 
When Robossis receives FDA approval, it will be the first robot of its kind used to perform surgery on femur fractures. 
"We will be the first team in the world to make this a reality, which will deliver much better care to patients," Abedin-Nasab said.