Rowan senior's children's book promotes inclusivity in the classroom
Rowan senior's children's book promotes inclusivity in the classroom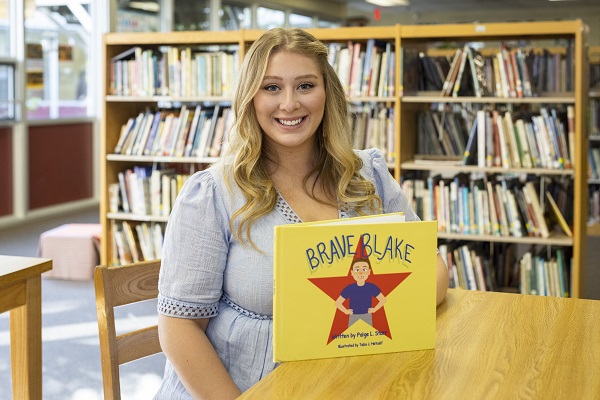 "Blending in is so last season," says Rowan senior inclusive education major Paige Starr. Her children's book, "Brave Blake," is based on her brother's experiences. The book celebrates inclusivity.
Rowan University senior Paige Starr wants to promote inclusivity throughout the world.
Her children's book, Brave Blake, is an excellent start.
Published by Pittsburgh's Dorrance Publishing in the fall, Brave Blake tells the story of a boy with a cleft lip who gains confidence and overcomes the taunts of a bully to win the second grade "Best Smile" competition.
The story is based on Starr's brother, Blake, 13, who has a cleft lip due to Van der Woude Syndrome. The rare genetic condition affects four of Starr's close relatives.
"He's just this massive beast," Starr, an inclusive education major from Franklinville, jokes of her brother, a seventh-grader who used to tell people he looked different because he was attacked by a pirate. Her book follows a similar storyline.
"Blake is so emotionally strong. Every day, he asks me when his 50 percent of the book royalties will come in."
Joking aside—she recently landed her first royalty check from the book, available on Amazon and at select book dealers—Starr's message and intent with Brave Blake is clear.
"A lot of kids hate being different," she says. "They don't want to stand out. I wrote Brave Blake to demonstrate the idea of inclusivity and what it looks like.
"Blending in is so last season."
'It's for all of us'
Illustrated by Talia Metcalf, a senior at Delsea High School, which also is Starr's alma mater, Brave Blake became a germ of a book when Starr was 15. She wrote the story and laid it aside. In the midst of the March 2020 pandemic lockdown, Starr picked it up again.
"I was cleaning out random junk and found it. I decided to rewrite it as a message that being different is cool," she says. "The book represents people who are labeled differently. It's for all of us. I hope it helps children and families."
Starr submitted the story to nine publishers and got eight rejection letters. She signed the contract with Dorrance in June of 2020. In February, Metcalf's illustrations were submitted and, in October of last year, the book was published.
"It's a very long process," says Starr, whose book went through three re-writes. "I was worried they'd want to change my story. That's not my game. I put a lot of time and love into it. When your dreams come to fruition, it's very satisfying."
Currently, Starr is completing her clinical experience teaching social studies in a sixth grade classroom at Glassboro's Bowe Elementary School. She transferred to Rowan from Rowan College of South Jersey-Gloucester, where, she says, she realized she has what it takes to work with students in inclusive classrooms.
"I had hands-on experience right away for six weeks in an inclusive fifth-grade classroom," says Starr, who worked with students with learning disabilities, including dyslexia. "I used to leave school saying, 'I wish I had more time here.'"
In Rowan's College of Education, Starr studies under internationally prominent experts in inclusive education.
"My professors are so wise. They support me as an educator, but they also support me as Paige," says Starr. "It's other worldly the way they support their people."
Aspire to Inspire
An academic senator, success coach and member of the Tau Sigma National Honor Society, an honor society for transfer students, Starr co-founded Aspire to Inspire, a Rowan club. The club works to connect future educators to teachers with an eye toward helping students succeed.
After graduation in May, she'll head to Drexel University's master's program for global and international education with a concentration in peace education.
"My goal is to work with the United Nations on inclusive education," says Starr, who also is involved in Rowan's Model UN Program. "My purpose is to bring inclusivity throughout the world."
Starr has been a guest reader in a few South Jersey classrooms. She first shared Brave Blake with the sixth graders she's teaching. They, in turn, wrote their own books.
"They received it in a way I didn't expect. They were very interested in it," says Starr. "I'm open to talking about the book at any school, anytime, anywhere. To share the book with complete strangers is incredibly gratifying.
"When your dreams come to fruition, it's very satisfying. But I think a lot about what I'm going to do next," she says.
So what is she writing now?
"Lesson plans," she says with a laugh.