Learning to treat water can start in elementary school—with help from Rowan engineers
Learning to treat water can start in elementary school—with help from Rowan engineers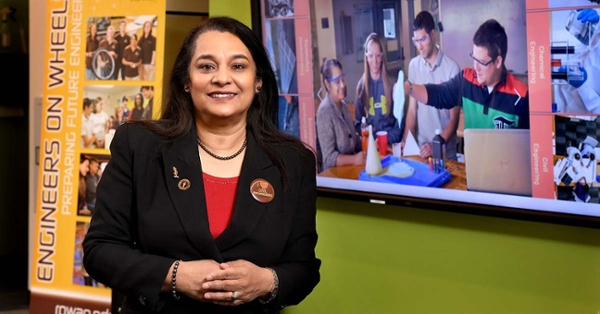 Dr. Kauser Jahan, a civil and environmental engineering professor, is leading a project to develop educational tools to interest students in careers related to water and wastewater treatment.
In order to meet the needs of an ever-evolving water and wastewater industry, a multidisciplinary team of Rowan faculty and students is developing educational tools to help expose and prepare today's students for a career in water and wastewater utilities. 
The project, called "WaterWorks: Developing the New Generation of Workforce for Water/Wastewater Utilities," is one of 10 projects funded by the U.S. Environmental Protection Agency through a new grant program established to shed light on careers in water services.
Led by principal investigator Dr. Kauser Jahan, department head and professor in the Department of Civil & Environmental Engineering in the Henry M. Rowan College of Engineering, a team of civil engineering, electrical engineering, computer science, and education faculty will use the $499,999 grant to develop four educational tools that will expose K-12 students in Camden City schools to the functions and skills required for water utility jobs. 
"This project equips young people with the information and direction they need to pursue careers in an area critically important to the health of any community—clean water," said Dr. Giuseppe Palmese, dean of the Henry M. Rowan College of Engineering. "I'm pleased to see our faculty and students are sharing their energy and expertise with Camden City schools."  
The first tool, WaterMOBILE, is a hands-on mobile learning environment designed for tactile learning in classrooms with activities focusing on pumps and pipes, water treatment, water pollution, the role of soils for buried pipes, and construction materials, such as concrete for water/sewer pipes. 
WaterTALK involves a unit about remote water quality monitoring and other remote data collection practices. WaterCAVE will allow students the opportunity to visit the Rowan University Virtual Reality Center at the Joint Health Sciences Center in Camden for virtual lessons about the day-to-day functions of water utility companies. Finally, WaterPAL will provide educators with lesson plans and learning resources like videos through an app. 
"We wanted the activities to be contemporary and move with the times," Jahan said. "It is important that the future workforce of current students in the schools understand that water and wastewater jobs are not all about coming to the home and reading a meter or fixing a manhole. It's becoming innovative as the technology becomes innovative.
"These tools are primarily teaching the next generation how sensors work, how things talk to each other, how virtual reality and augmented reality can help you understand the workings of something," Jahan added. "You don't have to physically go to that site—and in this pandemic, we learned how important it was to be able to do things digitally."
The use of digital technologies will create a workforce training program that is instructional and fun, said Dr. Ying (Gina) Tang, an electrical and computer engineering professor at Rowan. 
"What makes the project more exciting is that the technologies enable real-time monitoring and assessment of student training processes with the potential to offer self-regulated learning that is effective and efficient," Tang said. "How students digitally explore the training materials are assessed, which will give feedback to our training system to further guide students' own learning."
The South Jersey Land & Water Trust, American Water, Camden County Municipal Utilities Authority and the Atlantic County Utilities Authority will partner with the Rowan team to adopt and promote careers in water/wastewater utilities. Educators in the Camden City school district will be trained to use WaterWorks programs and high school students will have internship opportunities with local utility authorities. 
Engineering juniors and seniors will work on all aspects of the project. Mechanical engineering student Ryan Petzitillo is assigned to the WaterTALK team, building programs that relay the communication between water sensors and computers. 
"This project is indicative of the wide range of involvement the engineering students have here at Rowan," Petzitillo said. "You can be a mechanical engineering student and be involved in an electrical and computer engineering clinic."  
Genna Brunetta, a senior civil engineering student, is on the WaterMOBILE team designing hands-on experiments that are fun and adaptable for different ages and abilities. 
"The overall goal is to create an equitable project, one that uses all the same materials and methods, but is flexible in its range of difficulty, so all students feel equally entertained and challenged," Brunetta said. "That's the best part about engineering—the challenge."
Jahan expects Camden students will benefit from the project starting next school year.