Rowan University receives federal grant to train wind power workforce
Rowan University receives federal grant to train wind power workforce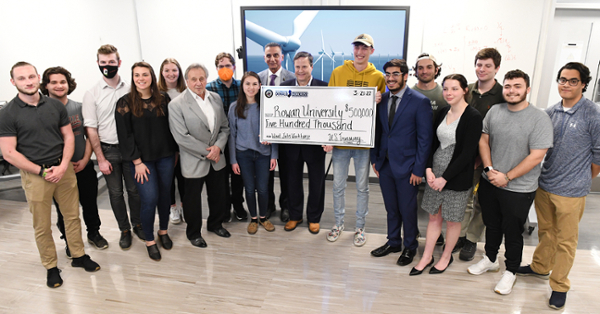 Students from the Henry M. Rowan College of Engineering stand with Rep. Donald Norcross, Rowan University President Ali A. Houshmand, and Gloucester County Commissioner-Director Frank J. DiMarco on Monday.
U.S. Congressman Donald Norcross presented Rowan University President Ali A. Houshmand on Monday with a ceremonial $500,000 check for a federal workforce training grant that will be used to prepare students for New Jersey's burgeoning wind power industry. 
Funded by U.S. taxpayers, the grant will fuel workforce training programs designed to fit the needs of wind energy employers, starting in high school up through graduate-level engineering degrees. With the federal support, Rowan will offer new job pathways in partnership with Rowan College South Jersey, allowing students to earn a bachelor's degree for less money than a traditional four-year program. 
Such workforce development funding is "critically important" to the University's ability to prepare students to meet industry demands, Houshmand said.
"The workforce training program we have developed with our partners will have a far-reaching impact on the industry well beyond South Jersey," Houshmand said. "No one is offering this breadth of education in support of wind energy. Thanks to Congressman Norcross' support, New Jersey will become the leader in wind energy jobs and training." 
Norcross said the funding is "priming the pump" for children who are growing up in South Jersey.
"It's about jobs and a career; it's about education and it's about security," Norcross said. "Imagine the world today 20 years from now and what our economy is going to look like based on clean power. It's about giving opportunities to kids who want to go to school and succeed, whether you're a welder or an engineer." 
The Henry M. Rowan College of Engineering will first use the grant to develop specialized wind energy certificates for students enrolled in "2+2" engineering technology degree programs offered in partnership with Rowan College of South Jersey, said Dean Giuseppe Palmese.
"We're going to use the same certificates for mechanical engineers, electrical engineers and civil engineers, so that anybody who wants to get some foundational knowledge in wind power can do that," Palmese said. Eventually, Rowan's wind power program will push into research and graduate-level training.  
Alison McHugh, a civil and environmental engineering junior, has already worked on a hands-on clinic project to design an efficient wind turbine with blades angled to generate the most energy possible—albeit on a much smaller scale than the 100-foot blades typically used on off-shore wind turbines.
Though she is interested in pursuing an engineering career in clean water supplies, McHugh said she was pleased to see Rowan will use the grant to help support the clean energy industry. 
"It's very important to take care of a good planet," McHugh, "for us and for future generations."  
The workforce development grant comes from the Funding for the People Act (H.R. 2471), an omnibus package of 12 appropriations bills and supplemental funding that includes $4.325 million for community projects in New Jersey's 1st Congressional District.