Fighting chronic pain, the opioid epidemic and stigma
Fighting chronic pain, the opioid epidemic and stigma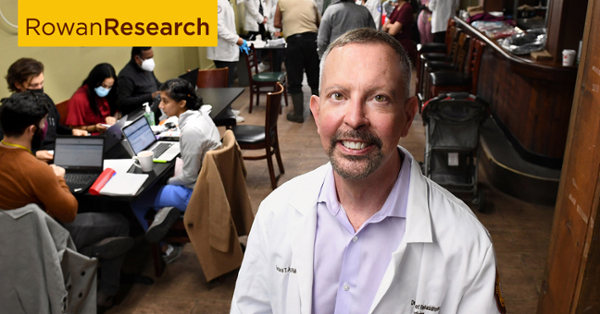 Dr. Richard Jermyn's community health projects include pop-up clinics offering COVID-19 vaccines to hard-to-reach patients in Atlantic City.
Dr. Richard T. Jermyn has spent his medical career taking care of patients who are underserved and, often, stigmatized.
He began his career practicing palliative medicine for patients with HIV and AIDS. Jermyn's focus shifted to pain management, not only for HIV patients but also for patients living with chronic pain or undergoing rehabilitation from neuromuscular injuries. The rise of the opioid epidemic prompted Jermyn to expand his practice to another patient population: individuals in need of treatment for substance use disorder.
Richard T. Jermyn, D.O.
Pain management, addiction treatment specialistAreas of expertise:
 Rehabilitative medicine, pain management, substance use disorder treatment, neuromuscular disease
More information
At the NeuroMusculoskeletal Institute (NMI) at Rowan Medicine, Jermyn and his team undertake clinical practice, community outreach and research in the form of investigations and clinical trials. 
Dr. Jermyn has received numerous grants from federal and state institutions to conduct studies focusing on pain, patient safety around opioids, safe prescribing, neuropathic pain syndromes, HIV patient pain, and non-pharmacological approaches to pain, including osteopathic manipulative medicine. His work has been published in numerous peer-reviewed journals and textbooks.
Jermyn also studies addiction and access to treatment in different types of communities.
"In South Jersey, the challenge is navigating both urban and rural communities," Jermyn said. "These communities are very different, but we're absolutely still seeing vulnerable patients in both types of communities. In rural communities, access to care is a big issue." 
A pioneer in treatment, education and research in the field of pain management, Jermyn developed training programs on safe prescribing and signs of addiction. He was the first in the nation to establish a curriculum focused on the prescription of opioids for second-year medical students at Rowan School of Osteopathic Medicine. 
"It wasn't enough," said Jermyn. "When we found people with substance abuse, we needed to treat them."
Rowan University researchers are passionate about what they do. Find more at Meet Our Researchers.