Rowan University opens more paths to jobs in cybersecurity industry
Rowan University opens more paths to jobs in cybersecurity industry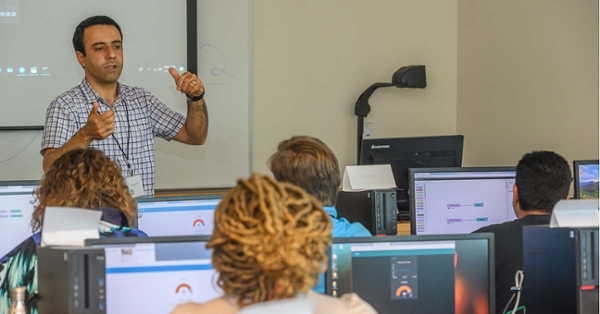 Dr. Vahid Heydari, director of Rowan University's Center for Cybersecurity Education and Research, coordinates the new master's degree program.
Studies in cybersecurity aren't only for computer science experts. The launch of Rowan University's Master of Science in cybersecurity degree program comes at a critical time when cybersecurity professionals are in high demand. 
"More cybersecurity professionals from different backgrounds are exactly what we need in this country," said Dr. Vahid Heydari, director of the Center for Cybersecurity Education and Research, coordinator for the new degree program and associate professor in the Department of Computer Science in the College of Science and Mathematics. "Cybersecurity needs to be a part of all jobs and industries, from law enforcement to business."
With the launch of its M.S. in cybersecurity program, which welcomed its first class in spring 2022, Rowan joins a small but growing number of universities offering graduate cybersecurity programs even for those who didn't major in computer science as undergrads. 
In 2022, one in five cybersecurity jobs will go unfilled and the field of cybersecurity is expected to grow by 33 percent between 2020 and 2030, Heydari noted. Opening the field to students from a variety of backgrounds is a novel way to expand the cybersecurity workforce.
"We want this degree to be grounded in real-world cybersecurity, with hands-on activities," said Dr. Vasil Hnatyshin, professor and department head of the Department of Computer Science. "In our cyber lab, students use the exact tools used by hackers to learn how to attack and how to prevent attacks."
The new program reflects the interdisciplinary nature of the field of cybersecurity.
"Cybersecurity is not just computer science," Hnatyshin said. "It's mathematics, management, psychology, electrical engineering, business, economics, law and justice, and many other disciplines."
"The program is designed to build a well-rounded cybersecurity individual, with business courses, writing, and other electives," added Jack Myers, a faculty member in the Department of Computer Science. 
Student learning outcomes include technical skills, like building secure technical architecture, and non-technical skills in writing and management.
Rowan will apply for accreditation as a National Center of Academic Excellence in Cybersecurity (NCAE-C) program by the Department of Homeland Security and the National Security Agency, once its first cohort graduates from the program as required. Five of the 10 courses that make up the new program's curriculum already cover the required content of the national cybersecurity curriculum.
Students will learn from Rowan faculty and adjuncts who are experts in the cybersecurity industry. 
"Leveraging cybersecurity professionals around the industry and government to teach electives prepares students for industry work in the legal aspects of cybersecurity, digital forensics and how to collect the evidence used to prosecute cybercriminals," Heydari said.
"The M.S. in cybersecurity program at Rowan University provides students with an opportunity to develop their skills and expertise to enter a workforce which desperately needs motivated and skilled professionals," said John Kiger of East Greenwich, who transferred into the new program after graduating from Rowan with a computer science degree last fall. 
"The staff's dedication to supporting each student's professional development is second to none," Kiger added, noting that this support has been "instrumental" in the publication and presentation of his research at the 17th International Conference on Cyber Warfare and Security in March 2022.
The new program works with existing Rowan programs to give students more options to save tuition costs and earn a degree in less time. The "3+1" program allows students to attend community college for three years and complete their fourth year at Rowan. 
The "4+1" combined advanced degree program allows students to earn both their bachelor's  and master's degrees in five years. For students who complete a combined "3+1+1" program, earning their master's degree while paying a community college tuition rate for three of their five total years of the program, "this has to be one of the most affordable cyber master's degrees in the country," said Heydari.
"Ultimately, we want to become a powerhouse in cybersecurity," said Hnatyshin, "both in preparing professionals and conducting research."