Society of Women Engineers inspires the next generation of engineering students
Society of Women Engineers inspires the next generation of engineering students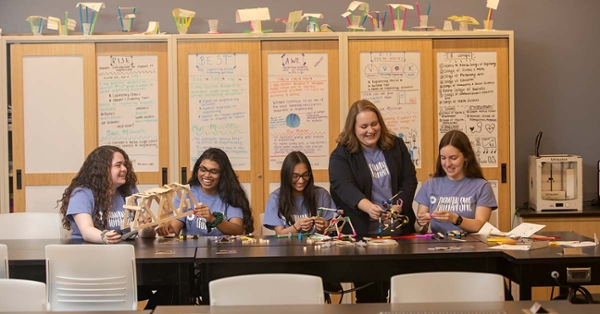 From left: Samantha Sam, Shruti Dalwadi, Amanda Yannarella, Dr. Sarah Bauer, and Courtney LeMasney prepare hands-on activities for middle-school students.
Rowan University's Society of Women Engineers (SWE) is hosting a series of workshops for middle school students with the goal of increasing interest and diversity in the engineering field. 
Dubbed SWEET (Society of Women Engineers: Engineers in Training), the workshops expose students to a wider understanding of engineering. 
First launched by SWE's former student leaders, Lucinda Lau and Roshni Ghandi, the program is led by SWE President Courtney LeMasney and Vice President Amanda Yannarella. Their faculty adviser, Dr. Sarah Bauer, assistant professor in the Henry M. Rowan College of Engineering, oversees much of the planning process, but she allows her SWE students to take the reins. 
"I can see how much they shine when they work on these programs," Bauer said. "They get to take ownership and feel accomplished."
The idea for the workshops stemmed from Bauer's own experience. 
"I had very few female mentors as I was growing up in engineering," Bauer said. One thing that inspired her to explore the field was a workshop held at Rowan University when she was in grade school.
LeMasney also had exposure to engineering in middle school, but until then, she didn't understand the true nature of it. 
"I didn't realize the extent of engineering and how it affects the world and how you can help people," LeMasney said. "My major push for doing this is just trying to be that person to give that opportunity to other kids."
With the help of grants awarded by the Engineering Information Foundation and PSEG Nuclear, SWE hosted two sessions already and has plans for two more in the spring.
"Getting those grants turned the program from a one-time, once-a-year little thing into a very big, full-out program that we're running," noted Yannarella. With these grants, SWE also sends out necessary materials for the workshops since the sessions are held virtually.
One of SWEET's goals is to expose the students to different engineering disciplines. In their last workshop, students created a pneumatic crane, which introduced them to mechanical engineering, as well as a polymer bouncy ball, which introduced them to chemical engineering. Participants also hear from engineering professionals who join each session to answer questions, discuss their careers and share personal experiences. 
SWEET's main objective, said Bauer, isn't to push the students to enter the engineering field, but rather to "show them that it's out there as a potential career path for them." 
If young students are interested in math and science, there are many options available and even if they are not, said Bauer, "engineers don't have to be the best at science and math–they have to be passionate, eager to learn, creative, critical thinkers–which is not typically what is shared."
In hosting the first two workshops, LeMasney and Yannarella are already seeing eagerness in the participants and gaining their own inspiration from it. 
"When we did the polymer bouncy ball project, one of the kids took their marker and cut the tip off to get the ink out and used that to make their ball colored," said LeMasney. "That was something that I hadn't even thought of." 
By keeping students engaged, involved and curious, SWE hopes to mold a new standard for diversity in engineering. The next workshops will be held virtually on March 26-27 and in-person on May 21-22. For registration information, contact bauers@rowan.edu