Rowan's Lea Donaghy to represent N.J. in Miss Wheelchair USA competition
Rowan's Lea Donaghy to represent N.J. in Miss Wheelchair USA competition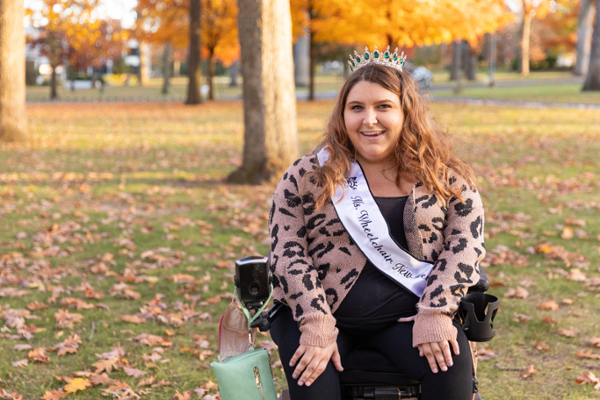 When Lea Donaghy first arrived at Rowan she was nervous. Her parents were nervous. And the family as a whole wasn't quite sure whether Donaghy, who's used a wheelchair all her life, would get the resources she needed.
Not only did she get that support, Donaghy, who earned her B.A. in psychology with a minor in education in 2021, became a campus leader, assisting other students through the former Office of Disability Resources and helping others reach their goals as a success coach.
Donaghy, who's now pursuing her master's degree in Counseling in Educational Settings at Rowan, will address the issue of disability resources nationally when she competes in the Miss Wheelchair USA competition this summer.
Currently Miss Wheelchair N.J., Donaghy said people inevitably wonder about a connection between the Miss Wheelchair USA competition and the century-old Miss America Pageant, but the two are unrelated.
The Miss Wheelchair competition "is all about learning how to advocate for people with disabilities," Donaghy said. "The biggest problem is people aren't aware needs exist."
Often, she said, people with disabilities must become their own best advocate and Donaghy, who was born with spinal muscular atrophy, a condition that causes the absence of an important gene protein needed for muscular development, was no different. At Rowan she sought support from the Office of Disability Resources, which in 2021 was renamed the Office of Accessibility Services, and found a network that helped her thrive.
In short order, she said, Rowan faculty and staff helped her ease into college life, making sure, for example, that she had housing that was wheelchair accessible and offering her opportunities to support others.
"It was definitely a challenge, but I learned how to be independent," Donaghy said.
Now, she said, she's preparing to take her message of empowerment and overcoming challenges to Ohio where it will form the basis for her Miss Wheelchair USA platform.
Part of that platform will be encouraging other students to get involved in activities, to support one another and to be their own advocate when they need to be.
Donaghy, who in addition to her work as a peer mentor and success coach is president of the Rowan chapter of Delta Alpha Pi, a national honor society for college students with disabilities, plays on the Philadelphia Flyers Powerplay, a wheelchair hockey team that was among the first to be affiliated with an NHL organization.
The games, she said, get serious.
"It's co-ed, anyone can join as long as they use a power wheelchair, and if someone can't hold their stick they can tape it to their wheelchair and be more of a defensive player," she said.
But they better bring their game.
"We play a standard three periods and it is definitely aggressive," Donaghy said. "In fact, you can get a penalty for reckless driving. Competitive events are something people with disabilities don't often have access to, but I love it."