Developing new ways to attack superbugs
Developing new ways to attack superbugs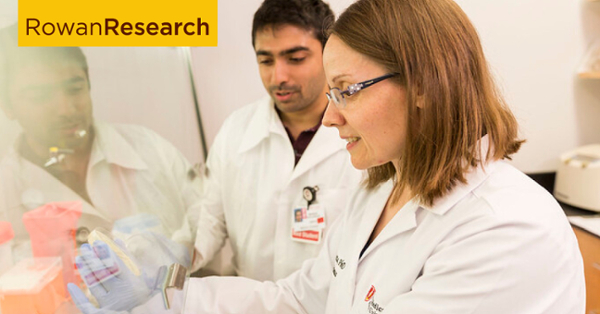 Dr. Valerie Carabetta works with a student in her lab at Cooper Medical School.
Bacteria rapidly evolve and can become resistant to new drugs. Alarmingly, they can start to gain resistance to more than one drug. Some strains exist that are resistant to every antibiotic we now have. 
To target these so-called "superbugs," Dr. Valerie Carabetta is leading a $1.8 million research project to find new ways to attack them.
Valerie Carabetta, Ph.D.
MicrobiologistAreas of expertise:
 Microbiology, molecular genetics, proteomics, antibiotic resistance
More information
"If we sit back and allow this trend to continue, these bacteria will keep evolving, superbugs will continue to emerge and we will quickly return to the pre-antibiotic era, where our entire antibiotic arsenal would be useless," said Carabetta, assistant professor of biomedical sciences at Cooper Medical School of Rowan University, who received a Maximizing Investigators' Research Award from the National Institute of General Medical Sciences. 
Generating new drugs is slow, Carabetta said, and there isn't enough research effort dedicated to tackling this problem. 
"We need to identify new, exciting and promising drug targets to create drugs with different mechanisms of action that bacteria haven't seen before. These newly designed drugs could act alone or work in combination with other existing drugs. Each option would give us new ways to treat infections—especially multidrug-resistant infections."
Carabetta is working to understand protein acetylation in bacteria and the underlying mechanisms that control it. She hopes to identify novel enzymes involved in regulating or controlling these processes, research that could lead to the development of a new class of antibiotics.   
"There are already patients in hospitals who have untreatable infections," Carabetta noted. "For these reasons, an important goal of my research is to discover if drugs that target acetylation can be used to treat problematic bacterial infections." 
Rowan University researchers are passionate about what they do. Find more at Meet Our Researchers.