Early diagnosis with just a blood test
Early diagnosis with just a blood test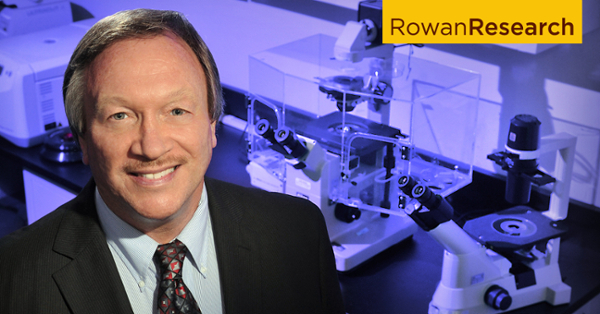 Dr. Robert G. Nagele won the 2020 Edison Patent Award for a blood test to detect Alzheimer's.
About a decade ago, Dr. Robert G. Nagele and his research team at Rowan University's New Jersey Institute for Successful Aging discovered that all people have thousands of autoantibodies that clear cell and tissue debris from their blood. They also found that, in the presence of disease, the levels of certain autoantibodies are increased in the blood.
That led the team to wonder: Could a simple blood test detect increased levels of disease-specific autoantibodies and lead to earlier diagnosis for diseases?
Robert G. Nagele, Ph.D.
Cell biologist Areas of expertise: 
Neurosciences, blood-brain barrier; Alzheimer's disease, diagnostics
More information
The answer led to a patent for methods, compositions and kits for a blood test for early diagnosis of Alzheimer's disease. Nagele won the 2020 Edison Patent Award from the Research & Development Council of New Jersey for the discovery.
More discoveries are on the way.
"We have since filed additional patents for early detection of Parkinson's disease and multiple sclerosis," Nagele said. "If we can detect the disease at an earlier stage, even before symptoms become apparent, then that means that can lead to early treatment. And as you would guess, treatment of any disease at the early stage is always beneficial and increases the chances greatly that the treatment is going to be a success and hopefully eradicate the disease from your body."
"That's really the importance of it," Nagele added. "For example, pharmaceutical companies are really trying hard to come up with medications that work for Alzheimer's disease. One of the problems they've had is that they can't enroll people until they have been definitively diagnosed with the disease. But, now, if you have a diagnostic test that detects Alzheimer's much earlier, we can enroll these patients earlier into these clinical trials and perhaps uncover new drugs that are effective at these earlier stages."
Rowan University researchers are passionate about what they do. Find more at Meet Our Researchers.