Using artificial intelligence to help humans
Using artificial intelligence to help humans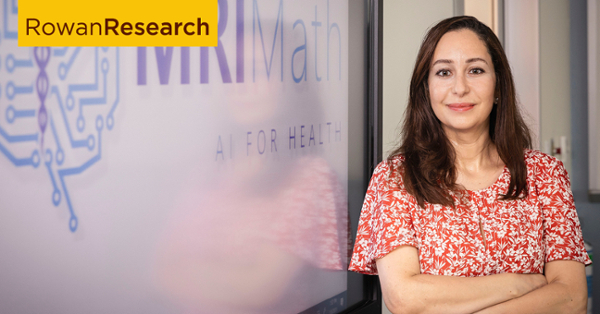 Dr. Nidhal Bouaynaya directs the Rowan Artificial Intelligence Lab.
In the right hands, artificial intelligence can do a lot more than beat chess masters or drive a vehicle. 
It can save lives. 
Nidhal Carla Bouaynaya, Ph.D.
Computer scientistAreas of research: 
Big data analytics, machine learning, artificial intelligence and mathematical optimization
More information
Four years ago, Dr. Nidhal C. Bouaynaya founded MRIMath, LLC, with Dr. Hassan Fathallah-Shaykh, a neuro-oncologist and mathematician at the University of Alabama at Birmingham - School of Medicine. Together, they developed an AI platform to help physicians detect brain tumor growth about three years earlier than the standard of care.
"Everything is done by eye-balling nowadays with doctors, or by hand," said Bouaynaya, associate dean for research and graduate studies, and professor of electrical & computer engineering at Rowan University. "We have an AI agent that operates at the pixel level. It delineates the tumor, computes exact coordinates and volumetrics, and provides longitudinal plots with statistical significance to the doctor—all done in a few seconds."
In one example, Bouaynaya said MRIMath detected tumor growth in a patient whose doctors believed had been stabilized. 
"We showed them that, according to our AI, the tumor was growing and they had better do something about it," Bouaynaya said. "They went back, revised their readings and agreed. The pathologist confirmed that the tumor had become more aggressive and the patient underwent immediate radiotherapy and chemotherapy, which could have been avoided had the tumor been detected earlier."
That work is moving closer to the marketplace. In the meantime, as director of the Rowan Artificial Intelligence Lab, Bouaynaya is working on National Science Foundation grants to transform the AI landscape by creating robust, trustworthy, and self-assessing machines that have a high impact on societal and technological areas, such as self-driving vehicles, health care, and cybersecurity. 
She's also leading an artificial intelligence team on a U.S. Army project at Rowan's Virtual Reality Center that will support the next-generation turret gunners in Army vehicles.
Bouaynaya has a long-term working relationship with the Federal Aviation Administration (FAA) to improve the safety of unmanned aircraft systems, and Lockheed Martin Inc. to automate warfighter decision-making in an increasingly data-rich environment. 
"AI forms the very foundation of computer learning and will impact the future of virtually every industry and every human being," said Bouaynaya, "from medical breakthroughs in cancer research to supporting the next generation of transportation systems." 
Rowan University researchers are passionate about what they do. Find more at Meet Our Researchers.