Working with communities to address health disparities
Working with communities to address health disparities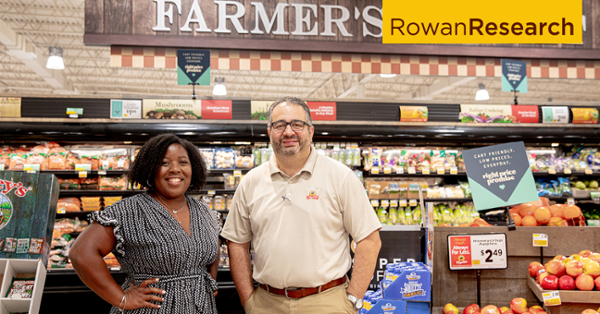 Dr. Nicole Vaughn works with community members and local businesses to address health disparities in disadvantaged communities.
Health conditions like diabetes, high blood pressure and obesity can all be improved through lifestyle changes—but that's much harder for some individuals to address than others. 
To figure out why chronic disease rates in disadvantaged communities are persistently higher than average, as well as design better solutions, Dr. Nicole Vaughn enlists the help of people who live and work in underserved and marginalized communities. WATCH VIDEO HERE. 
Nicole A. Vaughn, Ph.D.
Public health & wellness researcher
Areas of expertise: 
Chronic disease prevention interventions, community-based participatory research, health disparities, community-industry-academic partnerships
More information
Using community-based participatory research (CBPR) methods requires a lot of time and effort as it is all about building trust and relationships, explained Vaughn, an associate professor in the School of Nursing & Health Professions. 
"We're learning from the community and the community is learning from us," Vaughn said. "It makes us better scientists and we're able to ask better questions because the community brings a level of expertise that we don't have—and we bring expertise that they don't have."
Her collaborative projects have included working with growers and Virtua Health to increase access to fresh fruits and vegetables in Camden, N.J.; working with a Bridgeton grocery store and Rowan dietetic intern students to implement a 16-week diabetes prevention program for individuals impacted by food insecurity; and "produce prescriptions" for six months of food assistance for Virtua Health patients with chronic conditions and food insecurity. 
Working together with the community, local businesses and other sectors like healthcare improves our research. In turn, Vaughn hopes her work will yield effective solutions and better health outcomes for residents in South Jersey.
One takeaway so far: People's life circumstances can be tied with their overall health. 
"The social determinants of health—housing, employment, access to food, education—have a really strong impact on people being able to take good care of themselves especially when they have a chronic disease," Vaughn said. "Southern New Jersey has data that show that we need to continue to work to improve in this area."
Rowan University researchers are passionate about what they do. Find more at Meet Our Researchers.