Engineering new materials from plants, using advanced materials and manufacturing methods
Engineering new materials from plants, using advanced materials and manufacturing methods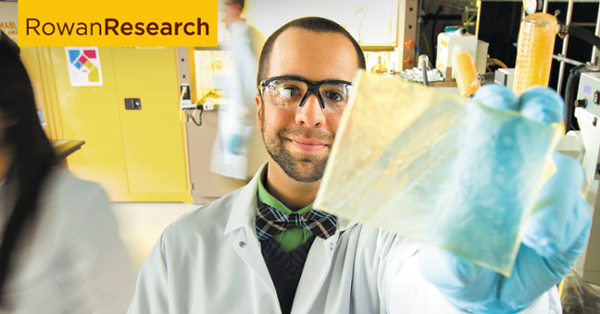 Dr. Joe Stanzione directs Rowan University's Advanced Materials & Manufacturing Institute.
The U.S. military needs lighter, stronger materials it can quickly and easily produce anywhere on the planet. And it also needs sustainable materials to keep that planet habitable for humanity. 
As director of Rowan University's Advanced Materials & Manufacturing Institute (AMMI), Dr. Joe Stanzione is in a position to help.
Joe Stanzione, Ph.D.
Chemical engineerAreas of expertise: 

Polymers and composites; additive manufacturing; green chemistry and engineering
More information
Right now, a lot of the plastic composites used by the military, as well as by us in general, for numerous applications are petroleum-based, Stanzione said. That poses a few problems: dependency on oil, including foreign oil; detrimental impacts on the environment; and overreliance on limited resources. 
"Fossil fuels are not being produced as quickly as we're consuming them," Stanzione said. "But if we could use a fraction of all of the Earth's plant matter that's produced on an annual basis as sustainable plastic composites, we could replace part, if not all, of the petroleum-derived materials made—and potentially give back to the environment."
There could be other benefits, as well. Most plant-based chemicals are inherently safer for humans and the environment than some toxic chemicals now used to make plastic composites. That means, there could be huge cost savings for the government, especially in manufacturing and processing and in human health and environmental protection.  
As a part of AMMI's Advanced Composites and Sustainability Initiatives, Stanzione and the AMMI team are also working to improve processes: using 3D-printing to quickly make better materials; improving cold-spray technologies to make repairs or to strengthen existing materials; and a method of making plastics from bark harvested from birch trees—without killing the trees. Watch video here. 
At their core, chemical engineers are always thinking about efficiency and "how we can make sure our processes and the feedstocks that go into them are sustainable in the long term," Stanzione said. "Now, we're applying that thinking to doing better at using our natural resources and significantly reducing our environmental impact on the planet while improving life for all." 
Rowan University researchers are passionate about what they do. Find more at Meet Our Researchers.