Students and faculty explore wide range of topics in first Edelman CCCA Fall Research Showcase
Students and faculty explore wide range of topics in first Edelman CCCA Fall Research Showcase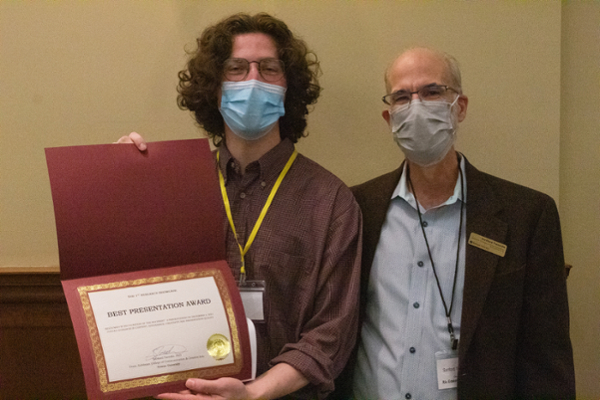 Senior Brandon Simon and Dean Sanford Tweedie following awards ceremony.. Credit: Alexander Rossen.
Students and faculty in the Ric Edelman College of Communication & Creative Arts held their inaugural Fall Research Showcase Dec. 4, a forum that explored a broad range of topics, from the controversial renaming of an NFL football team to ongoing AIDS denialism to a devastating loss of songbirds related to climate change.
Dr. Sanford Tweedie, dean of the Edelman CCCA, said the program in Eynon Ballroom included more than 100 presenters – about 70 percent students and 30 percent faculty – representing virtually every aspect of study within the college.
"We're engaged in a wide range of research and creative activity, and this provides an opportunity to showcase it in person," Tweedie said.
Dr. Celine Hong, the Dean's Research Fellow within Edelman CCCA, said the program included 44 research projects and, by design, brought together students and faculty from within the college, some of whom don't interact often.
"We're trying to boost our emphasis on research and collaboration, and this is a great place to start," she said.
Washington Football Team
For their research project, advertising and public relations students Joe Orsita and Sean Humphrey looked at communication and monetary issues surrounding the former name of the NFL's Washington Football Team, and the decision to change it. Long known as the Washington Redskins, a name that was offensive to many, the team's owners changed the moniker in 2020 under pressure for and against the move.
"If they did not change the name at the time it could have cost them as much as $100 million as the majority of their sponsors were going to pull their advertising," Humphrey said.
Humphrey and Orsita said they polled about 35 football fans – an admittedly small pool – to gauge respondents' opinions on changing the team's name.
"Most thought they shouldn't have changed it," Orsita said.
AIDS deniers
Discussing their work on AIDS denialism, Dr. Joy Cypher and Dr. Miles Coleman, professor and assistant professor of Communication Studies, said despite decades of study, reporting, suffering, and millions of lives lost, an online community of fervent disbelievers continue to renounce the existence of the disease.
In 2020, Cypher and Coleman published the results of their rhetorical analysis of denialist websites in the journal First Monday, which reports on Internet scholarship.
"We wanted to know what the pull is," Cypher said.
What they discovered, she said, was not dissimilar to the position some people take about Covid, and the effectiveness and safety of vaccines against it.
"We found there is a network of people who support their ideas, even if their ideas are functionally wrong," Cypher said.
Listen to the Byrd Bot
Explaining what he dubbed the "Byrd Bot," Communication Studies senior Brandon Simon presented a laptop computer that reproduced U.S. bird sounds from 1970 and 2017, and from birds projected to exist in 2065.
Simon, who in November presented the Byrd Bot during the National Communication Association conference in Seattle, said between 1970 and 2017 the volume and variety of songbirds represented decreased dramatically. Based on that trend, the volume and variety projected for 2065 was nearly nonexistent.
"It's a direct result of human impact on the environment," Simon said.
Said Coleman, who advised Simon on the project, "The Byrd Bot provides a soundscape into the Anthropocene," an unofficial period in the Earth's history in which human activity started to impact climate and ecosystems.
Simon was one of several students and faculty recognized for extraordinary work during the showcase. Best Presentation Award recipients include:
"Celebrity Endorsement in Advertisement" by Alaina Guzman, Ciara Mondel, Kelly Van Fossen, Lea Hornback, Public Relations/Advertising
"Emergent Sonification, the Anthropocene, and the Sublime Affectations of Computational (Un)Predictability" by Brandon Simon, Communication Studies
"Concentrations of Chromium and Other Forgotten Things" by Emily Baker and her students, Art
"How has Ben & Jerry's issue advocacy and brand reputation been shaped through social media?" by Alexia Reigada & Erica Gerold, Public Relations/Advertising
The college, which has long held a spring Student Showcase to highlight undergraduate creative work, will resume that program in-person in 2022 after suspending it in 2020 due to Covid restrictions and holding it virtually in 2021.