ALL IN Campus Democracy Challenge recognizes Rowan for efforts to promote student voting
ALL IN Campus Democracy Challenge recognizes Rowan for efforts to promote student voting
A national nonpartisan initiative dedicated to promoting civic learning, political engagement and voter participation in higher education has recognized Rowan University for its exemplary efforts to promote student voting in the 2020 election.
The ALL IN Campus Democracy Challenge has awarded the University's #RowanVotes initiative a Gold Seal for its work to promote voting last year.
The work of #RowanVotes was a collaboration that included the Rowan Student Government Association, the Rowan Institute for Public Policy & Citizenship, the Chamberlain Student Center and Campus Activities, and Student Affairs. It was led by Political Science Professor Kathy Javian of the College of Humanities & Social Sciences and RIPPAC founding director Ben Dworkin.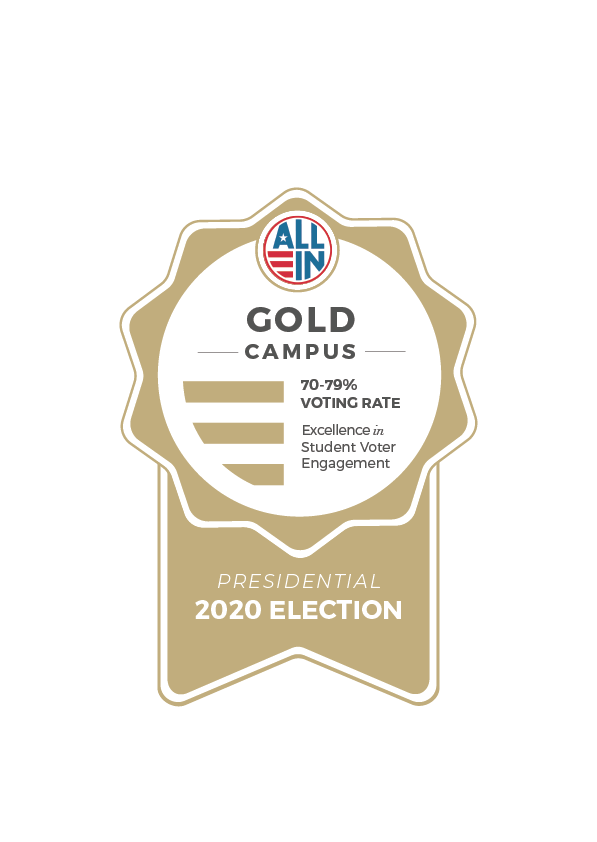 In recognizing Rowan, the ALL IN Democracy Challenge noted that the University achieved voter turnout between 70-79 percent among students during the 2020 election season.
A non-partisan effort, #RowanVotes began in the fall of 2019 with the goal of having every eligible student registered to vote and to increase civic engagement and political participation for all students.
Throughout the last two election years, #RowanVotes interns have worked diligently to reach as many students as possible through canvassing, tabling, email outreach and class visits. #RowanVotes also has held several virtual and in-person events on campus to educate the community about civic life and voting. This year, #RowanVotes launched an "Ask Every Student" drive that helped students check their voter registration so that they could participate when it was time to vote.
"I'm so glad that Rowan students made their voices heard and voted in the 2020 election," Javian said. "My hope is that we can sustain this momentum for all elections, not just presidential years."
"The peer-to-peer advocacy for civic participation is one of the keys to our success," added Dworkin. "Rowan students are helping each other get registered and then making a difference."
According to the National Study of Learning, Voting and Engagement at Tufts University, the 2020 presidential election saw a stunning increase in voter registration and turnout among college students. That happened despite the COVID-19 pandemic as more than 840 institutions nationwide enrolled close to nine million students as part of the ALL IN Campus Democracy Challenge.
"The rise in voter participation and engagement for college students in last year's presidential election amidst a global pandemic was tremendous and will undoubtedly be tied to the tireless efforts of the dedicated students, faculty, administrators and partner organizations that are part of the ALL IN Challenge Network," said Jen Domagal-Goldman, executive director of the All IN Campus Democracy Challenge.
"The hard work of these trailblazing honorees will help support many of the country's future leaders in fulfilling the equitable, engaged vision of democracy to which we aspire."
The ALL IN Campus Democracy Challenge is an initiative of Civic Nation, a 501 (c)(3) organization. The organization maintains that higher education plays a role in graduating students into voters and in closing electoral participation gaps that persist by race and age. Ensuring that students are registered to vote and participate in all election is a key component of the group's work.
Rowan received the Gold Seal during a virtual awards ceremony earlier this month.