Rowan engineering alumni fly drone swarms around the world
Rowan engineering alumni fly drone swarms around the world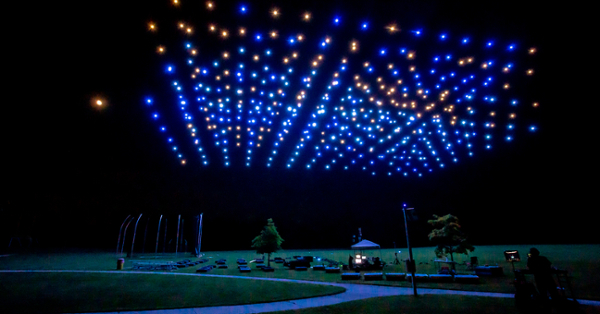 Hundreds of Verge Aero drones mounted with brilliant LED lights rise above the athletic fields at Rowan University's West Campus.
On a recent midnight, hundreds of drones lifted above Rowan University's West Campus in tightly synchronized formation, their LED bellies glowing as they formed color-changing patterns in the sky. Scattered on the athletic fields below the buzzing quadcopters, a handful of spectators cheered.
It was the largest demonstration yet of the proprietary swarm technology developed by Philadelphia-based Verge Aero, a startup company flying complex aerial light shows for audiences around the world. (Watch video here.)     
Except this time, they were back on their home turf. 
Since launching their business in 2016, three Rowan University engineering alumni—Tony Samaritano '12, '18, Chris Franzwa '13 and Anthony Merlino '14—have been using the University's West Campus as a testing ground for their drone light shows. 
"They're like high-tech fireworks," Samaritano said. "We can dynamically build shapes in the sky and spell out logos—and we do this for some of the biggest names around the world." 
When Joe Biden celebrated his presidential win on the Wilmington waterfront on Nov. 7, 2020, the fireworks display included 200 drones piloted by Verge Aero. They've flown at festivals including Burning Man in Nevada and Carnaval in Mexico, as well as concerts and shows hosted by well-known companies. 
After years spent programming the system's back end, Verge Aero typically flies 200-drone shows that require just a small crew. 
But arranging hundreds and hundreds of drones for the test flight at Rowan required a lot of hands. 
To find skilled volunteers, Samaritano reached out to the president of the student club he started at Rowan in 2012: the Rowan Robotics and Automation Society. President Jack Campanella also interned with Verge Aero this summer and brought in his club members to help the Verge Aero team. 
"They're really great people who were, at one point, in the same position as us," Campanella said.
The three alumni credit their experiences at Rowan for their work today. Samaritano met his co-founders through the engineering program. Together, they built the technology that allows Verge Aero to fly complex shows with a few hours of setup. 
"Without Rowan, I wouldn't have had the confidence to be able to build a company from scratch," Samaritano said. 
"I found my passion for engineering here," Franzwa added. "I think of a lot of schools where you're sitting in a lecture hall filled with hundreds of people and you're struggling to get lab time. Here, I was able to just work as much as I wanted."
Merlino said he appreciated Rowan's hands-on clinic projects that give students exposure to real-world projects. 
"Theory's great, but at the end of the day, the thing that builds companies is practical, hands-on stuff," Merlino said. 
The engineers have remained in touch with two Rowan faculty members who were instrumental in their education: Dr. Robi Polikar, who heads the Department of Electrical & Computer Engineering, and Dr. John Schmalzel, one of the founding professors at the Henry M. Rowan College of Engineering, which celebrates its 25th anniversary this year.
"To be able to see that they have taken a concept that started as a course project while they were students in our program and built this, literally from scratch, one drone at a time is an immense point of pride for us," Polikar said, "and represents the best of what our program offers."