To retool America's power grid, Rowan is developing new power engineering program
To retool America's power grid, Rowan is developing new power engineering program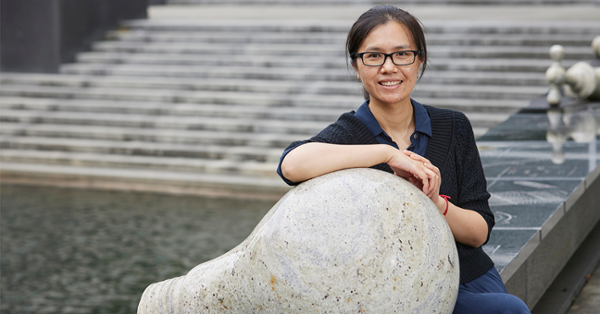 Dr. Jie Li is an associate professor of electrical and computer engineering at the Henry M. Rowan College of Engineering.
Rowan University's Department of Electrical and Computer Engineering (ECE) is developing a next-generation engineering education module to meet the demand for a new kind of power infrastructure called a smart grid. The three-year project is funded by a $300,000 grant from the National Science Foundation. 
First built in the 1890s, the existing power grid consists of generators, wires, and transformers that deliver electricity to homes and businesses. Climate change and extreme weather events—such as the unusual freeze that led to widespread power outages in Texas last winter—are revealing the need for a system overhaul. 
A new, national smart grid will incorporate digital technology, like two-way communication systems between electric meters and command centers, and sensing along transmission lines.   
"The electricity grid has been recognized as the largest and most complex machine ever made, sending $400 billion of energy a year through seven million miles of transmission and distribution lines in the United States," said Dr. Jie Li, the project's principal investigator and associate professor of electrical and computer engineering at the Henry M. Rowan College of Engineering. "In order to build a reliable, resilient power grid and to integrate renewable energy, we need to retool the power grid using more advanced techniques." 
Few U.S. universities have programs prepared to meet industry demands for engineering graduates who can develop the new smart grid, Li said. According to the U.S. Senate Committee on Energy and Natural Resources, 77% of energy companies find it difficult to hire qualified employees. That's the need Rowan is now working to meet. 
It's expensive and time-consuming to build a power engineering program from scratch, Li noted, but Rowan's Department of Electrical and Computer Engineering is uniquely suited to quickly adapt due to the department's interdisciplinary design. 
The program will include introductory courses to the smart grid and enhancements to existing core electrical and computer engineering courses, such as additional labs on communication theory. New courses and course enhancement modules will also be packaged as new certificate programs of undergraduate and graduate study in power systems engineering at Rowan and implemented in community colleges, such as Rowan College of South Jersey. The project also includes outreach to middle and high schools.
The work is already underway and an advisory panel consisting of area industry experts who will oversee the project is being assembled.
Not only will smart grid courses equip students with the most up-to-date skills and knowledge now in demand by energy companies, but educators hope this module will attract more diverse students—ones who have an interest in renewable energy and perhaps never considered a career in engineering. 
"When you start looking at the elements of a smart grid, particularly when you add sustainability, that actually is appealing to a much more diverse group of students than we've ever had before," said Dr. John Schmalzel, the founding chair of the Electrical and Computer Engineering Department at the Henry M. Rowan College of Engineering, now celebrating its 25th anniversary. 
A longtime advocate for developing a smart grid program at Rowan, Schmalzel is a co-principal investigator on the project, along with Dr. Nidhal C. Bouaynaya, associate dean for research and graduate studies and professor of electrical and computer engineering; Dr. Juan Cruz, assistant professor of experiential engineering education; and Gayle Hughes, an assistant professor at Rowan College of South Jersey and Rowan University adjunct faculty member.