Eagles great Brian Dawkins humbly thrills and inspires in Pfleeger
Eagles great Brian Dawkins humbly thrills and inspires in Pfleeger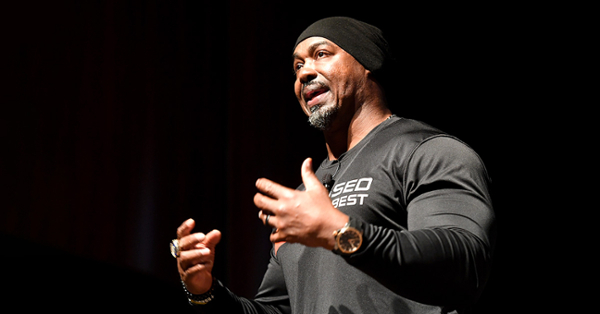 Nearly nine years since retiring from the National Football League, former Eagles All-Pro safety Brian Dawkins, a 9x Pro Bowler and Hall of Fame inductee, crossed the stage at Pfleeger Concert Hall like a panther – lithe, powerful, intentional.
Appearing at Rowan Oct. 25 to promote his new memoir, "Blessed By The Best, My Journey to Canton and Beyond," Dawkins looked every bit as fit as he did in his playing days – maybe more so.
Standing on stage, in the heart of Eagles country, in a theater full of Eagles fans, the once hard-tackling Dawkins, a man so committed to taking down runners and quarterbacks with such ferocity he earned the nickname "Weapon X," delivered a message as clean and impactful as any hit in his 16 years in the NFL.
Find inner peace.
Dawkins, who arrived in Philadelphia from Clemson University as a second round draft pick, a new husband and father, and on the smaller side for an NFL defensiveman, said he felt tremendous stress to keep his position.
"In my mind I thought I could get cut anytime," he said.
As it turned out, his storied work ethic and hyper intense play won him a starting position soon after his arrival in Philadelphia but the stress didn't go away and it soon affected his mental health, manifesting as depression and drinking issues.
"I was talking to no one and the pressure just built and built," he said.
Ultimately, Dawkins said, he sought therapy, took prescribed medication for a short while and, "through practice, yes, but also through prayer," cleared his mind and heart.
Turning inward spiritually, Dawkins also began meditating regularly, journaling to express his thoughts, and practicing gratitude, a simple but effective technique of actively recognizing all one has to be thankful for.
They're exercises he continues to this day.
"The first thing I do every day is practice gratitude," he said. "Then I pray, I read and I meditate. Every day."
He also practices slow breathing, a physiological technique that quietly and instantly helps lower stress.
Dawkins, who remains hyper competitive and teaches his children to be competitive too, said by lowering stress levels, meditating and being actively grateful, he sets himself up for success by eliminating "stinkin' thinkin'," the negative thoughts everyone gets.
The program was hosted by Provost Tony Lowman, moderated by Neil Hartman, director of the Center for Sports Communication & Social Impact within the Ric Edelman College of Communication & Creative Arts, and featured a one-on-one interview between Dawkins and longtime NFL reporter Derrick Gunn. It was sponsored by Voss Water which, Hartman said, donated $10,000 to support students in the college's Sports Communication and Media major.
Dawkins came to Rowan at the behest of Hartman, a former Philadelphia sportscaster whose interviews with Dawkins before the Eagles retired his #20 jersey in 2012 played ahead of the Oct. 25 program.
Despite his great success in football, Dawkins, who grew up in Jacksonville, Fla., said he wasn't much of a fan growing up and thought his real calling was basketball.
Still, showing off his lustrous Hall of Fame ring, Dawkins humbly said he never dreamed he'd wear one.
"At this point I'm living someone else's dream," he said.