Rowan Center for Innovation & Entrepreneurship wins Global Impact Award
Rowan Center for Innovation & Entrepreneurship wins Global Impact Award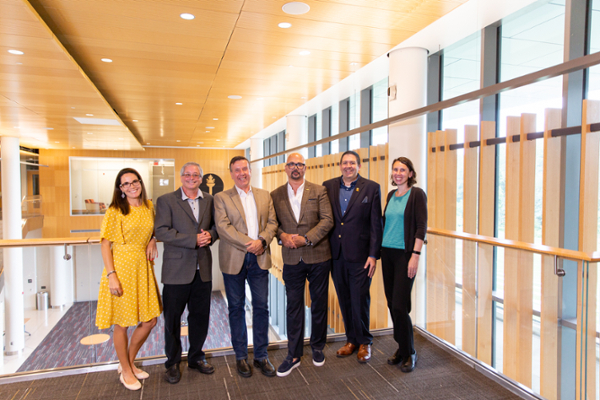 The RCB's Entrepreneurship faculty, from left: Susana Santos, Lee Zane, Mike Dominik, Greg Payton, Eric Liguori, Cheryl Bodnar
Many of tomorrow's great business leaders and thinkers are getting their start at Rowan University today, and organizations are taking notice.
Rowan's Center for Innovation & Entrepreneurship this summer received the Entrepreneurship Center Global Impact Award from the International Council for Small Business (ICSB), recognition that celebrates the RCIE's popular, cross-campus program on the world stage.
Dr. Eric Liguori, the Rohrer Chair of Entrepreneurship and Executive Director of the RCIE, said the Global Impact Award is important because it recognizes Rowan's embrace of entrepreneurship well beyond the College of Business.
"While physically housed in Business Hall, the RCIE supports innovative student thinkers and aspiring entrepreneurs from across all of Rowan's campuses," Liguori said.
In fact, he said, Rowan is the first college or university to receive the award, which the ICSB launched this year to bridge the space between education and practice.
Rowan has long supported entrepreneurial thinking, but the drive for cross-campus creativity has been especially encouraged by President Ali Houshmand, Provost Tony Lowman, RCB Dean Susan Lehrman and Liguori.
The RCIE hosts a number of programs throughout the year to spur entrepreneurial thinking and action for both Rowan and high school students including the Think Like an Entrepreneur Summer Academy; the Rohrer New Venture Competition, which encourages Rowan students to pursue entrepreneurial ventures and develop high-growth businesses; and the Idea Challenge, which draws individuals and student teams from around the University to pitch new venture ideas for a chance to win thousands of dollars in funding, legal assistance and startup support.
All of which, Liguori said, made the RCIE a strong candidate for the Global Impact Award.
"RCIE won this award because of the breadth, depth and reach of its programs," he said.
In particular, he said, the Think Like an Entrepreneur high school program, which is now offered virtually, impressed ICSB officials because it encourages entrepreneurial thinking at a young age and its reach is literally global.
"Think Like an Entrepreneur brings underprivileged and underrepresented students from across the nation and around the globe together to form entrepreneurial solutions to the United Nations Sustainable Development Goals," he said. "RCIE's campus co-curricular offerings reach well beyond just the business school, supporting aspiring entrepreneurs in art, engineering, science, math, music and more."
This is the second award Rowan received from the ICSB. In 2019, Rowan's academic entrepreneurship program was one of three universities globally recognized with ICSB's Entrepreneurship Education Excellence Award, leading to Rowan's designation as an official ICSB Knowledge Hub in 2020. Rowan's entrepreneurship program has also been recognized for its innovativeness and excellence by the United States Association for Small Business and Entrepreneurship and AACSB International.