The Arts at Rowan revive in-person programs and invite in new artists, audiences, and perspectives
The Arts at Rowan revive in-person programs and invite in new artists, audiences, and perspectives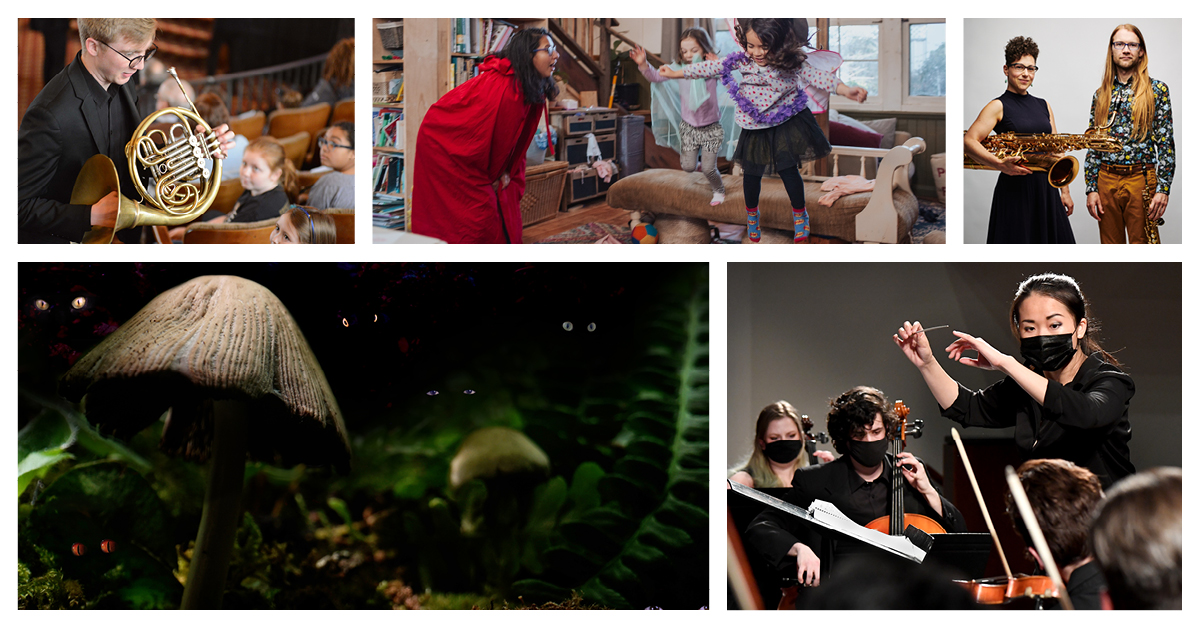 A sample of the season (clockwise from top left): Symphony in C engages audiences with Musical Adventures; Mountain Goat Mountain, an at-home theatre experience for the whole family; Ogni Suono features faculty member Noa Even with Phil Pierick; Jiannan Cheng conducts the Rowan University Symphony Orchestra; Field Companion at Rowan University Art Gallery.
The arts tell the stories of our time, and reflect back the experiences of our daily lives with new lenses. After a year and a half of pivoting, learning, and evolving, Rowan's Performing Arts and Art Gallery are moving forward with intentionality as they take steps to include more voices, identities, and community members with the most expansive and diverse season to-date.
For the College of Performing Arts, this means a new Fall Family Pass, re-defining dance and disability, a fresh voice and triple-threat guest from New York's jazz scene, and more, all part of the world-class Marie Rader Presenting Series.
"The arts remain vital to our healing, well-being, ability to connect and build a better future for us all, and we are thrilled to return to in-person operations," said Rick Dammers, Dean of the College of Performing Arts. "But we don't take lightly what we currently know about COVID-19 and we're prepared for continued flexibility to adapt to a shifting situation."
As of August 23, 2021, Rowan University is requiring masks, regardless of vaccination status, for all indoor public spaces on campus through at least September 14, after which leadership will determine if this mandate should remain or be modified. For the 21|22 season, the Performing Arts Box Office is requiring that all tickets be purchased in advance, and that a brief health screening be submitted by all audience members the day they plan to attend a performance. Capacities will be limited in all venues.
The debut of the Fall Family Pass, a single $30 ticket that includes four engaging performance events offered over four months, is designed to introduce new audiences, both young and young at heart, to arts programming for the first time.
"We're eager to further our impact within our campus communities, as well as with those beyond it," said Debbie Shapiro, Director of Community Engagement & Presenting for the College. "We know that children and families are yearning for new ways to find moments of joy, release, and connection during the pandemic."
The world-renowned Cashore Marionettes kick off the family series, during Rowan Family Weekend, with Simple Gifts, a series of poignant scenes from everyday life set to classical music on September 25. South Jersey's own Symphony in C offers Musical Adventures on October 2, an interactive and educational concert that gives a glimpse of what it is like to play in an orchestra. Mountain Goat Mountain, an audio theatre experience for families to do at home together, developed by Australia-based interactive project creators Threshold, is available from November 13 – 28. The culminating event of the family series, A Winter Family Holiday Festival on December 12, will feature Rowan student and faculty performers as well as guest artists in a Sunday afternoon program dedicated to togetherness, seasonal traditions, a variety of cultures, and more.
Beyond the family programs, the Marie Rader Presenting Series offers a multi-faceted mix of performance and outreach events, designed to inspire community conversations. The virtuosic Oakland-based Axis Dance Company, an acclaimed ensemble of disabled and non-disabled performers, appears both online and in person this year, starting October 29 with a virtual lecture/demonstration on re-defining dance & disability as part of Rowan's Access and Inclusion Week, followed by an in-person workshop (February 18) and a live performance of new, original contemporary choreography (February 19). Symphony in C, one of the leading professional training orchestras in the country, follows its fall educational program with a formal concert of Haydn, Mozart, and Jesse Montgomery (February 27). Chicago-based chamber ensemble Eighth Blackbird, whose work sits on the cutting edge of modern classical music, concludes the season by connecting with Rowan's Wind Ensemble for a residency and a public performance on April 29.
The Department of Music once again fills Wilson Hall with dozens of vibrant performances featuring faculty and students performing jazz, classical, choral, orchestral, operatic, brass, contemporary, and baroque ensembles from September through April. The beloved and free Faculty Spotlight Series currently includes cellist Joanne Erwin (September 22), improvisational music from Denis DiBlasio and Kevin Stahl (October 6), saxophone duo Ogni Suono featuring faculty member Noa Even (October 20), Rowan Jazz Faculty (October 27), violinist Timothy Schwarz and notable invited guests exploring the musical traditions of Arab and Israeli cultures (January 26), and Rowan Brass Faculty (February 2).
The Department of Theatre & Dance has invited acclaimed Philadelphia-based Theatre artist Walter DeShields as guest director-in-residence for the year, demonstrating a commitment to a wider spectrum of representation of identities in the field. DeShields collaborates with faculty member Lane Savadove on adapting Plum Bun, Jessie Redmon Faucet's 1928 Harlem Renaissance novel about a young African-American woman's exploration of self-acceptance in the racial landscape of her time, for the Tohill Theater stage with an October 21-24 run. DeShields will also direct Pulitzer Prize-winning dramatist Stephen Adly Guirgis' Our Lady of 121 Street for a February 24-27 run. Making Good Trouble, inspired by the late U.S. Representative John Lewis's call to "Get in good trouble," features the work of two choreographers (faculty member Dawn Marie Bazemore and guest artist Joe González), each revealing original pieces developed from an identical set of prompts, December 2-5. In April, audiences can look forward to The Fest featuring Lin-Manuel Miranda's 21 Chump Street. This evening of vocalists, dancers, and a live DJ precedes the one-act musical, a cautionary tale of an honors student who will do anything to impress the new girl in school.
*******************
Rowan University Art Gallery's fall programs consider the past 18 months, which have contributed to unsettling and unprecedented times.
"As we are still working through those challenges it's increasingly important that we practice self-care and personal well-being," said Mary Salvante, Gallery and Exhibitions Program Director. "This coming gallery season responds to this ideation and will present a series of exhibitions that explores themes of empathy, solace, reclamation, and regeneration."
In Field Companion: An Immersive Video Installation, running through October 30, Philadelphia-based artists Nadia Hironaka and Matthew Suib have created a microcosmic forest based loosely on South Jersey's Pine Barrens. Like many, the duo found refuge and release throughout the pandemic by hiking and foraging in these remote, natural landscapes. As America's social fabric has frayed in recent years, they've considered forest ecosystems in terms of symbiotic and collaborative relationships that sustain coexistence and community.
An artists reception will be held on Thursday, September 16 from 5 to 7 p.m. in the gallery. Please RSVP here to attend. 
Philadelphia native Jeanne Silverthorne's cast rubber sculptures, on display from November to January in the second exhibit of the semester, mimic mundane objects in a state of abandonment as nature begins to encroach. The artist embraces the absurdity surrounding misguided perceptions of stability, constancy and fairness while presenting a metaphor for this state of instability.
For the most up-to-date information on College of Performing Arts box office operations, safety protocols for patrons, directions & parking, accessibility, and full season calendar, visit cpa.rowan.edu/boxoffice. To skip right to browsing events and purchasing tickets for the 21|22 season, visit go.rowan.edu/tickets.
Complete information on Rowan University Art Gallery programming, hours, and requirements for visitors is available at rowan.edu/artgallery. The gallery is located at 301 High Street West in downtown Glassboro, NJ.
Programs are made possible by funds from the New Jersey State Council on the Arts, a partner agency of the National Endowment for the Arts. The Marie Rader Presenting Series is made possible in part through generous support from the Henry M. Rowan Family Foundation via the Marie F. Rader Memorial Fund.