Welcoming prospective Profs
Welcoming prospective Profs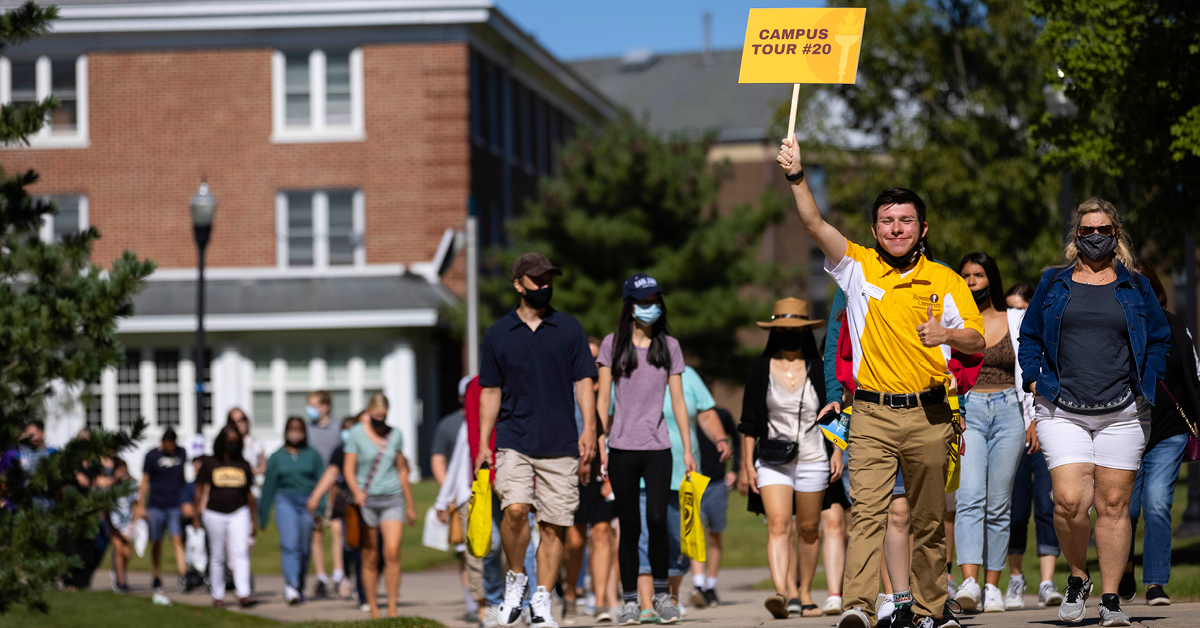 Rowan Admissions Ambassador Logan Robenolt, a sophomore health and exercise science major, leads a tour through campus during the first open house of the fall 2021 semester. Future open houses are planned for Oct. 10, Nov. 7, March 6, and April 3.
They're back.
After being sidelined for 18 months due to COVID-19, Sunday, Sept. 19, marked the first open house at Rowan University on the Main Campus in Glassboro since March of 2020…and the first open house this academic year.
"Our last open house was in March of 2020 and then we shut down due to the pandemic," Director of Admissions Dan Reigel said. "It's great to see families and students back on campus. They're excited."
That's an understatement.
"Everyone is so pumped," Jessica Syed, senior assistant director of admissions, said as she surveyed Esbjornson Gymnasium. There, on a sunny, breezy, late-summer day, 100 Rowan Admissions Ambassadors, most of them undergraduate students, were downright antsy to introduce prospective Profs and their family members to Rowan.
A full schedule 
More than 1,700 people spent the day touring campus, gathering information about University services at a resource fair, and attending sessions presented by major by nine schools and colleges, as well as sessions on admissions and financial aid, athletics and recreational sports opportunities, and student life.
Additional targeted presentations offered information for transfer students and for those interested in careers in medicine and health professions.
The resource fair featured 25 tables staffed by representatives from services that included, among many others, Financial Aid, Campus Recreation, Student Success Programs, the Bantivoglio Honors Concentration in the Honors College, and Flying First, a program for first-generation college students.
Following Rowan's COVID-19 protocols, every person attending the open house was required to wear a mask indoors and to submit health screening information prior to entering Esbjornson Gymnasium. In pre-COVID-19 days, Rowan would welcome up to 3,000 people at an open house. Attendance at open houses this semester will be capped at 1,800.
Additional open houses this academic year are scheduled on the following Sundays: Nov. 7; March 6; and April 3.
Smaller tours
With fewer open house attendees, comprehensive campus tours, led by ambassadors, generally have 30 people or less. That's to a prospective student's advantage, Reigel said, noting that Rowan brought back in-person tours—one ambassador, one family—last October.
All Rowan tours are all by appointment. Prospective students can register for tours online. Virtual events also are available.
"We have smaller tours now, which isn't a bad thing," Reigel said. "In some cases, we can match an ambassador with students' interests. After missing open houses last year, our student ambassadors are ready to get going."
Working her first-ever open house, junior computer science major Julia Bowes, a student coordinator for the Admissions Ambassadors, was so excited, she decided to lead a cheer.
"Hands in. 'Team' on three," Bowes, of Garnet Valley, Pa., said as a group of 25 ambassadors happily joined in on the cheer, usually reserved for Rowan athletic teams.
"You know what? We are a team," Bowes later explained. "We're a well-oiled machine. So I thought we could have a little cheer."
'We love Rowan'
A defensive specialist/libero on the University's volleyball team and a Rowan Scholar-Athlete of Distinction, Bowes worked with three other student ambassadors to coordinate the open house tours and schedule.
"I became an ambassador because I wanted to be the reason people say, 'We love Rowan,'" said Bowes. "I honestly love this community. Anywhere you go at Rowan, everyone is excited to be a Prof."
That begins with the ambassadors, who affectionately refer to themselves as "Ambassa-fam."
"We have an overall enthusiasm for Rowan," senior environmental science major Kate Merrill said.
"And we are quite literally the face of campus…the very first line future students see," added Jake Rivera, who earned his bachelor's degree in mathematics and is now pursuing his master's degree in data science. Currently the longest-serving ambassador, Rivera prides himself in his ability to connect with prospective students…and in his repertoire of well-received dad jokes.
'A welcoming community…a very inclusive community'
Medford's Allyson Storer and her mom, Edie, were impressed with their open house experience.
"Our tour guide was very knowledgeable," Edie said, noting that they have toured two other colleges as Allyson considers each institution's offerings in the field of education.
"This was a more in-depth tour," said Allyson, a student at Shawnee High School who is intent on earning both her undergraduate and graduate degrees in education en route to a career as a history teacher. She said she could, as the Rowan Admissions saying goes, picture herself a Prof.
Ambassador Sarah McCabe, a senior public relations major, said her message to prospective students is simple: "Rowan is a welcoming community…a very inclusive community."