Welcome, new Profs! With fanfare and fun, Class of 2025 joins Rowan family
Welcome, new Profs! With fanfare and fun, Class of 2025 joins Rowan family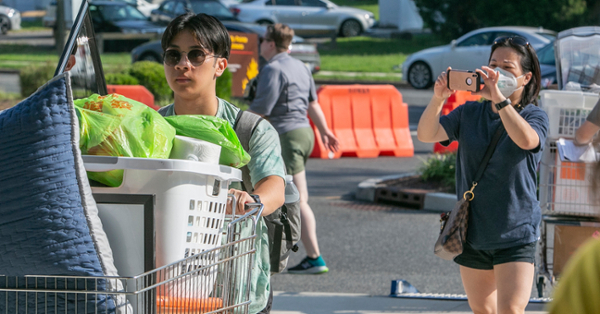 Like supermarket shoppers queuing up for checkout, many in the Class of 2025 filled carriages with all manner of personal goods, found a spot in the fast-moving line, and entered Holly Pointe Commons, Rowan University's newest residence hall and home to the arriving freshmen for their first year in college.
Friday, Aug. 27, was the first day of Welcome Weekend 2021 and, to help smooth the way, a virtual army of Rowan student volunteers, many of them upper-level students who received move-in assistance when they first arrived, guided the newcomers to their new home.
"I'm so excited to be here," said Logan Kelly, an early childhood education major from Burlington who arrived on campus with her mother, alumna Tress Kelly '98, and grandmother Betty Kelly. "I'm excited to be more independent, to meet friends and to have a good college experience, without COVID."
As the pandemic continues nationwide, Rowan has taken numerous precautions to ensure cross-campus safety for all students, faculty and staff. In addition to broad daily cleaning and sanitizing measures, the University requires students to be vaccinated (though some may opt out for medical and/or religious reasons) and has instituted a mask mandate from the first day of classes, Sept. 1, through Sept. 14. That requirement could be extended pending guidance from state and federal health officials. (Read more about Rowan's Covid-19 precaution measures.)
Members of the Class of '25, which will be spread among residence halls on the north and south sides of the Glassboro campus, include some 2,300 students.
On Friday, rising junior Morgan McGough of Wildwood Crest said there's a palpable energy among students as they return to campus or start at Rowan anew.
"I'm excited because I missed social interactions, being around people," said McGough, a resident assistant at Holly Point Commons and a secondary education/history double major. "There's a feeling that you really just want to be part of a community again."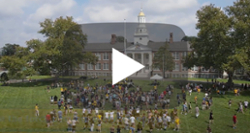 Her friend and fellow resident assistant, rising sophomore Izhar Ali, said he took his first year of Rowan classes in his native Pakistan but his virtual learning experience was far different than that of most stateside students.
"I'd be up all night taking classes because of the time difference," he said. "This semester will be my first in-person class experience in the U.S. and I'm really excited."
Rowan this year expects a total enrollment of about 18,400 students, roughly 5,400 of which will live on campus.
A Rowan tradition
After settling into their residence halls, members of the Class of '25 enjoyed a Rowan tradition—the President's Welcome & Picnic—on University Green Aug. 30.
Led by Rowan's Pep Band, students paraded through campus, processing through the welcome arch at the University Green. There, they were greeted by Vice President for Student Life/Dean of Students Kevin Koett and President Ali A. Houshmand, who expressed his excitement for the academic year ahead.
Houshmand noted that the class hails from 30 states and 22 countries, including Malaysia. He welcomed students to their Rowan home and urged them to make smart, safe choices.
During the ceremony, Rowan's Torch of Knowledge passed from SGA President Matthew Beck, a senior mechanical engineering major, to Eva Loatman, a freshman public health and wellness major.
Later, students visited tables hosted by 40 SGA student groups and organizations, had a "Jersey Fresh" lunch provided by Gourmet Dining,  and enjoyed games and activities led by Student University Programmers. They also had the chance to sample Houshmand's Hazardous Hot Sauce, the president's signature brand of hot sauce. Proceeds from the sale of the hot sauce go to the Rowan University Student Scholarship Fund.
In remarks to the freshmen, Beck urged them to get involved and take advantage of all that Rowan offers.
"You are joining a community of the most dedicated faculty, staff and student body of any university. The opportunities that come with this are endless," said Beck, who also is pursuing the Thomas N. Bantivoglio Honors Concentration in the Honors College.
"I challenge you to step out of your comfort zone, find new interests and hobbies, succeed in your coursework, and, most importantly, enjoy your time here at Rowan."