Rowan University joins national innovation network
Rowan University joins national innovation network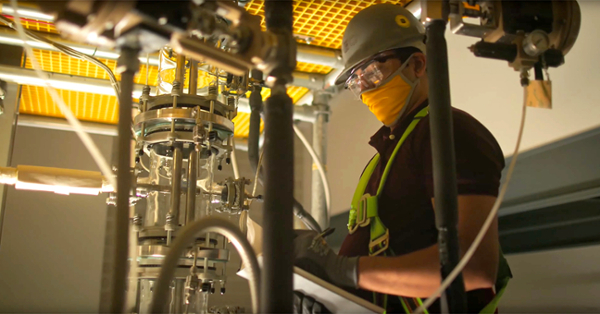 Undergraduate students at the Henry M. Rowan College of Engineering receive 'hands-on, minds-on' training. The university now joins a national innovation network meant to spur commercial ventures.
Rowan University is among the first in the region to join a new, Princeton University-led innovation network designed to transform scientific discoveries into new commercial ventures. 
The NSF Innovation Corps (I-Corps) Northeast Hub brings together eight institutions from Delaware, New Jersey and eastern Pennsylvania to develop a diverse and inclusive innovation workforce. The consortium is backed by a $15 million, five-year grant from the National Science Foundation. 
The hub is one of five in a nationwide NSF-funded network of universities formed to accelerate the economic impact of federally funded research and invest in technologies that improve everyday lives, delivering benefits in health care, energy and the environment, computing, artificial intelligence, robotics, advanced materials and other areas.   
Supported by a web of academic, industrial and government partnerships, the I-Corps Northeast Hub will provide entrepreneurial training, mentoring and resources to researchers from all backgrounds, including those historically underrepresented in entrepreneurship. The program is designed to help researchers form startup companies and transform their scientific discoveries into benefits for society.  
"This new partnership exactly fits where we want to go as a research university," said Dr. Tabbetha Dobbins, interim vice president for research at Rowan University. "Rowan is already an economic engine in the region and we're excited by the possibilities for our innovators."   
Princeton will be the principal institution in the new hub, with the University of Delaware and Rutgers University as partner institutions. The hub will include five initial affiliates: New Jersey Institute of Technology (NJIT) and Rowan University in New Jersey, Lehigh University and Temple University in Pennsylvania, and Delaware State University, a Historically Black College or University (HBCU). The hub will expand by adding new affiliates each year.
As a group, the eight institutions represent $1.4B in annual research spending, have trained 430 I-Corps teams in regional cohorts and have spun out more than 80 deep technology ventures in the past five years. 
The I-Corps program gives innovators the support they need to rapidly develop products and business plans based on customer feedback and market needs, said Dr. Yatin Karpe, director of Rowan University's Office of Technology Commercialization and Rowan Innovations. 
"Rowan's inclusion in the I-Corps Northeast Hub will give our faculty researchers quick and easy access to entrepreneurial resources and networking opportunities," Karpe said. "We've already seen growing interest among our researchers in bringing their innovations to the marketplace and I expect that interest will grow exponentially with the hub's new regional and national networking opportunities."    
Since 2018, through Karpe's leadership, Rowan University has sent 15 teams of researchers to regional I-Corps training. Ten Rowan researchers have earned national I-Corps awards, and one earned additional funding through the National Institutes of Health.  
Dr. Nidhal Bouaynaya, associate dean for research and graduate studies at the Henry M. Rowan College of Engineering, will serve as Rowan's lead in the hub. A professor in the Department of Electrical & Computer Engineering, Bouaynaya earned Rowan's first national I-Corps award to support her innovation: artificial intelligence to dramatically improve the detection of brain tumors—about three years earlier than the standard of care. 
"Our vision for an inclusive entrepreneurial future—from ideation to commercialization—will foster an ecosystem that responds to current national crises, such as the COVID-19 pandemic and structural racism," said Bouaynaya, co-founder of MRIMath, LLC, a Rowan-affiliated startup.   
The I-Corps program is already making an impact in South Jersey. Innovations under development include a surgical robot to align femur fractures and new technology to protect people in areas affected by earthquakes and flash floods.  
With help from his I-Corps award, Dr. Ben Wu from the Henry M. Rowan College of Engineering and his team developed a prototype for a noninvasive way to detect skin diseases. His technology received a U.S. patent. 
"We found that the I-Corps program—especially the training they offered—was very helpful to commercialize our idea," said Wu, an electrical and computer engineering professor. "We switched our mindset from 'what can we build in the lab to fit the market' to 'what does the market want us to build' to solve the current pain points." 
For more information, visit www.icorpsnortheasthub.org