Rowan researchers investigate wind power projects
Rowan researchers investigate wind power projects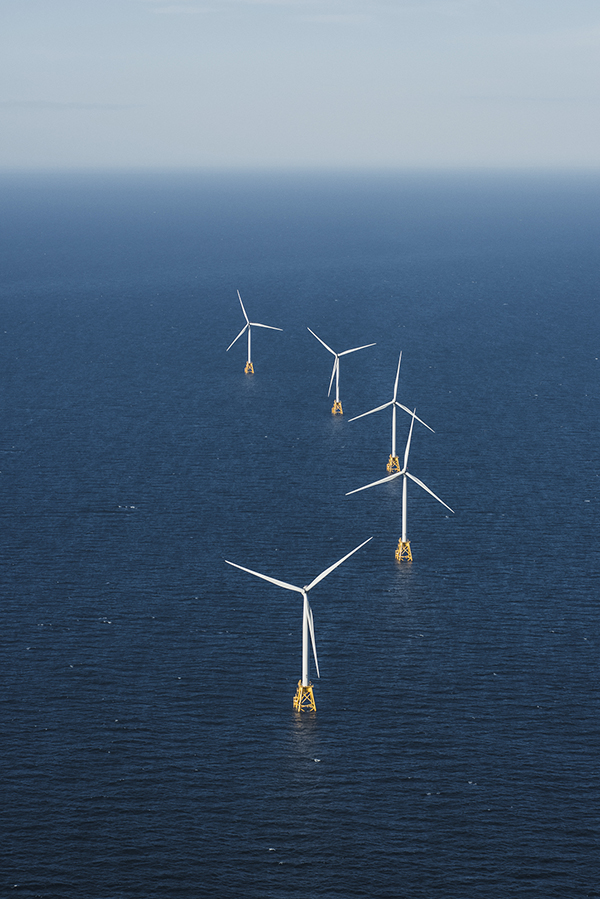 Ørsted's Block Island Wind Farm in Rhode Island. Photo credit: Ørsted
Four Rowan University research teams have received grants from green energy company Ørsted to study environmental and engineering processes related to wind power. Ørsted has been approved by the state to build an offshore wind farm 15 miles off the southern New Jersey coastline. Rowan's research projects would help develop new methods for evaluating seabed sediments before the foundations of the wind turbines are built, as well as monitoring the condition of structures over time. 
"Ørsted is extremely proud to have had the opportunity to help fund this important research conducted by Rowan University," said Maddy Urbish, head of Government Affairs and Policy, New Jersey, for Ørsted. "These studies will have a positive impact on our Ocean Wind project, contribute to the successes of any future projects in this burgeoning U.S. industry, and help further Ørsted's mission to build projects that work in sync with the surrounding environment."
One of the research projects, "Noninvasive Seabed Characterization Using Underwater Electromagnetic Induction," led by Dr. Cheng Zhu, an assistant professor in the Department of Civil and Environmental Engineering in the Henry M. Rowan College of Engineering, aims to characterize seabed sediments using new technology. 
Before the foundations for the turbines can be built, the seabed must be analyzed. Traditional methods for collecting and characterizing sediments require drilling holes into the ground, an expensive and difficult process, Zhu said. He and his team, including Dr. John Schmalzel, the founding chair of the Department of Electrical and Computer Engineering, and students, aim to develop an electromagnetic device which will measure the properties of the sediments without physical collection or touching the seabed itself. 
In practice, the device would be attached to a ship and submerged underwater to survey the seabed. A program would then analyze the sediments—effectively minimizing the need to test physical samples in a lab.
"This method, if it works, could save money and provide larger coverage of the site and it will also require less labor and an easier post-processing of the data," Zhu said. 
Dr. Chen Shen, an assistant professor in the Department of Mechanical Engineering in the Henry M. Rowan College of Engineering, is developing a method for ensuring the structural integrity of the wind turbines while at a distance. 
Along with Dr. Ratan Jha, mechanical engineering department head, and postdoctoral associate Dr. Nand Singh, Shen will work on the project, "Non-contact Condition Monitoring of Wind Turbines Using Laser Doppler Vibrometers." Currently, the structural condition of wind turbines are monitored by sensors which must be installed on the turbine itself. Shen is developing a new method using an instrument called a laser vibrometer. The device can measure the vibrations of the turbine as it spins to determine any structural damage not apparent to the naked eye, which is critical to keep the machine up and running.
Another research project centered on wind turbine upkeep is "Rapid On-Site Repair of Wind Turbines by Cold Spray," led by Dr. Behrad Koohbor, an assistant mechanical engineering professor. Cold spray is a new technology which can be used to repair damage to wind turbines by spraying particles over the damaged area—much like the act of spray-painting. 
First, Koohbor and his team of faculty and students from the mechanical and chemical engineering departments, including Dr. Francis M. Haas and Dr. Joseph Stanzione, must identify the best material to spray onto the turbines. Then, the team will experiment to see if these materials can be successfully sprayed onto the turbines using portable cold spray units made by Rowan students.
"Students have designed, fabricated, and successfully operated scaled-down prototype units," Koohbor said. "What we are trying to do is come up with a more portable design that can be carried by the operator and used on-site for repairing these specific materials."
A fourth project titled, "Evaluation of Substrate-Detailed and Seasonal Data to Provide a Baseline for Assessing Future Operations-related Impacts," will provide critical baseline data about the sediment in and around the proposed turbine locations. Led by Dr. Beth Christensen, professor and founding chair of the Department of Environmental Science in the School of Earth & Environment, the study also seeks to understand seasonal changes and the impact of storm waves on the seabed. 
"Regional surveys were conducted in the 1960s and 1970s and beach replenishment projects, storms, and artificial reef projects have since altered the shelf," Christensen said. "This analysis will also aid in evaluating potential impacts on local fisheries and provide valuable field experiences for our students."