Greener, cleaner, better: Big investment in campus corridor fights climate change
Greener, cleaner, better: Big investment in campus corridor fights climate change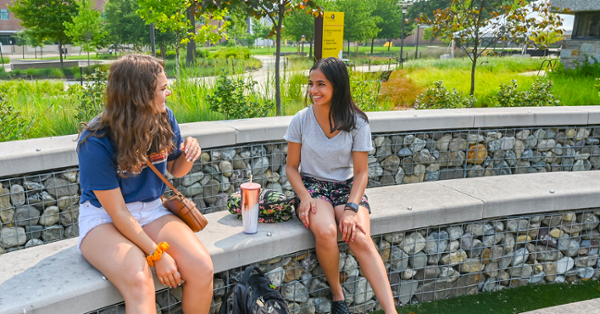 A casual observer might not see Meditation Walk, the plant-filled east-west corridor crossing the north side of campus, as a sustainability project.
They'd need to look just a little bit closer.
Meditation Walk, which starts opposite Wilson Hall and runs past Westby, Robinson, Science and Savitz halls to the Chamberlain Student Center, is much more than Rowan University's main pedestrian thoroughfare.
Workers this summer will complete Phase III of the Meditation Walk renovation project, a multi-million-dollar investment that was designed to not only further beautify the campus but to ease stormwater runoff, improve absorption and eliminate or vastly reduce surface flooding.
A decades long problem, flooding occurs when Chestnut Branch Stream, a body of water passing through the center of the Glassboro campus, becomes inundated during storms and overflows.
"The reason flooding has been an issue for so long is that the campus sits at the lowest point in the watershed," said Arijit De, assistant vice president for Strategic Initiatives and University Architect.
In other words, De said, the area surrounding the main campus is like a giant bowl, with Rowan at the bottom of it.
He said the stream naturally catches much of the stormwater runoff but during heavy rain events it cannot always handle it all and the banks overflow. Before and after each event, De said, Rowan has acted to mitigate water damage but, time and again, the location of campus in the catch basin of the watershed proved difficult to beat.
Mitigating, beautifying, fighting climate change
Rowan's comprehensive Stormwater Management and Landscape Masterplan mapped out a variety of improvements to manage runoff so it drains more efficiently into the ground without overflowing Chestnut Branch Stream.
Hidden in plain sight, the improvements include such features as "Demonstration Meadow," a piece of ground along the stream near Wilson that's filled with native plantings, and a complete redesign of the grounds around Wilson that replaced sections of concrete with green space.
"All of it was concrete just two years ago," said Landscape Architect Linda Walczak. "Even the amphitheater was designed to help manage runoff with seating and paving that allows rainwater to infiltrate into the soil."
Phase III of the Meditation Walk plan is extending the project eastward, establishing a visual and physical link between Rowan Boulevard, student housing and the campus core.
Students like what they see
"We talk about sustainability in my classes and investing in plants can help a lot," said Nisha Shah, 19, a rising junior chemical engineering major from South Brunswick. "All of the work that Rowan's doing looks really good and it's helping the environment."
Shah, along with fellow Admissions Ambassadors Audry Feltner and Gian Verderose, took a break from giving student tours recently to discuss the campus improvement work.
Crucial to the restoration/renovation project is pedestrian enjoyment and use of the corridor including seating and overlook areas for Chestnut Branch Stream and Abbott's Pond, a natural water feature.
"When I give tours there are often step back moments when people say, wow, it's really beautiful," said Verderose, a rising junior theatre arts major from Pittsgrove. "Not only do we have a planetarium and a fossil park, but a campus that is evolving and adapting."
De and Walczak said Rowan invested more than $5.5 million over the past three years to beautify the Meditation Walk corridor and manage runoff along it, an investment that, in addition to mitigating flooding, helps to reduce the University's carbon footprint with plantings that absorb greenhouse gases. Many of the plants are native to the region and support pollinators and other insects.
"All of it, taken together, helps us move forward from a sustainability standpoint," Walczak said.
Building and improving campus while sustaining the environment
Many of Rowan's recent capital improvements, including the construction of Cooper Medical School of Rowan University in Camden and Holly Point Commons in Glassboro, meet or exceed standards for LEED green building certification.
New and ongoing sustainability projects include:
The Glassboro Cogeneration Facility (which produces heat in winter and air conditioning in summer);
A wind power purchase agreement using natural and local wind sources;
The installation of tables with solar canopies at Student Center Plaza;
Sustainability features incorporated into the design of all new and planned buildings including Business Hall, Discovery Hall (opening Fall 2021) and the forthcoming Student Center Agora project, which will transform and expand the Chamberlain Student Center.
Further, since 2019, Rowan has purchased 27 low-speed, zero emission electric vehicles, developed a composting program for dining hall food waste to use in campus landscaping and is planning for the possible development of electric vehicle charging stations.