Rowan University hosts National Science Foundation research program for undergrads
Rowan University hosts National Science Foundation research program for undergrads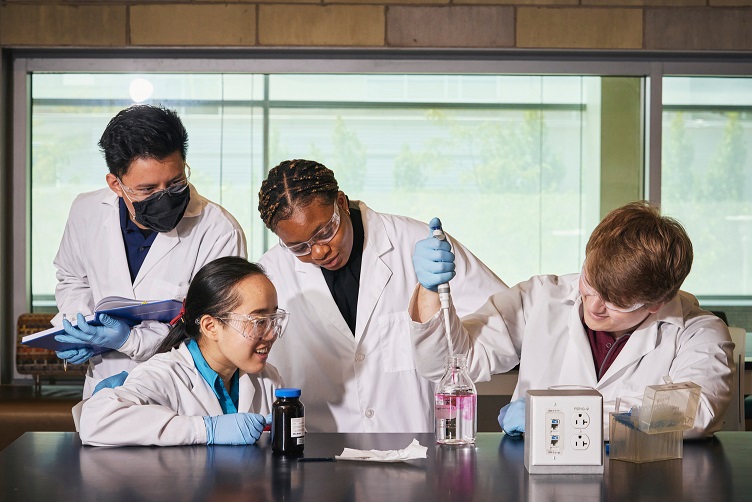 Students in Rowan University's Research Experience for Undergraduates program spent 10 weeks this summer working alongside faculty mentors in their labs.
When Brady Moore, a biomedical engineering senior, first began his journey into the scientific world as a high school student, he could not have predicted the path he would take over the next four years. His biology teacher recommended a summer research internship at Rowan University that he eagerly pursued. He chose to attend Rowan as a freshman the following year.
This summer, Moore took part in another hands-on program directed by Rowan's Department of Biomedical Engineering, called Research Experience for Undergraduates (REU). The 10-week program hosted 12 undergraduate students from eight states: Michigan, Minnesota, New Jersey, New York, North Carolina, Oklahoma, Pennsylvania, and Texas. The National Science Foundation (NSF) funded 10 of the fellows and Rowan funded two more through its Division of University Research. 
The NSF supports research sites that represent specific areas of interest with a focus on developing leaders in the field and igniting their passion for discovery, innovation and research,  according to Dr. Mary Staehle, associate professor of biomedical engineering in the Henry M. Rowan College of Engineering. Rowan's site focuses on biomedical materials, devices, therapeutics and emerging frontiers, and includes faculty mentors in these areas from engineering, science and medicine. 
Students work full-time in a lab with a faculty mentor, graduate students and post-doctoral fellows to complete meaningful, impactful research throughout the summer, explained Staehle, who directs the REU program along with Dr. Mark Byrne, professor and founding head of the Department of Biomedical Engineering. 
"The program provides extensive research opportunities that students may not have at their home institutions and broadens opportunities for scientists," Staehle said.
Rowan's REU program first began in 2018. Its return following the COVID-19 pandemic was a welcome sign of normalcy.
"It is really great to have students on campus," Staehle said. "This program provides an opportunity to learn firsthand about being a graduate student and how to pursue a career in science or engineering research."
This summer, Moore returned to the lab of Dr. Peter Galie, associate professor of biomedical engineering, studying cell cultures with a focus on strokes and aneurysms. Moore plans to do more hands-on lab work before applying to medical school.
"Everyone in the lab was welcoming and friendly and showed me when I needed to know something. I really appreciate all the help," Moore said. 
"Brady worked in my lab as a high school student, so things came full circle this summer," Galie said. "It was great seeing his growth, both as a young adult and as a biomedical engineer, thanks to the training he's received during his three years here."
Alexis Pacheco Benitez, a Rowan junior, also credited the faculty and students for enriching his research experience.  
"The people there really brought life to the lab and made me look forward to being there in the lab every day," said Pacheco Benitez, who spent the summer exploring 3D cellular remodeling. "I will also remember the trips I and the other REU fellow students went to throughout the entire program."
Tochukwu Iyke-Nzeocha, a sophomore from the University of Rochester, worked in the Department of Chemistry and Biochemistry. One experience she found beneficial during the program was a "Women in Chemistry" event. 
"From the presentation, I saw that I could strive in the entrepreneurial world. Before I was considering medical school, but now I have narrowed down my options," she said.
Sky Fuller, a Columbia University junior, commuted from the Glassboro campus to the Joint Health Sciences Center in Camden to work in the field of synthetic biology.
"Our primary focus is redesigning receptors and synthetic circuits of immune cells to fight cancer. I had a minimal background in synthetic biology when I arrived at the start of these 10 weeks, so I learned a lot about this field," Fuller said.
Mulan Tang, a junior from the University of Oklahoma, recounted a story about adding stem cells to cross-linked fibers. 
"It was a bit late in the day, at around 8 p.m., but it was extremely exciting to look through the confocal microscope and see that the attachment was successful," Tang said. "I felt like I really did make a lot of research progress during my time at Rowan."
"These programs are vital to fostering that excitement and creating the next leaders in the field," said Byrne. "Exposing these young engineers and scientists to top research and having them contribute in a real and meaningful way during the summer and beyond is the spark that leads to meaningful careers in the field. Rowan is the ideal place for these types of programs."