Gearing up: Orientation sessions help new Profs connect to Rowan
Gearing up: Orientation sessions help new Profs connect to Rowan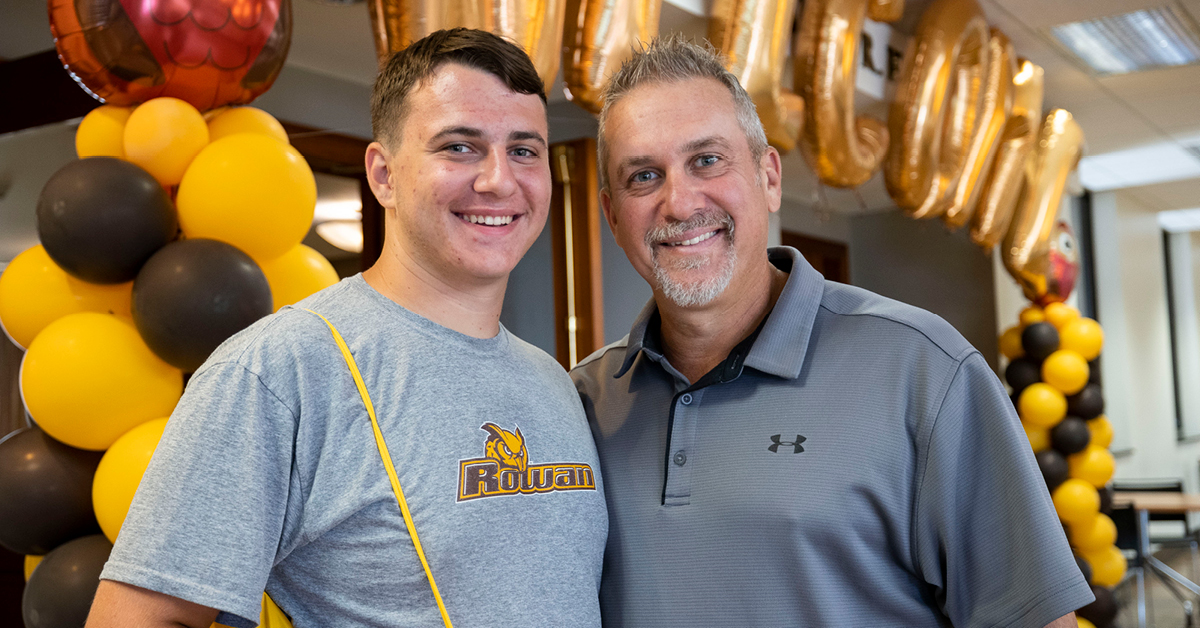 Ryan Lynd and his dad, Rick, enjoy a recent Campus Business Day as part of Rowan's 2021 Orientation program. Lynd is an incoming history and education major.
Cool and challenging classes. Living away from home. New activities and experiences. Intellectual and personal growth. Friends. Fun.
Devyn Walkowicz said he is ready for all of it.
"I like the environment and the ambience here," said Walkowicz, a Toms River resident and member of Rowan University's Class of 2025. "I'm definitely excited to start my engineering classes."
His mom, Desiree, proudly wearing a crisp, white "Rowan University Mom" t-shirt, said she was excited…and a bit wistful.
"It's emotional for me," she said, noting that Devyn, a freshman civil and environmental engineering major, is a first-generation college student and the first of his siblings to head off to college.
That was the vibe for the Walkowicz family during a recent Freshman Orientation Business Day at Rowan University.
In a single morning on campus, the family was welcomed to Rowan, visited information tables hosted by representatives from a number of campus offices and departments, and attended information and advising sessions. The day ended with a self-guided campus tour, stops for photos at campus landmarks and looks at two residence hall rooms.
A free COVID-19 vaccination clinic also is available for students and their family members at all Campus Business Days.
Three Orientation formats
To be sure, due to the COVID-19 pandemic, Orientation this year looks much different than past years, when Orientation involved longer days and overnight stays. This year, Rowan's Office of Orientation and Student Leadership Programs (OSLP) offers Orientation in three different formats for 3,900 freshmen and first-year transfer students.
Students can attend Campus Business Days; virtual one-day synchronous Orientation sessions in which they are grouped by college; or online Orientation, an asynchronous, self-paced program. Orientation runs through July.
Business Days help to give new students a feel for campus and help them complete their new student checklist to ensure that they've accomplished everything they need to in order to seamlessly start the fall semester. Most students attending Campus Business Days also have attended either virtual or online Orientation as well, according to Maria Arbizo, assistant director of OSLP.
All new students must complete Orientation to begin classes at Rowan. While Rowan will be open for in-person instruction this fall, Orientation was planned in January and organizers made program decisions based on COVID-19 protocols at the time, Arbizo explained.
"We have a lot of people doing a lot of different things," Arbizo said. "It's been harder to plan than most years. Our Campus Business Days are very different from what Orientation has been in the past. They're really touch points for us to help students get their checklists done. That helps them be more prepared when they come back in August."
Friendly PROS
Nineteen PROS (Peer Referral Orientation Specialists) members are leading Orientation in all formats, according to Arbizo.
Among them is senior history and education major Rhys Rios, who joined the PROS two years ago.
"Our new students missed out on a lot of things their senior year of high school. A lot of them are excited to come to campus," Rios said, adding that PROS members work to help new students acclimate to Rowan.
"Our biggest goal is just to be the first friendly face that people see on campus. I love being that person."
So, too, does PROS member Josh McCord. A sophomore music education and vocal performance major from Matawan and a self-described "mother hen," McCord worked a recent Campus Business Day, answering questions and chatting up students and parents.
"I'm so excited to be able to work with these students and their parents and to find a way to connect," said McCord, who found his way at Rowan after attending Rowan After Hours programming. "I share information with them and let them know we're here to help them transition. There's no such thing as too friendly a face."
Fall semester dates
The first day of the fall semester is Wednesday, Sept. 1. Residential students will move in over several days in late August. Specific plans regarding Move-In will be shared with students by Residential Learning and University Housing.
Fall Welcome Week, a vital follow-up to Summer Orientation, will kick off on Friday, August 27, with multiple daily events for new students. The week includes the annual President's Welcome Picnic and Parade set for Monday, August 30.
Getting involved
In his welcome to students at a recent Campus Business Day, Associate Vice President for Student Life Drew Tinnin encouraged them to make their most of their Rowan experience. Doing so, he said, positively impacts well-being and helps develop leadership and job readiness skills.
"We're so glad you're here and we're so glad to be able to resume in-person classes and activities," said Tinnin, noting that the University has daily events and activities and offers more than 240 student organizations.
"I'm really challenging you to get involved."