Beauty in boulders: New public art inspires and instructs
Beauty in boulders: New public art inspires and instructs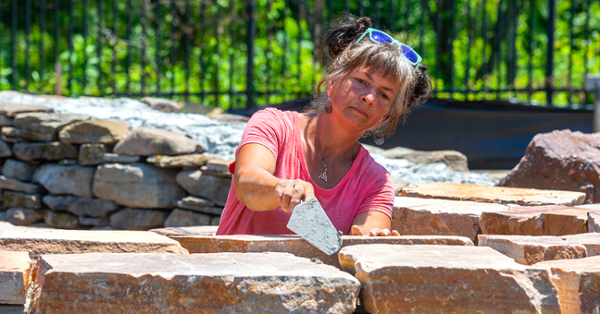 Alvin works mortar between slabs of Colorado buff sandstone.
The sun was high and hot as stonemason Thea Alvin and her crew, some of them student interns, set Pennsylvania fieldstone into a rough outline and "Time Sweeps," Rowan University's latest public art project, began to rise from the dusty earth.
The structure, which stands fittingly in the shadow of Discovery Hall, the University's newest academic building, developed as Alvin led her team, armed with little more than hammers and trowels, in its construction.
"Stone is a moment captured in time, and I think of this sculpture as lots of little moments in time that will tell a new moment," she said of the project's construction, and of its title.
(See "Time Sweeps" come to life in a beautiful, full-color photo package.)
A Vermont-based artisan, Alvin creates large public art projects from stone all over the world, teaches her craft to aspiring artists and uses her skills in restoration works, such as the revival of a 15th century Italian villa.
Bustling about the Rowan site, her hands powdered with dust, Alvin spoke easily about the project as she wet thick, gray mortar with a hose and worked it between slabs of stone.
"This is a traditional style of masonry called dry stone walling," she explained. "Most is done without mortar, just setting the stone in place, but I'm applying some to the interior section and some to the arch."
Alvin noted that the structure's central feature, a high archway, was designed to provide a portal for more than just people. It was built to align with the sun during the winter and summer solstices, during which rays will pass through at different angles creating a form of ancient clock, she said.
Complementing the curricula
The majority of the project is made of fossil-bearing fieldstone, which compliments curricula through the School of Earth & Environment to be taught in Discovery Hall when it opens in September as well as the on-going work at Rowan's Jean & Ric Edelman Fossil Park in nearby Mantua Township.
"Time Sweeps," a 264-ton sculpture, contains three main features: a long wall with an arch in the middle; a snakelike second wall that creates a narrow passageway between the two, which some describe as a "squeeze"; and a shorter curved wall. The main wall is roughly 100 feet long with an arch that's six feet, six inches high and 36″ wide at the base.
Topped with thick slabs of Colorado buff sandstone, the project incorporates seven types of boulders – gneiss, schist, rhyolite, granite, conglomerate, gabbro and basalt – that complement the geology curricula that will also be taught in Discovery Hall.
Alvin, who along with her crew worked roughly 10 hours a day, six days a week over three weeks to complete the project, said she began her decades-long art career as a laborer in the trade. She started, at 16, as a tender, or assistant, worked her way up to mason and eventually became a stone mason, an artisan who works with stone and rock.
"The reason I went from the trade to art is I wanted to intentionally build beauty," Alvin said.
Assisting in the project's construction was a team of mostly women laborers including rising senior geology major Mallory Osmun and 2021 graduate Tara Lonsdorf, who heads to the University of Michigan this fall to pursue a Ph.D. in geology.
Lonsdorf, one of the first graduates of Rowan's new geology program, said students who study rocks will find plenty of interest in "Time Sweeps" for generations to come.
"One of the boulders is rhyolite, a volcanic rock," she said. "If it was coming out of a volcano, believe me when I say this, you'd want to run."
Alvin said despite the violent origins of some of the stone in her now completed wall project, their final resting site on the tree-lined Glassboro campus is in a place of peace.
"I hope people will come and find calm in the midst of the hustle and bustle of campus life," she said. "I hope students will come here and sit on it."
Art Gallery companion show
Alvin was one of three finalists considered out of more than 100 applicants to build a public art project outside of Discovery Hall. (Learn more about Rowan public art projects.)
In May, Alvin and her crew built a companion exhibit to "Time Sweeps" in the Rowan University Art Gallery, 301 W. High Street in Glassboro, which is open to the public through July 24. That exhibit features a second wall that the artist and her crew built stone-by-stone with more than 15 tons of material. The exhibit also features a cairn, a beehive-shaped structure built on site, a "stone rug" with thousands of small pieces laid one-by-one, and large color photos of Alvin's previous work.
"This was a speed build," Alvin said of the indoor installation. "Nine pallets of stone – 15 tons – built in four hours."
She said as demanding as an outdoor construction job can be, the indoor build brought its own set of challenges, starting with the inability to move whole pallets of stone.
"We carried each individual piece by hand," she said. "Which is kind of appropriate. Stone is tactile, visceral, it makes you want to touch it. And you should."
Discover more about "Time Sweeps" and watch a video about its construction.