Summer in the lab: Undergrads return to Rowan for paid research experience
Summer in the lab: Undergrads return to Rowan for paid research experience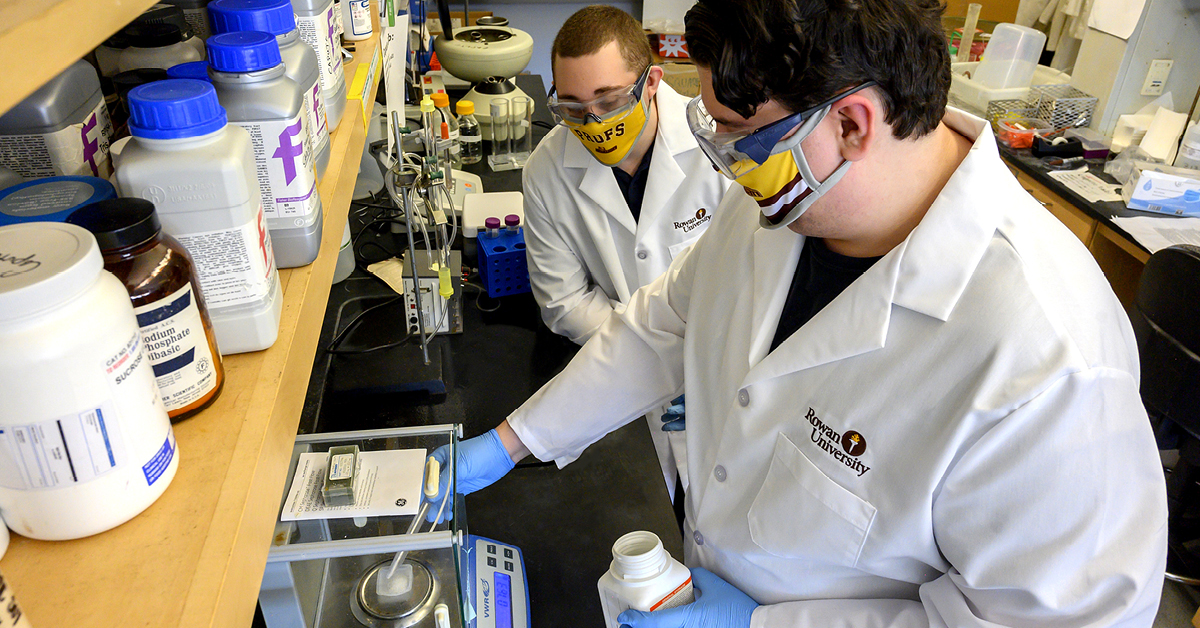 From right, graduate student Austin Clark works with biochemistry senior Josh Hauner to grow bacteria to produce the protein azurin for use in experiments this summer.
Brea-Anna Berry-White is getting paid this summer to work in a Rowan University lab on a research project related to the SARS-CoV2 virus now wreaking havoc around the world. 
The translational biomedical science junior is part of a team led by biophysicist Dr. Nathaniel Nucci, unfolding tiny proteins to learn how their shapes affect diseases. One of the proteins they're studying plays a critical role in the novel coronavirus's ability to replicate and infect cells. 
"I love biology and Dr. Nucci is a great mentor," Berry-White said. "He has made his lab feel like a science family where we can challenge each other and push each other to do better."
Berry-White is among dozens of undergraduate students gaining valuable, hands-on research experience across the University this summer, from the humanities and business disciplines to engineering and science.  
Launched a decade ago, the College of Science & Mathematics' Summer Undergraduate Research Program (CSM SURP) kicked off on May 20 with a picnic for 145 students and their faculty mentors. The program is the University's largest paid summer research program for students, though faculty across the University also employ student researchers with support from individual grants. 
CSM SURP is supported in part by Rowan University, as well as through NASA's New Jersey Space Grant, the National Science Foundation, the National Institutes of Health and multiple N.J. industry grants, said Dean Karen Magee-Sauer, who established the program for CSM.
About 20 faculty members oversee the five-week and 10-week lab sessions. Students receive a stipend and, new this year, subsidized housing, if needed. Volunteer lab opportunities are also available to students. 
Research experience strengthens students' opportunities for employment or competitive graduate programs, Magee-Sauer noted. 
"Faculty embrace the program and provide its heart and soul—and my thanks to them," Magee-Sauer said. "Our students are so talented. Providing them the opportunity to do an intensive summer research program is so important to helping them reach their goals beyond their years at Rowan."
Along with Berry-White, Lauren Staman and Crystal Stackhouse are also unfolding proteins in Nucci's lab this summer. 
"Proteins are naturally folded and when they unfold, they lose function," said Staman, a molecular biology senior. 
"This is important because if the protein is not shaped right, it affects their function and could lead to diseases," explained Stackhouse, a rising junior and a biomedical engineering major. 
Josh Hauner, a biochemistry senior, is working in Dr. Greg Caputo's lab with proteins for industrial application. Learning how to handle equipment such as incubators and centrifuges have heightened his microbiology experience, Hauner said.
"You learn a lot in classes, but in doing this every day, I learned the most while performing the actual experiments," Hauner said. "Lab work complements classroom learning."
Students gain much more than experience, noted CSM Assistant Dean Jennifer Ravelli, who organizes SURP's student programming. This year's events include a social, career planning workshops, a graduate school workshop, research talks and "a poster session where students will have the opportunity to present their summer research in a format just like a professional meeting," Ravelli said.
Last summer's "Road to Research" event gave students the opportunity to hear researchers talk about their personal journeys, not just about their science, but also how they got to where they are. 
"This program was so popular that it was continued throughout the year," Ravelli said, "and I think helped students visualize themselves in a research career."