New Saxbys campus cafe counts on student CEO and staff
New Saxbys campus cafe counts on student CEO and staff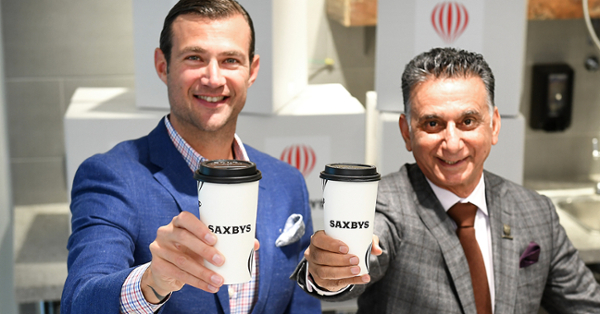 Saxbys, a Certified B Corporation and coffee company headquartered in Philadelphia, has partnered with Rowan University in an all new student-run café starting this fall.
Located in Business Hall, home to the William G. Rohrer College of Business on the Glassboro campus, the café will run via The Saxbys Experiential Learning Platform in which one undergraduate student each semester will serve as Student Cafe Executive Officer. The SCEO will manage all aspects of the café including team development, community outreach initiatives and the cafe's profit & loss statement, receiving a semester of college credit, a competitive salary and a bonus in addition to gaining invaluable management experience. Further, the café will be staffed entirely by Rowan University students.
The new café is part of a network of Saxbys' Experiential Learning Platform, a program in place at such institutions as Penn State, Temple and Rider universities that provides undergraduates in-depth entrepreneurial opportunities as a supplement to classroom learning.
"Saxbys' model of experiential learning and leadership blends perfectly with our emphasis on providing students hands-on, practical experience," said Rowan President Ali A. Houshmand. "Those students who learn by doing are much more prepared when they enter the workforce full time. We are also excited to partner with a company that has such an admirable outlook. Their mission is to simply 'Make Life Better', a philosophy and business model that we want all of our students to adopt throughout their professional careers."
In the coming weeks, Saxbys and Rowan will announce the inaugural SCEO to lead the new venture this fall.
 "Under President Houshmand's leadership, a core tenet of Rowan's commitment to being the University of the Future is experiential learning," said Saxbys Founder & CEO Nick Bayer. "With The Saxbys Experiential Learning Platform, the University gets not only a dynamic, popular business on campus, but one that ties theory to practice in providing students an incredible opportunity to run a business.
"Saxbys has a well-developed training and talent development program, one that emphasizes to student team members the benefit of positive social impact while fostering emotional intelligence, critical thinking and creativity to innovate and inspire."