Groundbreaking for new studios heralds the next step in dance education
Groundbreaking for new studios heralds the next step in dance education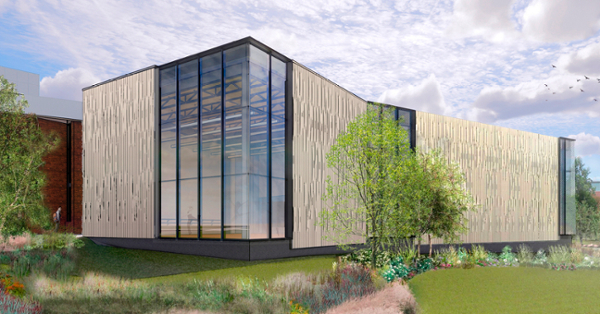 A bold new project brings Rowan University's Dance program to the next stage of its evolution following the May 25 groundbreaking ceremony for a dance studio building on the Glassboro campus. The long-held dream of new facilities is becoming a reality with construction starting this June on an addition that branches off from the west side of Wilson Hall, home to the College of Performing Arts.
"Beyond the transformation of this space and program, we look forward to the transformations that will take place in this space, both artistic and educational," said Dr. Rick Dammers, Dean of the College of Performing Arts. "We invest in the arts because the arts transform the ways in which we see and interact with our world."
Philadelphia-based FIFTEEN Architecture + Design was engaged in the summer of 2019 to create an addition that centralizes the dance program within the College of Performing Arts' main building and fulfills accreditation standards from the National Association of Schools of Dance. The resulting design is a 7,500 square foot, state-of-the-art facility featuring two dance studios, a public lobby area, offices, and locker rooms, plus other dedicated spaces for dancers, faculty, and staff.
"Dance studios are safe spaces for creativity and growth," declared Dance major Gabrielle Langevine, a sophomore who is excited about being one of the beneficiaries of the project. "I look forward to this being a hub for us all to be able to create, collaborate, and hone our talents."
The new structure will be a combination of glass and concrete that plays off the proportions and aesthetic of the two adjacent buildings (Wilson and Rowan Halls), according to Alexis Breining, Project Manager for Design & Construction at Rowan. The bid was awarded to Ogren Construction of Vineland, NJ, in late April. The expected completion date is June 2022.
"At the core of the dance program is creativity," noted Melanie Stewart, Associate Dean of the College of Performing Arts and member of the Dance faculty. "Our students explore the limitless possibilities that an in-depth liberal study of dance can offer."
The Dance program, as an academic pursuit, was founded in 1969 by A. Tage Wood, a professor in the Physical Education Department at what was then Glassboro State College. Wood had a great vision for dance and was able to connect it with the Department of Theatre in 1971. Finding that the department's facilities in the basement of Bunce Hall were not suited to teaching dance, she was able to negotiate a move to the former dining hall and faculty lounge located in Memorial Hall. The program grew through the '70s and early '80s, before becoming an official minor in 1991.
Beyond the classroom, original and adapted work has been developed by faculty, guest artists, and students throughout the program's history. Several of these productions have earned awards and accolades from both the American College Dance Festival and the Kennedy Center American College Theatre Festival. Dance is a key element of the department's mainstage season, while student work is celebrated each year in choreography showcases and senior project performances. Student clubs such as Dance Extensions and 3D Dance add to the creation of a vibrant dance community on campus.
First proposed in 2012, the B.A. in Dance became a reality two years later in 2014, and celebrated its first graduates in 2015. Today the program boasts over 250 alumni and, in addition to majors and minors, serves more than 300 non-major students in dance courses each semester.
Many of these alumni are making their mark in the world of dance. Some have continued their education at the graduate level with work that explores many facets of dance through, for example, Temple University's program in Dance, Rhode Island University's program in Health and Exercise Science, and Drexel University's Dance Therapy program. They have also become successful studio owners, instructors in public schools and private musical theatre camps, arts writers, and dancers with companies around the country, including the Radio City Music Hall Rockettes. 
"I have been waiting for 20 years for this moment. My excitement is through the roof and floor," said Paule Turner, chair of the Department of Theatre & Dance and a member of the Dance faculty. "I cannot wait to invite diverse and inclusive cohorts of students to intellectually pursue dance as art. The future is bright, healthy and modern."