Advancing transportation infrastructure through technology
Advancing transportation infrastructure through technology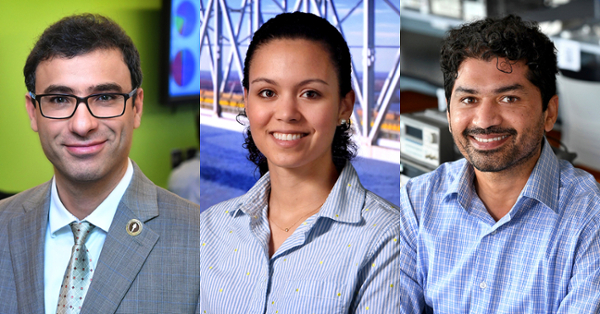 From left, Dr. Mohammad Jalayer, Dr. Adriana Trias Blanco and Dr. Ghulam Rasool
Three researchers at Rowan University's Center for Research & Education in Advanced Transportation Engineering Systems (CREATES) have received grants to improve the upkeep and safety of intersections, bridges and helipads through new technology. Totaling $200,000, the grants have been awarded by the Center for Advanced Infrastructure and Transportation (CAIT) Regional UTC Consortium, led by Rutgers University.
Dr. Mohammad Jalayer, a civil and environmental engineering assistant professor in the Henry M. Rowan College of Engineering, who is serving as the principal investigator on this award, aims to reduce the number of intersection-related crashes. In New Jersey alone, more than 18,000 crashes occurred at intersections in 2019. 
Jalayer's project, "A Real-Time Proactive Intersection Safety Monitoring System Based on Video Data," will record several intersections in New Jersey over the course of six months to monitor all traffic-related incidents at the intersection, from the frequency of drivers running red lights to pedestrian jaywalking. An artificial intelligence tool will track all incidents at each intersection. Based on the number of incidents, each intersection will be graded in terms of safety and the probability that a crash would occur there. 
Based on the analysis of the intersections, Jalayer and his team can propose strategies and solutions to transportation agencies on how to improve safety at these sites, such as changing traffic signals and redesigning the intersection. 
"With the advancements in transportation engineering, we have to implement a proactive approach to save road-users' lives," said Deep Patel, a graduate research fellow, who is working with Jalayer on the project.
The second project, "Bridge Deck Surface Profile Evaluation for Rapid Screening and Deterioration Monitoring," is helmed by Dr. Adriana Trias Blanco, a civil and environmental engineering assistant professor.
Utilizing laser scanning technology called LiDAR, Trias Blanco will scan five N.J. bridge surfaces to discover damage undetectable to the naked eye. Rowan recently purchased a LiDAR scanner for the project.
"The idea is for this to be a tool that bridge owners can use to predict the deterioration patterns of their bridge decks," Trias Blanco said. "We're promoting it as a screening tool."
The final study focuses on helipad locations nationwide. The Federal Aviation Administration manually maintains a database of helipads, and for about 30% of the listings, no helipad exists. Dr. Ghulam Rasool, an assistant professor in the Department of Electrical & Computer Engineering, created an artificial intelligence algorithm to identify and log the longitude and latitude of helipads. 
Rasool's project, "Rotorcraft Landing Sites Identification—Scaling and Generalization of the AI Model," would create a new, accurate database that would update automatically using satellite images. 
Rasool began working on the project last year, first to train the algorithm to identify helipads shown on Google satellite images. Now, he and his team, which includes undergraduate, master's, and Ph.D. students, are working to pinpoint every helipad in the country. 
"The updated database is going to lead to helicopter safety," Rasool said. "People will have access to updated information on landing sites. They will know if there is any landing site in this area and they can go and land there. Right now, the databases are outdated. This is going to save human lives."