Rowan University graduates its first clinical psychology doctoral students
Rowan University graduates its first clinical psychology doctoral students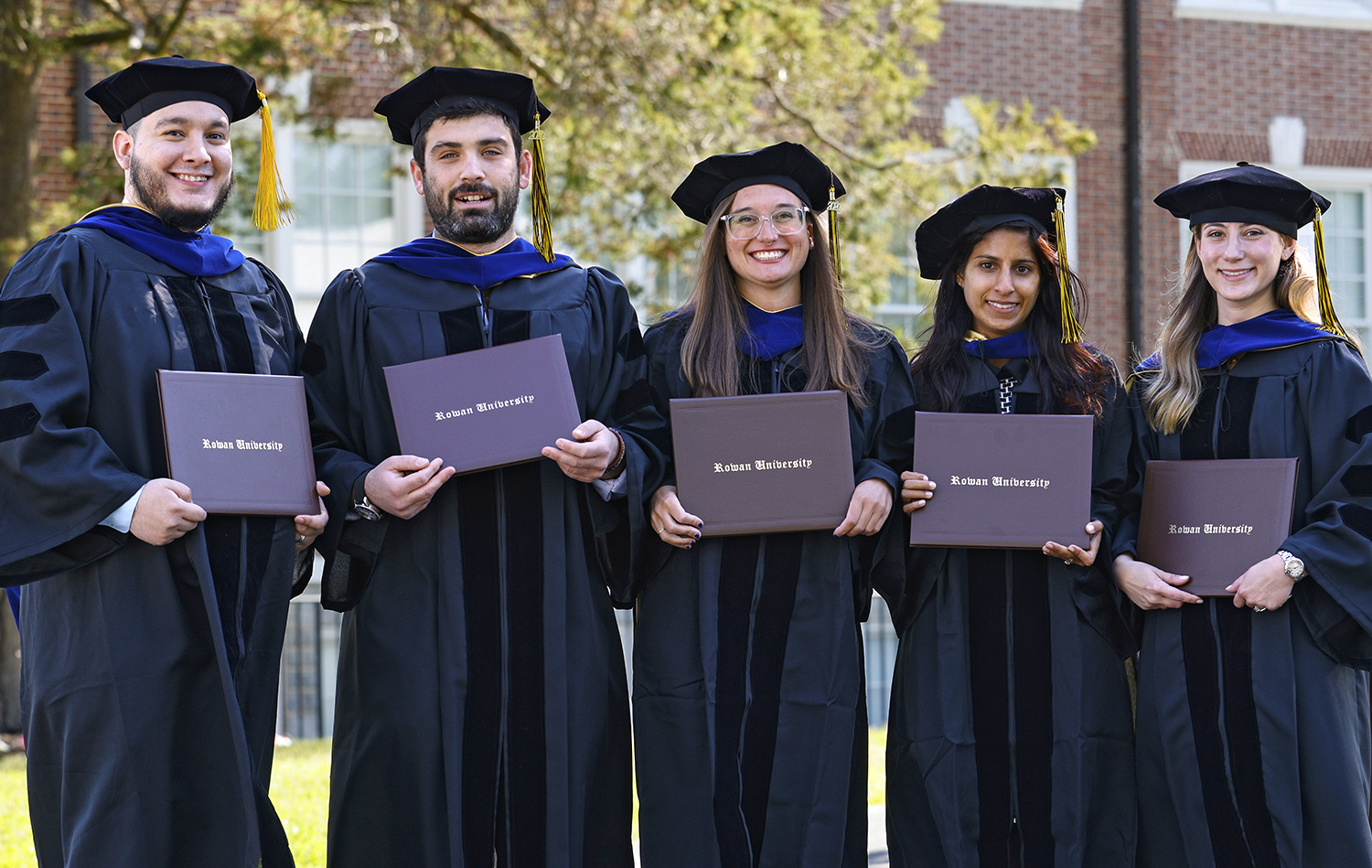 From left, Pierre Leon, Alex Jaffe, Krista Herbert, Sheina Emrani and Nicole Cantor are the first students to graduate from Rowan University's clinical psychology doctoral program.
Five Rowan University students received their doctoral degrees in clinical psychology Tuesday, the first class to graduate from the program since its 2016 launch.
Their hooding ceremony marks a significant step in the University's transformation as a research powerhouse, said Dr. Karen Magee-Sauer, dean of the College of Science & Mathematics and School of Health Professions. 
"It is with great pride that we recognize our first doctoral graduates in the College of Science & Mathematics at Rowan University," Magee-Sauer said. "This Ph.D. program is a historic milestone in our University's journey in becoming a major research-intensive institution."
After four years of demanding study and research, followed by another year of internship, all five students have secured post-doctoral positions—an indicator of the program's rigor, said Dr. Suzanne Bausch, the college's vice dean. 
"It's one thing to start a program," Bausch said. "It's another for a program to become successful, graduate its first students and get them placed well."
Nationally, only 84 percent of doctoral psychology students matched with an internship last year through a competitive process similar to the way medical students are placed in residency programs, noted Dr. Jim A. Haugh, the program's director. All of Rowan's students matched with their first or second choices in programs around the country. 
"These students have hit milestone after milestone in their graduate training," Haugh said. "They've done it with exceptional professionalism and competency. They've just been a great, fun group to work with."
Now accredited on a contingency basis by the American Psychological Association, Rowan's clinical psychology program is drawing researchers, Bausch noted. 
"It's a big recruitment tool," Bausch said. "We hire better faculty, we attract better students, we're doing more research—it all builds upon one another. That's why it's so exciting."
The program specializes in integrated health care and health psychology, in part because Rowan is one of only three universities in the country granting both the M.D. and D.O. medical degrees. Dr. Mary Louise Kerwin, who heads Rowan's psychology department, said Rowan's reputation and ability to provide a high-quality education "resulted in the establishment of one of the university's first Ph.D. programs at Rowan."
"The program's focus on training students to integrate psychology within medicine continues the innovation that defines Rowan," Kerwin said. 
There is also a growing recognition that the mind and body are connected, Haugh added. 
"We are quickly becoming known as prominent researchers in the field of integrated health care," Haugh added. "We are developing well-qualified and sought-after graduates."
First, students had to take a chance on a brand-new, unaccredited program. 
Krista Herbert of Barnegat, N.J., chose Rowan's program specifically because she would be part of its inaugural class. After graduation, Herbert will work in primary care at the San Francisco VA Health Care System. 
"When I interviewed, the faculty not only seemed genuine and excited about the program, but they seemed to want to build it together," Herbert said. "I liked the idea of gaining experience in program development and evaluation. It has been a very unique experience and the program has consistently asked for our feedback and implemented changes for future cohorts." 
After Rowan's commencement ceremony, Paterson, N.J., native Pierre Leon is headed for a private practice in Manhattan, New York. 
"Being the first cohort of anything is never easy, but the support and care we received during the years of our program allowed us all to succeed and feel accomplished," Leon said. "The quality of our training was amazing. We are being trained by some of the brightest minds in our field and they truly showed it each and every day."
Sheina Emrani of Paramus, N.J., is off to practice in Rhode Island after graduation. 
"It was quite clear through our coursework that the psychology department faculty were enthusiastic to teach, and they did a wonderful job," Emrani said.
Each doctoral student was paired with at least one mentor throughout the program, allowing students to form close-knit relationships with Rowan faculty. 
Alex Jaffe of Moorestown, N.J., studied under Dr. Roberta Dihoff and will work for a private practice in Naples, Florida. 
"Mentorship has meant the world to me throughout this process," Jaffe said. "I was taught how to cope with pain and hardships, as well as learn to be patient. This allowed us to say "thank you, next" and move on to additional projects. The relationship I have with my mentor is everlasting."
Nicole Cantor of Philadelphia studied under Drs. DJ Angelone and Meredith Jones. She's also heading to Florida, where she'll work at the Center for Psychology.
"I've never felt alone throughout this journey," Cantor said. "My mentors' support was unwavering, and their encouragement and belief in me and my skills made graduating possible."