Rowan civil and environmental engineering head receives STEM civic leadership award
Rowan civil and environmental engineering head receives STEM civic leadership award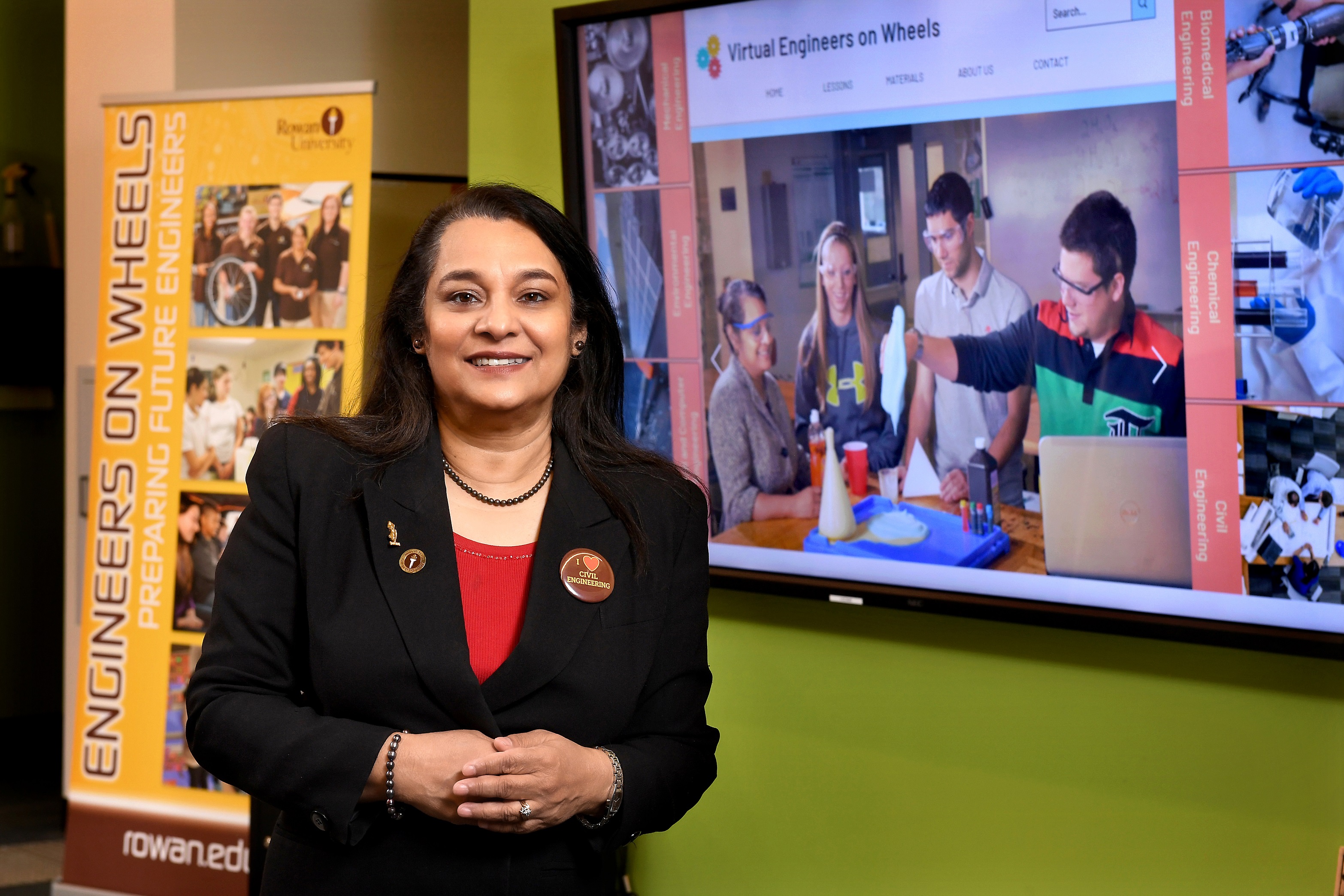 Dr. Kauser Jahan founded Engineers on Wheels and Rowan's Attracting Women into Engineering.
For Dr. Kauser Jahan, professor and head of the Department of Civil & Environmental Engineering at the Henry M. Rowan College of Engineering, working in leadership and outreach "becomes part of who you are."
The New Jersey STEM Pathways Network honored Jahan with the 2021 NJ STEM Civic Leadership Award in March. In addition to founding Engineers on Wheels, which in 2013 received national recognition from the WEPAN Outstanding Women in Engineering Program Initiative, Jahan also founded Rowan's Attracting Women into Engineering outreach program in 1999.
"For those of us who are passionate about the future of STEM education, our job is not only getting students excited about engineering careers, but also reaching out to underrepresented populations," Jahan said.
Since its founding in 2010, Engineers on Wheels has sent teams of Rowan students into local elementary and middle schools to discuss and demonstrate to some of the youngest students what engineering is.
"No matter how many technical innovations there are, a lot of social pieces go into developing passion for engineering," Jahan said.
In the early days, many of the children Rowan teams met associated engineers with operating trains. "Kids now understand better what an engineer is," Jahan noted, "but many are still clueless about what kinds of work an engineer can do."
Although getting children excited about engineering is "demanding," Jahan said, she's not undertaking this work alone. Each semester, a new team of junior and senior engineering students takes over leading the project, reaching out to teachers and coming up with lesson topics and demonstrations, all under Jahan's guidance. In the process, the Engineers on Wheels students develop their own leadership skills. 
"Dr. Jahan has taught me so much about being a leader and has guided me to become one," said Elizabeth "Lilly" McWeeney, a 20-year-old junior civil and environmental engineering major from Belmar. "Engineers on Wheels gives me the opportunity to teach others what Dr. Jahan has taught me."
Being part of the Engineers on Wheels team also offers students the chance to share their own passion for the field of engineering.
"Having the opportunity to introduce young students to the world of engineering through Engineers on Wheels allows me to help students gravitate to a specific career just as I did," said Kara Natoli, a 21-year-old from Sicklerville who is graduating this spring with a degree in civil and environmental engineering. "Most of our life is spent working as an adult. Our childhood is our chance to discover what sparks our interest and fills our purpose."
The Engineers on Wheels team spent the fall 2020 semester planning and preparing videos while safely social distancing. Rowan students worked virtually to implement those plans and lessons with local schools in Glassboro, Pitman and Washington Township in spring 2021.
"This fall, we might have two teams, one for virtual and one for physical classroom visits," said Jahan. "Virtual outreach may be better for some situations, including bringing the program to schools farther away that have a lot of underrepresented students."
"I feel very fortunate that I was able to establish really strong engineering outreach programs, but the award really is a recognition of all the work the students do," said Jahan. "Engineers on Wheels is not the only way to be a mentor, and many of our students are active in mentoring and outreach. I think each of us, every person, should be a mentor in whatever capacity we can."