Rowan Institute for Public Policy & Citizenship announces new intern scholarships supported by James P. Fox Memorial Fund
Rowan Institute for Public Policy & Citizenship announces new intern scholarships supported by James P. Fox Memorial Fund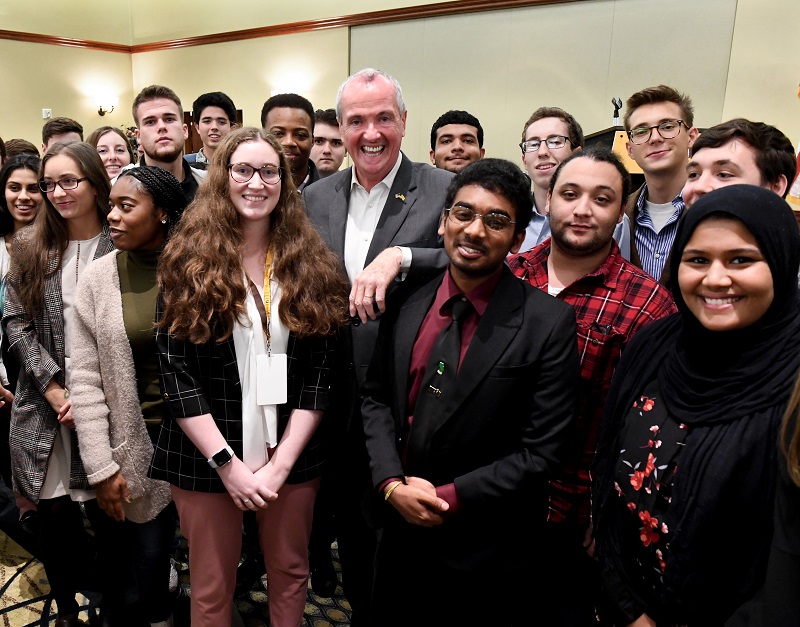 Rowan students had the chance to talk about New Jersey government with Gov. Phil Murphy during a RIPPAC event in 2019. A gift from the James P. Fox Memorial Fund will give two Rowan students funding so that they can have the means to pursue unpaid internships in public service this summer.
Through the generosity of the James P. Fox Memorial Fund, two Rowan University students will receive scholarships to support unpaid internships in politics, government or issue advocacy this summer.  The program is designed to help break a cycle where young people without the financial means to take unpaid internships struggle to get their first public service experience.
The students, who will be known as Fox Scholars, will secure the internships and scholarships through the Rowan Institute for Public Policy & Citizenship (RIPPAC). The Fox Memorial Fund will provide each intern a $2,500 scholarship.
"The need for a paid summer job prevents many students and recent graduates from taking an unpaid internship and building the experience and relationships necessary to enter public service," said Fund Trustee Eric Shuffler.
"We want to break that cycle through this scholarship, by allowing students without the economic means to take an unpaid internship a chance to do so. Jamie was all about helping young people enter public service and, through this partnership, we will open up public service to economically challenged students."
The James P. Fox Memorial Fund was founded in 2017 to create a living legacy to honor Jamie Fox in recognition of his lifelong commitment to public service and his commitment to opening up the doors of public service to young people. Fox, who passed away in 2017 at age 62, spent his entire life in the public sector and was one of the giants of New Jersey politics.
In four decades of public service, he twice served as the Commissioner of Transportation for former governors Jim McGreevey and Chris Christie. He was chief of staff or advisor to four New Jersey governors, was chief of staff to Sen. Robert Torricelli and was former director of the Democratic Senatorial Campaign Committee.
The James P. Fox Memorial Fund supports several mentorship and internship programs at colleges throughout New Jersey. The programs give college students unique access to the inner workings of government and a track to experience and consider careers in public service.
"We are incredibly honored to be a part of extending the legacy of the late Jamie Fox, a legendary public servant in New Jersey politics," said Ben Dworkin, founding director of RIPPAC. "These scholarships will enable students to gain invaluable experience in real-world politics, develop life-long networks, and set them on a course for a career in public service."
RIPPAC was founded in 2018 with a mission to inform, engage and train Rowan students, faculty and the public in politics, policy and citizen participation. To serve this mission, RIPPAC seeks to offer a variety of programs and guest speakers, connects faculty and students in the political conversation, both in New Jersey and nationally, and supports students through academic and career development, internships and scholarships.
"We are beyond excited and grateful to Rowan for working with us in developing this dynamic program, which honors Jamie's wish to fund educational opportunities for students, particularly in government and other public sector professions," says Tom Fox, Jamie's brother and fund trustee.
"Jamie believed deeply in the higher purpose of government service and in delivering results to the people of New Jersey. This program gives students concrete ways to explore how they too can make a difference through public service."
"RIPPAC is an ideal partner for the Jamie Fox Scholars Program," says Fund Executive Director Linda Steuerwald. "We have a shared goal to invest in programs that introduce a new generation to careers in the public sector and grow new leaders who want to work for and advance the common good."
Since RIPPAC's founding, Dworkin explained that the institute has been committed to making it easier for students to take on internships, considered crucial for career building in the 21st century. Because so many of these critical opportunities are unpaid, a large portion of interested students simply cannot afford to take them on. For this reason, RIPPAC has raised money to support scholarships for these students.
"No one," Dworkin emphasizes, "should be denied an opportunity to experience politics because it costs too much."
With the addition of the Fox Scholars initiative, RIPPAC will now offer more than $20,000 this summer to students who take on unpaid internships in politics, government or issue advocacy.  The scholarships range from $500 to $2,500 for each student.
For more information about RIPPAC and the James P. Fox Memorial Scholarship, visit go.rowan.edu/RIPPAC.