MBA grad Kaitlyn Anthony: From ballerina to businesswoman
MBA grad Kaitlyn Anthony: From ballerina to businesswoman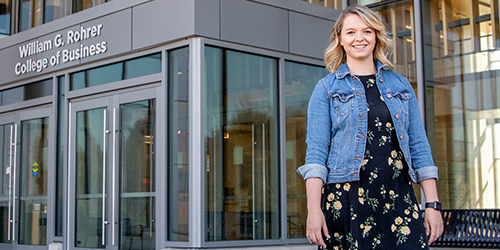 Graduating with a perfect 4.0 GPA from the Rohrer College of Business's rigorous MBA program, one can assume Kaitlyn Anthony performed very well in some very tough classes.
But that's nothing new.
She's been performing in tough classes since she was four years old.
From age four to 18, Anthony was a committed ballet dancer, studying and performing first in New Jersey and then in New York City with some of the biggest names in dance, including Moscow's world famous Bolshoi Ballet Academy and at the Gelsey Kirkland Balley Academy, whose namesake famously danced with Mikhail Baryshnikov in a TV production of "The Nutcracker". 
"At 24, I've been dancing for over 20 years," said Anthony, a Bordentown resident who left high school at 15 to study ballet in Manhattan. "There are many different worlds when it comes to dance and, when I was 12, I decided to focus all my energy on ballet."
That decision, and the countless hours of practice and performance that followed, challenged her physically and emotionally.
"I would be en pointe for probably six hours a day," she said of the position in which a dancer is fully upright, balanced on the tips of their toes. "I've broken toes, lost toe nails, been to the podiatrist every week to make sure I'll grow a toenail back. But dancers are ruthless. If they sprain an ankle, hurt their back, they'll struggle through the pain because that's the business. But everyone's replaceable. If you got injured and the teacher found out, they might replace you and it was heartbreaking."
Though she still loves dancing, Anthony said she felt constant pressure, and it took a toll.
"The idea of ballet is to always be perfect," she said of her experience. "That didn't mean just your dancing, it also meant the way you look. And the stress to be perfect came not just from yourself but from your teachers."
As high school, part of which she completed through home study, came to a close, Anthony found herself at a crossroad where she had to choose between a career in ballet at all costs or pursuing other passions.
Which set her on a path to Rowan.
Compassion and kindness in business
In addition to stellar graduate school grades, Anthony maintained a nearly perfect 3.928 undergraduate GPA at Rowan, graduating in 2019 summa cum laude ("with highest praise") and a dual degree in Human Resources Management and Business Management.
The inaugural president of the Rohrer Graduate Student and Alumni Advisory Board,
she's already launched her business career, serving as supervisor of entertainment at Sesame Place, the character-based theme park in Langhorne, Pa.
Anthony said in her position at Sesame Place, a division of SeaWorld Parks & Entertainment, she manages as many as 100 employees and she's mindful to do so with the degree of kindness and respect that she'd want for herself.
And that includes occasional disciplinary matters.
"A lot of times when it comes to employees acting out, we simply have an open conversation," she said. "Often there is something causing them emotional turmoil and having an open conversation opens doors. But sometimes a job's not worth it. If it's causing someone unhappiness, the job may not be for them.
"When you think business you don't usually think kindness, but I do," she said. "My teachers motivate me to be kind, and Sesame Place does too. Our motto is to make our guests smarter, stronger and kinder."
Anthony, who traded her pointe shoes for business apparel, said though she no longer performs ballet she maintains her love for the stage through musical theater.
As for career, she's already found one that keeps her on her toes.
"I would love to stay here and work my way up the corporate chain," she said. "I love entertainment but I've taken a liking to operations, which is a little of everything, like rides, food and ticketing. I love when there are 900 things going on at once and that's why I love this field and this company. I just love the excitement of theme parks where I don't know what will happen on any given day."