Maria Rita De Melo Teixeira Anache: A voice for change, service and the importance of family
Maria Rita De Melo Teixeira Anache: A voice for change, service and the importance of family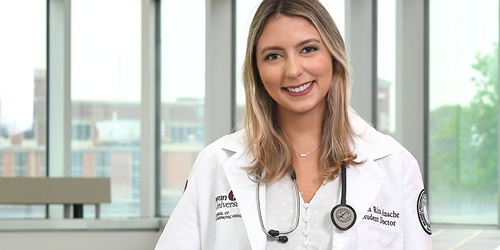 When Maria Rita De Melo Teixeira Anache allows her mind to wander, the past and the present sometimes collide in her thoughts, but those thoughts always seem to center on the importance of family. 
"Sometimes I'll be jogging around the Stratford campus and I'll suddenly stop and think 'How did I end up here?' If you had told me 10 years ago, when I left to be an exchange student that I would be in this small town in New Jersey, graduating medical school, I would have laughed at you. But here I am."
This month, as she walks across the stage during the Commencement Ceremony for Rowan University School of Osteopathic Medicine (RowanSOM), the thoughts of this newest member of America's next generation of family physicians will undoubtedly return to the beginning of her journey a decade ago.
"I stared out the window, my mind racing, as the jet engines roared," she recalls of her feelings at the time. "It was my last chance to change my mind about leaving my family and friends in exchange for years of uncertainty in a place I had never been, with people I had never met. I briefly considered asking the flight attendants to let me off the plane but held tight to my armrest as I watched my hometown shrink. I was leaving my home in Brazil at age 17 as a high school exchange student, heading to a much different world."
Moving from her native city of Campo Grande, a bustling tropical city of nearly 1 million, to the slower pace and considerably cooler temperatures of Martinsburg, Pennsylvania, (pop. 1,958) was just the beginning of Maria's adventure.
Childhood dreams at the edge of her comfort zone
Despite those moments of doubt before leaving Brazil, exploring other worlds came naturally to Maria. By the age of 8, she could speak English along with her native Portuguese and, she says, she never shied away from a challenge or an adventure.
"My mom saw this in me and would say that I was like a little bird that flew too early and too soon because I was always the kind of child who puts herself outside of her comfort zone."
Thanks to the support of her "American family" in Pennsylvania, she adapted quickly to the change in scenery, completing her senior year of high school and then making the life-changing decision to remain in the United States.
"My American family was very warm and supportive, which was very similar to my family in Brazil," Maria explains. "They gave me so much support and were absolutely amazing in helping me on this journey."
Maria's plan had always been to return to Brazil to pursue her childhood dream of becoming a physician like her parents. Her father is a pediatrician; her mother a dermatologist.
But after experiencing education and medical care in this country–and after long conversations with her American family and her parents in Brazil–Maria was determined to complete her medical education in the United States. Although she realized this would be a much more difficult path, she knew it would make her a stronger, better prepared physician.      
A passion for osteopathic medicine and for service
As she explored her options for medical school, Maria noted the differences that DOs (Doctors of Osteopathic Medicine) offered and how that coincided with her experience in Brazil.
"Osteopathic physicians are similar to the kind physicians I saw while growing up," she recalls. "In Brazil, physicians are really close to their patients. I would be walking through a mall or at a restaurant with my family and my dad's patients, little kids, would see him and they would run to hug him. So, I grew up viewing medicine as being really close with patients. When I was in the U.S. and saw how DOs were with their patients, it really clicked for me. I knew this was what I was looking for. It's how I want to be with my patients, too."
At the onset of her medical career, Maria knew there would be challenges, but was always confident that she could be a health care leader who made a positive impact in people's lives.
"I remember when I was a teenager in Brazil, feeling heavy-hearted at the realization that many people could not obtain proper medical care. Shortly after moving to the United States, I realized that even developed countries have prominent disparities in health care," she says. Her personal experience as an immigrant includes medical staff who would misunderstand her, difficulties in finding a job, and the challenges of becoming a resident of this country.
At RowanSOM, Maria found an ideal opportunity to work towards promoting health equity and access to essential health care and resources. For the past three years, she has been a member of the executive committee for the Rowan Community Health Center (RCHC), a student-run, free health clinic. The RCHC works to bridge the gaps between health care services and community needs in Camden County's historically underserved population. Since 2020, Maria has served as director, helping to steer the center through a difficult transition complicated by the COVID pandemic.
"As a future family medicine physician, I have a deep commitment to promoting change in the health care system. My own status as an immigrant in the United States who does not speak English as my first language has afforded me a deeper understanding of the disadvantaged patient's plight and a unique position to connect with them through open communication without fear of judgment," she says.
One of the clinic's biggest challenges occurred early on, when it was forced to close its original location in Camden. During the time that the clinic remained closed, Maria organized and increased community outreach services, including food drives, health education classes and health fairs. After nearly two years of intense searching for new space, the RCHC finally reopened in September 2019, in Lindenwold.
A few months later, the COVID pandemic struck, forcing the RCHC to, once again, adjust its operations to ensure continued service to the community.
"My experiences with the relocation of the RCHC and with the pandemic taught me that hardships encourage the creativity and resourcefulness to overcome what may seem insurmountable obstacles," Maria says.
Commencement and a new beginning
Deciding to pursue her medical career in the United States has not only impacted Maria's career, but also her personal life. At RowanSOM, she met fellow student Patrick Tempera who is now her fiancé.
"Patrick was my significant other through this arduous journey, a mentor, and my main source of support. Together, we faced the numerous challenges that come with pursuing a medical career," she recalls. "Patrick and his family are my home away from home, and their love and support has truly helped me get through difficult times, especially when my family couldn't be physically present."
Following Commencement, Maria and Patrick will relocate to Albany, New York, where they will begin their residencies at The Albany Medical Center.