Invigorated by big ideas, Deep Patel will put his skills to work as an orthopedic surgeon
Invigorated by big ideas, Deep Patel will put his skills to work as an orthopedic surgeon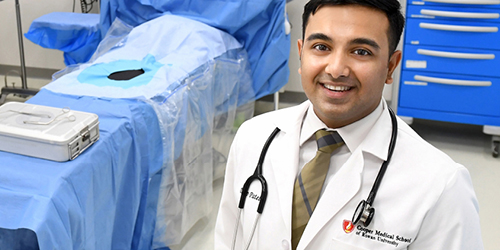 Former engineer Deep Patel is pursuing a career in orthopedic surgery. "My 10-year-goal is to be an innovator and bring about change not only in medicine, but education as well," says Patel, who is earning his medical degree from Cooper Medical School of Rowan University
Deep Patel has a passion for innovation. However, as a medical student at Cooper Medical School of Rowan University (CMSRU), he found that having technology is not enough. It takes an innovative, multi-skilled team to achieve its full potential.
Graduated on Monday, May 10 from CMSRU, Patel will see how far he can keep pushing technology's limits when he begins his orthopedics residency at Cooper University Health Care.
Combating COVID-19
When a shortage of personal protective equipment at the onset of the COVID-19 pandemic put health care professionals at risk, Patel researched using 3D printers to produce face masks. As a third-year medical student, he helped lead Rowan University's multidisciplinary team, which designed, assembled, beta-tested and supplied reusable masks.  
"Because I had an undergraduate degree in biomedical engineering and a history in additive manufacturing, I was able to work very closely with our engineering team to provide real-time feedback. It allowed for immediate design advancements as well as my own printing and beta-testing with my 3D printer at home," says Patel, of Parsippany.
Meanwhile, he created videos and clips of mask assembly, beta-testing and other stages of the process to share news on the project.
"I felt that we were doing this amazing thing and I wanted to put it out there. I wanted to get some backing for it," he says. "I also wanted people to understand that we were doing something phenomenal."
Numerous corporations and organizations provided funding, assistance and materials for the masks and filters, which were refined based on input from users around the world. The Rowan masks were distributed to health care professionals, law enforcement, soup kitchen workers, construction workers and other essential personnel. Open-source plans for the mask have been downloaded more than 50,000 times in more than 140 countries.
"To go from an idea to putting the idea on paper and then seeing it come to fruition and then translated into international acceptance and supported by industry is just an incredible phenomenon, particularly for a medical student who has other responsibilities," says David Fuller, MD, CMSRU professor of orthopaedic surgery, program director of the Orthopaedic Surgery Residency program, and interim chairman of the Department of Orthopaedics.
"There was so much to the mask project," Patel says. "It was such a blessing and a beautiful thing that we were able to do, to have so many people involved and to impact so many lives."
Technology and teaching
Patel grew up in northern New Jersey.  His father, who was born in India, contended with the physical and emotional effects of polio. Patel envisions using advanced technologies to help patients with diminished mobility and treat patients with musculoskeletal problems, which can lead to debilitating pain.
"How can we do something to innovate and integrate the technology we use? That's the benefit of orthopedic surgery. Technology and the field go hand in hand from instrumentation, hardware designs and mechanisms of repair within surgery," he said.
Early in his medical school career, he developed orthopedic surgical videos with Cooper's orthopedic surgeons, applying video technology and production skills he learned at his temple. The videos were even published by the Orthopaedic Trauma Association.
"These educational videos have been accepted through peer review processes and are now available to a national audience, and I think both senior medical students going into orthopedics as well as orthopedic residents and even orthopedic surgeons will benefit from these now and in the future," Fuller says.
Subsequently, Patel worked with others to create prepping and draping technique videos that they hope to incorporate into the third- and fourth-year curriculum.
His passion for education flourished in this project.
"It's invigorating," he says. "These videos are sustainable and lasting. Before COVID, a lot of technology and means were available, but they weren't brought to the forefront. Telemedicine was available, but people didn't start using it right away because of several obstacles, such as adaptation, implementation and reimbursement hurdles from insurance companies. COVID pushed technology forward."
Innovation in medicine and education
"My 10-year-goal is to be an innovator and bring about change not only in medicine, but education as well," Patel says.
Among other projects, he's working on a 3D bone reconstruction project with Rowan undergraduate students. He's enthusiastic about collaborating with others to develop new innovations using existing technologies.
"How can we basically work as a team from undergraduate to graduate to medical students, nurses, engineers and even representatives from medical corporations that come to our hospital systems? How can we work together for better patient care, for better systems-based learning and education overall?" he says.
"I've seen it with undergraduate students through the 3D modeling project, the Rowan mask project and even these video projects," he says. "When people have something that's tangible and something that they're passionate about, they are able to achieve so much more and channel their passion. They learn so much more in a smaller amount of time."
Patel lauds the mentorship he received at CMSRU and the collaborative environment of Cooper University Health Care, which was his match location and first choice for his residency.
"There's an opportunity to become part of innovation and education, a part of these teams to really bring everything forward, move it along toward technological advancement," he says.
As a physician, Patel wants to be present in the moment with every patient, mindful of their socioeconomic and personal needs.
"I remember going to appointments with my father to see his orthopedic surgeon," Patel says. "He was always such a kind-hearted physician that not only took an interest in him but me as well, as his patient's son."
Patel also was influenced by his mentor at his temple.
"A lot of the characteristics that brought me to medical school resulted because of what I learned there and my mentor at my temple," he says.
"He instilled the importance of mentorship, the importance of education, the importance of helping others. I saw it through him, and he was my role model through all of this. When I pray in the morning I reflect on that: Where we are going, why are we doing what we're doing, what's our 10-year goal and how am I going to do something today to impact that 10-year goal?"